Golden Word Bubble is an interesting puzzle game in which you must form words by tapping the bubbles.
It has 1400 levels so you can train your brain and improve your vocabulary. The more you play, the harder it gets!
In the beginning, I thought it was all about merging balls as in this 2048 game. But it's different in that you don't have to collide bubbles.
Not surprisingly, the app developer is enticing players with the opportunity to win real money via PayPal.
I have reviewed a ton of game apps that supposedly let users cash out once they reach a specific amount.
Unfortunately, most of them are just playing magic tricks with players to get them to watch a ton of sponsored videos.
So, is Golden Word Bubble a legit or a scam application? Does it pay or not?
Top recommendation: This step-by-step program helped me build my own online business and generate $1,600+ per month. Join now for free and start your first 10 lessons!
Golden Word Bubble App Review
Name: Golden Word Bubble
Company: Mini Joy Info Tech Private Limited
Type: Puzzle
Eligibility: Worldwide
Price: Free
Overall Rating:

2/5
What is Golden Word Bubble?
Golden Word Bubble is an addictive word puzzle game available for Android devices.
It was developed by an Indian company called MiniJoy, which also operates many other popular games such as Golden Bubble Sort and Golden Dot Connect.
They all work similarly regarding cash rewards. After you pass each level, you will collect virtual dollars that you may withdraw once you reach $110.
The developers also claim that you can win the prize when you finish 500 levels.
How Does Golden Word Bubble Work?
Installation and Registration
Golden Word Bubble is available for free on the Google Playstore. After installing and launching the app, log in with your Facebook or Google Account.
You can also play as a Guest, but in that case, you won't have access to your cash and coin balance.
Next, tap the "Level 1" button to start!
How to Play Golden Word Bubble?
The game starts when a bunch of bubbles containing two or three letters fall from the top.
Your job is to select them to form hidden words.
Each level has a specific number of words that must be unlocked before you can move on. Besides, all of them have a theme in common.
For example, on level 3, you have to unlock 4 words related to "Body".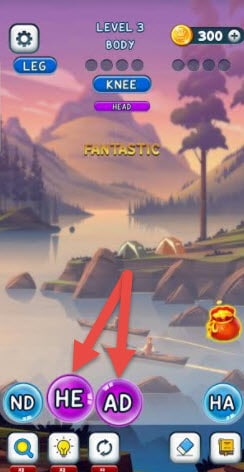 Once you pass the level, you will receive either virtual dollars or "Joy", which are automatically converted to Bonus cash.
2000 Joy = $1.
Boost your earnings by tapping on the Lucky Chest and watching a clip.
If you feel stuck, use the props to make it easier!
For instance, the magnifying glass gives you letter hints, whereas the light bulb highlights the right bubble choice.
Each tool consumes a specific number of coins, which you can collect by clicking on the balance at the top and watching video.
Another way to earn cash is by tapping on the Golden pot on the right side and watching more videos.
Check out the ultimate list of "money-making" games!
How Do You Get Paid?
Golden Word Bubble claims you can withdraw your Bonus Cash balance once you reach $110.
If you tap on the treasure chest icon, you will discover another possibility. It says you can cash out the same amount when you finish 500 levels.
According to the developers, you will be paid within just one business day.
That seems too good to be true, don't you think?

Is Golden Word Bubble Legit? Does it Pay?
Like other MiniJoy games, Golden Word Bubble receives an incredible number of negative reviews.
Lots of people complain about getting stuck at a specific level because of a glitch. For example, these two players cannot move forward as they have got extra letters.
Therefore, they cannot reach $110 or the 500th level required to cash out.
Keep in mind that even if you reach the target, it doesn't mean you will get the money. They will probably ignore your payment request or say that it's unavailable.
The reason I am so confident about it is that I have seen no one who received cash. Besides, the reward is very unrealistic!

This reward platform is going viral! Cash out via PayPal, Visa, Gift Cards, and in-game currencies - Click here to find out how to generate an extra $10+ per day! 
The truth is that none of these game developers have the obligation to pay users.
I don't think Golden Word Bubble pays, but even if they do, you may not be one of the lucky ones!

So, does that mean the game is a scam? Probably not, as they didn't make any promises!
However, only the authorities can give you a definitive answer.
Pros and Cons
Pros
It's challenging and addictive.
Cons
No one seems to earn any money from the app.
Lots of users complain they cannot move on to higher levels.
There are too many ads!
Conclusion
The Golden Word Bubble app should only be played for fun because there is no evidence that it pays.
Although it has a withdrawal button for those who reach $110, the company is not obligated to pay anyone.
It amazes me how Google allows such apps to operate with so much ease!
According to lots of players, you will probably get stuck before reaching the payout threshold. So, at this point, you cannot even play for fun anymore!
So, don't use Golden Word Bubble with the expectation to make money, or else, you will be extremely frustrated.
Earn a Full-Time Income Online
Why waste your time using applications that only make the developers richer?
If you want to earn thousands of dollars per month, I suggest that you become a content creator and build an online presence.
You don't need to be an expert in any specific subject to achieve your financial goals.
In 2015, I created an affiliate site that is currently covering all my living costs and travels around the world.
I followed this step-by-step program, which is regularly updated and better than ever!
Anyone can do the same as it does not require any technical skills to build and scale this type of business.
My advice? Join now and start your free trial today!
Final Words
Thanks for reading my Golden Words Bubble app review. I hope it was helpful!
Kindly share your thoughts about this application in the comment box below.
Peace!