Welcome to my Lucky Blast app review!
I was testing a "money-making" game when saw a video ad that made me cringe so hard! An Asian woman had stacks of cash, and lots of Apple boxes on the table in front of her. Right at the top, there was this captivating message:
"Play Lucky Blast and win the new iPhone 12."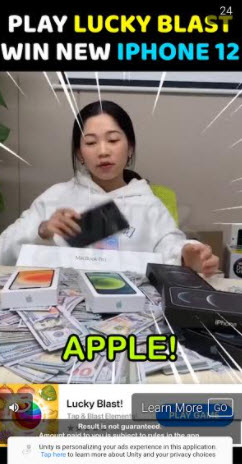 After watching this video, many people install Lucky Blast and start playing without a second thought. If you did the same, I don't blame you because app developers use aggressive marketing that can convince even the most skeptic.
However, it's always important to check the reviews to see if other players are making real money. So, is Lucky Blast a legit or fraudulent application? Does it pay or not? Keep reading, as this post will save you a lot of time, patience, and even mobile data down the road.
RECOMMENDED: Check out the step-by-step program that helped me build a digital marketing business and go from $0 to $1,600 per month. No special skills required! 
Lucky Blast App Review
Name: Lucky Blast
Developer: MeetJoy Studio
Eligibility: Worldwide (+18)
Payout threshold: $2, $200
Price: Free (no in-app purchases)
Overall Rating: 1/5
What is Lucky Blast? 
Lucky Blast is another match puzzle game similar to Fish Blast, Toy Town, Bigbang Popstar and many others.
It's addictive and very simple to play. All you have to do is collect elements by tapping on at least 2 blocks of same color that are close to each other.
As you make progress, they will give you virtual dollars and puzzle pieces from trendy products, such as iPhone 12, Samsung Galaxy S20 and iPad Air. However, you can only redeem cash and gifts once you meet the requirements as usual.
Lucky Blast was developed by MeetJoy Studio, which the same company behind the popular Puppy Town, and Coin+ apps.
How Does Lucky Blast Work? 
Installation 
Lucky Blast! is available for Android and iOS devices, so you can download it directly on the Play Store and App Store. You are not required to sign up or allow any permissions.
Keep in mind you must be at least 18 years old to play Lucky Blast!
How to Play Lucky Blast?
When you start the game, you will see a roadmap with all the levels and bubbles of cash next to it, suggesting you will get rewarded after completion. Just press the play button to start at the first level.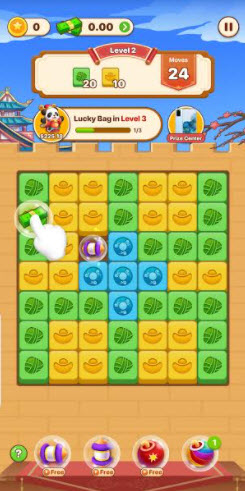 All you have to do is tap two or more elements of the same color to collect them. You must complete the level by blasting a specific number of blocks that is marked at the top of the screen. For example, at level 1, the goal is to collect 18 yellow elements.
You need to think carefully before tapping because the game is over if you run out of moves. There are four powerful boosters to help you pass the levels.
Horizontal Bomb: Removes everything in a roll.
Vertical Bomb: Removes all the blocks in a column.
Blast Bomb: Clear everything around.
Rainbow Bomb: Collet all items of a random type of element.
You may have to watch a video to get free boosters.

After eliminating many cubes at once, you may see cash or a puzzle piece inside the bubble. Tap this icon and watch the video to collect the reward. You will also earn virtual dollars after completing the levels.
Tired of playing games for no money? Check out my top recommendation here! 
How Do You Get Paid? 
Lucky Blast allows you to transfer the money to your PayPal account once you reach $2 and $200. The small print says that $200 transfer requests are fulfilled daily, whereas $2 transfer requests are processed as soon as possible.   
Once you meet the requirement, tap "Transfer Money" and submit your PayPal account.
Win Big Prizes
The Prize Center is where you get the change to win the iPhone 12, Samsung Galaxy 20, Juicer and a few other products. You need to collect a specific number of puzzles to redeem the prizes.
You can collect extra puzzle pieces by watching videos on the Bubble of Puzzles section or by playing the Lucky Spin.
If you are lucky enough to collect all puzzles, you should provide the shipping address and your phone number to receive the prize.
Lucky Panda – Earn Dividends
Lucky Bast also gives you a chance to collect a Lucky Panda and take part in the daily revenue share. For example, 99 users shared the total revenue of $22292 yesterday, meaning that each person supposedly made $225!
There are two ways to get a Lucky Panda and benefit from this program:
Complete specific levels and open the lucky bag for a chance to win the Lucky Panda.
Collect and merge all kinds of Fortune Pandas to unlock the Lucky Panda.
For each Lucky Panda, you will get dividends of up to 250 USD for 7 consecutive days. The amount of dividends you earn differs every day because of the number of users who participate in the revenue share program (up to 100). Keep in mind there is a limited number of Lucky and Fortune Pandas in a single day, and it can change from time to time.

If you are the winner, you must claim the dividends every day during the 7 consecutive days. When you claim the dividend, you must provide your PayPal email correctly. Lucky Blast will then confirm your application within 10 working days and transfer the money to your account.
Is Lucky Blast Legit? Does it Pay? 
No, I don't think Lucky Blast pays. There is not enough evidence that the company is rewarding users. In fact, most people complain about getting stuck before the $200 mark, so they cannot cash out the big prize.
You can quickly request the $2 payment, but I doubt you will get the money in your Paypal account. Two users reported they didn't get it.
Lucky Blast behaves like Puppy Town and hundreds of other money games. They give you decent payouts in the beginning so that you more comfortable with the videos you are enticed to watch. After all, it's a reasonable trade off!

This reward platform is going viral! Cash out via PayPal, Visa, Gift Cards, and in-game currencies - Click here to find out how to generate an extra $10+ per day! 
The problem is that as you get to $100, the cash rewards drop significantly. If you keep playing, at some point you will make a measly $0.01 per level. Also, when you collect 9/10 or 19/20 puzzles, they never give you the last piece required to collect the prize.
Does it mean Lucky Blast is a scam? Despite the lack of evidence of payments, I cannot accuse the company without solid proof. Besides, their End User Licent Agreement (EULA) states the following:

"We reserve the absolute right, at any time and at our sole discretion, to manage, control, regulate, change and eliminate virtual items as we deem fit."
In other words, you have no right to redeem coins, puzzles, and other items if the company doesn't want to pay you.
When you tapped "Play", you have agreed to the Terms of Service, which is why I believe they cannot be held liable. As for the advertisement, they place a small print at the bottom which says result is not guaranteed. 
Pros and Cons
Pros
Inspirational soundtrack.
It's a great game for having fun and relax.
Excellent graphics and gaming experience.
Cons
There are too many ads!
You may never reach $200.
No evidence of payments.
Is There an Alternative to Lucky Blast? 
As of writing, there are probably three similar match puzzle games that pay you in BTC: Bitcoin Blocks, Bitcoin Blast and CryptoPop.
Although these are legit apps, they share only a tiny percentage of their ad revenue with players. In practice, that means you won't get more than 0.01 USD per day. It's terrible, I know!
If you need cash regardless of which game you play, I recommend joining a GPT site and completing app offers. These platforms pay more for trying new games on your device.
Conclusion
Lucky Blast! is a nice game, but it's overloaded with ads that will stress you out and drain your internet data. I don't recommend you to play it with the expectation to earn money, iPhones or whatever.
Just because you are collecting virtual items after each level, it doesn't mean they will let you withdraw the money. Chances are you you will get stuck before getting to $200.
If you are serious about making hundreds and even thousands of dollars, I suggest you build your passive income site as I did. Click this link for excellent step-by-step training!
Final Words
Thank you for taking the time to read my Lucky Blast app review. Did you play this game? How was it? Kindly share your thoughts and results in the comment box below to help others out!
Peace!
Final Words