Welcome to my Bear Dice app review!
I discovered Bear Dice after watching a video suggesting I could earn $200 through PayPal. They also show a woman overreacting because she supposedly earned real money just by rolling dices!
Here at My Room is My office, I reviewed countless games that never let players reach the payout threshold. Although the developers are generating a ton of money with advertisement, they never pay a dime!
As the number of money-games grows on the Play Store, so does the level of frustration among players worldwide.
I am here to open your eyes and explain how this application works so you make an informed decision. Is Bear Dice a legit or fake app? Will they pay you? Keep reading to find out!
Top Recommendation: Check out the step-by-step program that helped me build an online business and generate over $1,600 per month.
Bear Dice App Review
Name: Bear Dice
Developer: Game Lone ranger
Eligibility: US, CA, FR, DE, UK, AU residents
Price: Free
Overall Rating: 

1/5
What is Bear Dice?
Bear Dice is a casual game where you roll the dice to move the bear around the board. As it lands on specific places, you will earn virtual cash, coins, scratch cards, free spins, mystery box, and other items.
In the Lucky Spin section, you have the chance to collect puzzle pieces to win a Samsung Galaxy S20, and a Sony TV.
The developer has advertised Bear Dice as an opportunity to cash out via PayPal. I think that explains why this boring game has already been installed over 100,000 times.
The problem is that when you try to open your cash balance to withdraw your money, nothing happens!
How Does Bear Dice Work?
Installation
Bear Dice is available for free on Google Play and doesn't require registration or any kind of permission.
Eligibility
Bear Dice is only intended for residents of the following countries: The United States, the United Kingdom, Canada, Frace, Germany, and Australia. Besides, users must be of legal age or older.
How to Play?
As soon as you launch Bear Dice, you will see the board with a bear in the start position and a dice at the bottom.
The board is divided into several squares, many of which have an icon above representing a specific prize.
You start the game with 50 Dices, and the next rolling is after 15 minutes. Just tap the button to roll the dice and wait for the bear to move according to the number.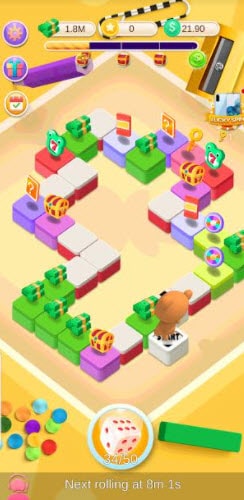 Here is everything you can get during the gameplay:

Virtual cash – The green cash notes
Green Coins
Yellow Coins
LuckySlot spins – match 3 symbols to get a reward.
Lucky Wheel spins – Spin the wheel to earn virtual cash and coins.
Scratch cards – play the scratcher for a chance to win more rewards.
Mystery box
Lucky Spin (yellow key) – tap "spin" to collect Samsung or Sony TV fragments.
After you complete a full turn around the table, Bear Dice will award you virtual cash, green or yellow coins. Besides, you can always double the reward by watching a video.
How Do You Get Paid?
The first thing I did after launching Bear Dice was to check the minimum payout threshold. But to my disappointment, nothing happened when I clicked the coin and cash balance at the top.
There is no withdraw button. So, at least for me, there is no way to redeem these virtual currencies for actual money.
However, some user reviews on Google Play suggest that you may need $200 to cash out. I believe some people can open the cash balance and see this requirement while others don't.
Tired of playing games and watching videos in return for nothing? Check out my top recommendation and learn how to make a full-time income online. 
Lucky Spin
Bear Dice has the Lucky Spin, which allows you to collect puzzle pieces and redeem them for a Samsung Galaxy S20 and a Sony 85-inch TV.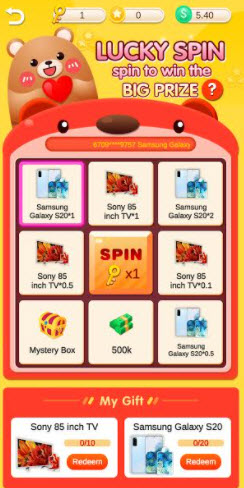 You need 10 puzzles to win a Samsung S20 and 20 puzzles to win the Sony TV.
Is Bear Dice Legit? Does it Pay?
No, I don't think it pays! In my case, I didn't even get the chance to open the cash balance to see the requirements.
Now, if you check the reviews on Google Play, you will find lots of people who cannot cash out because they are stuck between $160 and $170.

Unfortunately, the closer you get to the cashout amount, the less you will earn. At some point, Bear Dice will no longer give virtual dollars for playing the slots, scratch cards, etc.
One person who had $167 said she made only 2 cents while playing for the past 2 weeks. At this rate, she will never reach $200. Another woman said she had been playing Bear Dice every day for a month and a half and only made $112.
So, don't bother playing this game because you won't get paid.
Is There an Alternative to Bear Dice?
Nope! There is no app that gives you actual money just for rolling dices. Even if there was, it would probably give away only 1 or 2 cents per day at most.

This reward platform is going viral! Cash out via PayPal, Visa, Gift Cards, and in-game currencies - Click here to find out how to generate an extra $10+ per day! 
The reason is that game companies are not willing to share a significant portion of their ad revenue with players.
I already reviewed hundreds of apps that ignore payment requests, including very similar board games like Dice Winner and Rolling Dice. They only tease you with cash rewards so that you watch hundreds of videos. But they will never pay you a dime!

If you want to earn money by playing games on your phone, one of the best options is Prizerebel. This is a reward platform where members paid for completing different tasks.
I highly recommend this site because they get excellent ratings and always transferred money to my PayPal account with no hassle.
Conclusion 
Don't waste your time and internet data playing Bear Dice. You will never be able to withdraw the money because if everyone could make $200, the developer would go bankrupt in no time.
Your earnings will drop drastically, making it nearly impossible to reach the $200 mark. Therefore, there will be no other option but to give up.
In my opinion, Bear Dice is not even worth playing for entertainment because it's neither fun nor challenging.
Verdict: Not Recommended
How I Make Money Online
In short, I own this website where I publish helpful articles, and attract visitors searching for app reviews on Google.
You can also create a site about a topic of your interest and generate revenue with affiliate marketing and advertising. It takes time, but that's why the business model is so rewarding!
Operating this type of online business allows me to work remotely and not depend on the job market to put food on the table. That's why it's so worth it!
Anyone can do this, but I suggest you learn the best SEO practices that will help you achieve higher rankings on Google.
This excellent step-by-step program helped me create this site from scratch and get a decent number of daily visitors. You can do the same if you work hard and commit yourself in the long term.
Final Words
Thanks for reading my Bear Dice app review. What is your opinion about this game? How was your experience? Please, let us know in the comment box below.
Peace!