Welcome to my Cashman Blast app review!
In today's post, I would like to warn you about another Shape Keeper's application called Cashman Blast. This addictive match puzzle game gives you virtual dollars when you pass each level and claims to pay out once you have $150.
The reason I am not excited about this opportunity is that I already tested hundreds of games that just ignore everyone when they cash out. But the main reason I am skeptical of Cashman Bast is that the company operates other "money" games that don't pay!
If you don't want to waste time playing this game, you need to know if the developer will keep his word and transfer the money to your PayPal account. Is Cashman Blast a scam or legit app? Keep reading to find out!
Sick of apps that don't pay? Check out the step-by-step program that helped me build an online business and generate over $1,600 per month.
Cashman Blast App Review
Name: Cashman Blast
Developer: Shape Keeper Ltd
Type: Puzzle
Eligibility: Worldwide
Price: Free
Overall Rating: 

1/5
What is Cashman Blast?
Cashman Blast is a puzzle game where you tap on the same coloured cubes to eliminate them. The goal is to destroy all the items that are shown on the top before running out of moves. Once you do, you will pass the level and earn cash rewards.
You can also collect coins and puzzle pieces. Coins can be redeemed for Amazon Gift cards whereas puzzles can be exchanged for iPhone, MacBook Air and other items in the Prize Center.
Cashman Blast was created by Shape Keeper, a company that also operates Lucky Plinko, Lucky Money, Hyper 2048 and many other infamous apps.
How Does Cashman Blast Work?
Installation
Cashman Blast is available for free on Google Play and doesn't require permissions or registration.
How to Play?
First, they will show you the number of blocks of each colour or other items you need to blast. This is your mission!
Tap on 2 or more adjacent blocks of the same colour to destroy them and open space for more cubes that will fall from above.
Take advantage of the boosters in order to speed up the elimination process. For example, 9 same coloured cubes will create a "Fan" and blast multiple cubes at once.
Once you complete the mission, you will pass the level and receive virtual dollars. Next, you can spin the wheel to earn up to $5 and 10,000 coins. As expected, you will always have to watch a video before spinning.
Sometimes you will see cash notes and coin icons in between the cubes. You can collect more rewards by destroying the blocks next to these items.
What I noticed is that Cashman Blast does not show you lots of ads as other games do. Not only that, but you can also collect cash even though you play offline.
In the "Store" section, watch 5 videos to win a "Super Prize".
If you are serious about making money online, check out my top recommendation. 

Daily Bonus
Sign in every day to receive higher daily bonuses. On the 7th day, you will get 3 USD.
How Do You Cash Out?
Cashman Blast allows you to withdraw the money to PayPal after you reach 150 USD. Besides, you can redeem $2 Amazon gift Cards once you collect 1 million coins (1000K).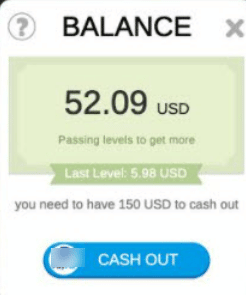 Prize Center
Lots of "money" games have a section called Prize Center where users can collect puzzle pieces to win an iPhone or another prize.
With Cashman Blast, you can supposedly win an iPhone 12 Pro, McBook Air, Sony Oled TV and a $2 Amazon Gift card once you collect 100 puzzle pieces.
To get these puzzles, you have to either play the Lucky Spin or the Bubble of Prize after watching an advert.
If you click on the exclamation mark next to the Lucky Spin, you will find the odds of winning each item. For instance, it says the probability of getting an iPhone fragment is 5%.
Is Cashman Blast Legit? Does it Pay?
No, Cashman Blast is another game that does not pay out. If you play the game for a while, you will quickly notice the cash rewards get smaller and smaller.
The reason they give you a lot of virtual dollars in the first place is to make you think it will be easy. Therefore, they get you motivated to watch more videos.

But make no mistake. It will take an incredible amount of time to reach $150 because the closer you get to cashing out, the less you will earn.
One player said he was on level 78 and did not get any cash for the previous 28 levels.
Unfortunately, you may never reach $150 in order to cash out. The same can be said about coins and puzzles. I doubt you will collect enough virtual items to redeem gift cards and prizes.
I checked lots of user reviews on Google Play and as usual, I couldn't find anyone who received any reward.
Is There an Alternative to Cashman Blast?

This reward platform is going viral! Cash out via PayPal, Visa, Gift Cards, and in-game currencies - Click here to find out how to generate an extra $10+ per day! 
Toy Town seems like a legitimate match puzzle game. Instead of unrealistic payouts, they give you tickets to enter weekly prize draws worth $3,000+.
If you don't want to rely on lucky, you can exchange your entries for cash and withdraw via PayPal once you reach $10. The downside is that it takes a very long time to cash out, and there is no guarantee you will get the money.

If you want to earn cash rewards by playing games, I think the best option is to join a platform like Prizerebel and complete app offers.
Conclusion
Don't play Cashman Blast with the expectation to receive the payment. Lots of people regret playing it and wish the company was held accountable.
You will probably get stuck before reaching $150 and never be able to withdraw the money. But even if you meet the requirement, there is little hope Shape Keeper will pay you.
This warning also applies to any game that claims to pay a decent amount of money via PayPal. Here is a similar puzzle game that does not pay! 
Verdict: Not Recommended
Earn a Full-Time Income Online
In 2015, I discovered content marketing and the opportunity to create multiple income streams from home.
One of the best strategies is to create a website, publish helpful articles, and attract visitors searching for information. I use this business model to cover all my living expenses while working from laptop whenever and wherever I want.
Anyone can operate this type of business and achieve remarkable results.
It's not complicated, but I recommend you learn the best practices from expert marketers who will keep on the right track.
This excellent step-by-step program helped me create a lucrative affiliate site, which is the one you are reading right now!
You can do the same if you put in the time, and work as I did. Just remember this is not a get-rich-quick scheme, so you must be patient and give your business at least one year to start making money.
Final Words
Thanks for reading my Cashman Blast app review. What is your opinion about this game? Did you get paid or not?
Peace!