You may have found the Toy Blast Match app and the opportunity to win thousands of dollars by matching cubes.
In one of their vadverts, the company shows a $1,200 payment in the PayPal account and claims you can withdraw cash anytime.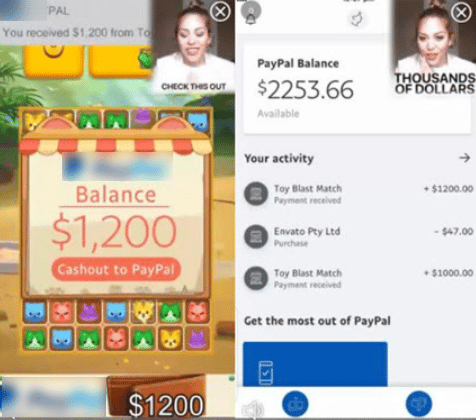 There are many developers using the same strategy to get people to play non-original games and watch an insane number of ads!
One question you need to ask yourself is…
Why is Candy Crush still the most popular match-3 puzzle game if there are similar alternatives that can supposedly make you rich?
I guess you don't want to play Toy Blast Match just for fun. So, will they pay you? Is it a scam or a legit application? Keep reading to find out!
Top Recommendation: Check out the step-by-step program that helped me build an online business and generate over $1,600 per month.
Toy Blast Match App Review
Name: Toy Blast Match
Developer: feng chang
Eligibility: Worldwide
Price: Free
Overall Rating: 

1/5
What is Toy Blast Match?
Toy Blast Match is a matching puzzle game with hundreds of levels!
It's almost identical to the popular Toy Blast, but the different is that players earn virtual dollars that can be transferred to PayPal once they reach $100. Well, at least that's what they want us to believe in.
All you have to do is match the blocks of the same color to complete the goal and pass the level.
How does Toy Blast Match Work?
Toy Blast Match is available on Google Play or App Store for your Android or iOS device. You can install and play the game for free as it's funded by advertisers.
However, they give players the option to purchase coins that can be used to acquire boosters.
After installing the application, you can start the game with no registration or permissions.
First, you will see the game's roadmap with hundreds of levels. Click on level 1 to get started and check the mission.
Next, swipe your finger to switch a cube's position and try to match at least 3 cubes of the same colour. You can only pass the level if you complete the mission without running out of moves. For example, Lv. 3 mission requires you have to blast 42 red cubes.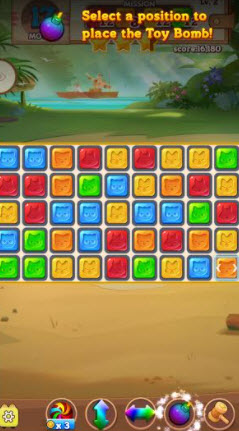 If you think you will run out of moves, you can use a few tools to eliminate cubes such as vertical and horizontal bombs. Each booster costs a specific number of coins, which can be purchased with actual money in the "Coins Store." Alternatively, you can watch a video for 9 coins.

Earning Cash Rewards
Once you complete the mission, you will receive this message: "Congratulations! Cash Reward! Watch the video to claim it."
In the beginning, Toy Blast Match awards $2 whenever you pass the level and watch de sponsored video. However, your earnings will drop considerably once you reach $95.
Just like the other "money games", you can only cash out if you reach $100. The two withdrawal options are PayPal and Amazon. gift cards.
The developer claims that your payment will arrive within 1 – 3 working days.
You may also redeem a $100 iTunes or Google Play gift cards once you complete 700 levels. I can't even fathom how long it will take for players to meet this requirement.
Prize Center
In this section, Toy Blast Match gives you puzzle pieces for playing the Lucky Spin or opening the bubble of prizes. First, you always have to watch a video until the end.
You can supposedly win an iPhone 12, a Sony TV and many other expensive gifts once you collect 10 or 20 puzzle fragments.
Is Toy Blast Match Legit? Does it Pay?
No, there is no evidence that Toy Blast Match is processing cash payments or giving away prizes. You should not expect to earn any money from this app because the closer you get to $100, the less you will earn.
At first, you will earn $2 per level, but once you reach $95, then you will be given just a few cents and even fractions of a cent!
One person said when he reached $96, his rewards dropped to $0.0001!
Therefore, you may never be able to reach $100 in order to cash out. No matter how many videos you watch, you will probably get stuck at $96, just like many people who left a negative review on Google Play.

It's important to mention that Toy Blast match doesn't even provide the "Terms of Service", which is another good reason to believe it doesn't pay anyone.
Pros and Cons
Pros
The game is playable and helps to pass the time.
There are hundreds of level.
Cons
You will probably get stuck at $96.
There is no evidence of payment.
The game crashes frequently, forcing to close it out and restart the game.
Videos are not always available.
The developer does not provide the Terms of Service.
Is There An Alternative to Toy Blast Match? 
You could play a game called Toy Town developed by WINR Games and trade your tickets for cash. Just be aware that the exchange rate is terrible and you may have to play for months to cash out $10.

This reward platform is going viral! Cash out via PayPal, Visa, Gift Cards, and in-game currencies - Click here to find out how to generate an extra $10+ per day! 
Another downside is that there is no guarantee this company will let you withdraw the money.
If you want to get paid for playing games, forget about installing individual apps and join Prizerebel instead. This reputable GPT site pays you for trying new games on your device. Then, once you accumulate 5,000 points, you can cash out $5 via PayPal and gift cards.

Conclusion 
Toy Blast Match is another match-3 puzzle game that entice players with virtual dollars that will never be transferred to PayPal.
I checked the reviews on Google Play and didn't find anyone who received the money. Many players are angry because they got stuck at $96 and as a result, they cannot meet the cashout requirement.
The developer is the only one making profits from all the commercials that you watch in the game.
So, if you value your time and need money for yesterday, avoid Toy Blast Match at all costs.
Similar apps to avoid include Toy Block, Cashman Blast, Fantasy Island, and Lucky Blast.
Earn a Full-Time Income Online
If you want to earn a decent amount of money online, I suggest you build an online business for yourself.
One of best strategies is to create a website, publish content and attract visitors who need information. Then, you can generate revenue by displaying banners or promoting products as an affiliate.
The more people visit your site, the more money you can make!
It may look complicated at first, which is why I highly recommend this step-by-step program designed with the complete newbie in mind. This is the same program that I used to build my site back in 2015, and it's even better 6 years later!
The good news is that you can join here and start your first 10 lessons for free!
Final Words
Thanks for reading my Toy Blast Match app review. I hope it was helpful. So, what is your opinion about this game? Did you reach $100? Please share your results with us in the comment box below.
Peace!