Welcome to my Money Cash Clicker app review!
Imagine making millions, billions and even trillions of dollars just by tapping on your phone screen!
Well, with this "money" game, you can finally become a wealthy magnate and show off your fortune to your friends and family.
Just don't expect to buy food, clothes, smartphones or anything with the virtual money you receive in the game.
The reason is that this is only a business simulation designed for individuals who enjoy day-dreaming.
In this review, I am going to explain how Money Cash Clicker works and give you my honest opinion about it. Is it worth playing? Let's check it out!
Money Cash Clicker App Review
Name: Money Cash Clicker
Developer: Appache games
Eligibility: Worldwide
Price: Free
Overall Rating:

2.4/5
What is Money Cash Clicker?
Money Cash Clicker is a "get-rich-quick" simulation where you tap on cash notes to collect virtual dollars.
The cool thing about is that you can also complete missions, buy businesses, invest your money and do other things to accumulate wealth.
The app was developed by Appache games and is very similar to Make it Rain. I need to warn you that these games are highly addictive, and therefore, can disrupt your life if you don't play in moderation.
Money Cash Clicker is free to play, but there are in-app purchases available that allow you to disable ads and get virtual gold bars.
Are you looking for a real opportunity to earn a decent income from home? Check out my top recommendation here! 
Does Money Cash Clicker Pay Real Money?
No, it doesn't! As I said in the beginning, Money Cash Clicker is only a simulation. The app description has a warning right at the bottom which says:
"You can't withdraw dollars or inbox funds received in our coin clicker. Better study hard instead of tapping in a nonprofit simulator."
Unfortunately, many people install this game in hopes to cash out. Please, don't fool yourself!
It's important to note that Money Cash Clicker is not one of those deceitful applications that claim you can withdraw the money to PayPal once you achieve a specific amount. This is the type of game you should avoid. 
How Does Money Cash Clicker Work? 
Money Cash Clicker is available for Android Devices. Once you launch the game, you must accept the Privacy Policy before playing.
Then, you will see the big cash notes worth $1. Just tap vigorously to earn dollars and follow the tutorial.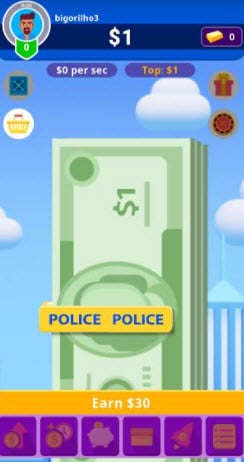 The goal is to accumulate trillions of dollars by leveling up distinct features divided into the following categories:
Finances: Increase the banknote's size. From $1 to $100t.
Business: Grow income per second while you are in the game. For example, money under the pillow will give you $0.40 per second whereas an apartment will pay you 12.43M per second.
Savings: Upgrade your savings account to increase your income while you are absent.
Customization: Customize clips, banknotes, backgrounds and music. When change a clip, there is a higher chance of winning a bonus banknote.
Accelerators: Get large amounts of money, auto-tap, increase business yield by 50% and more! You can purchase accelerators with gold or even actual money.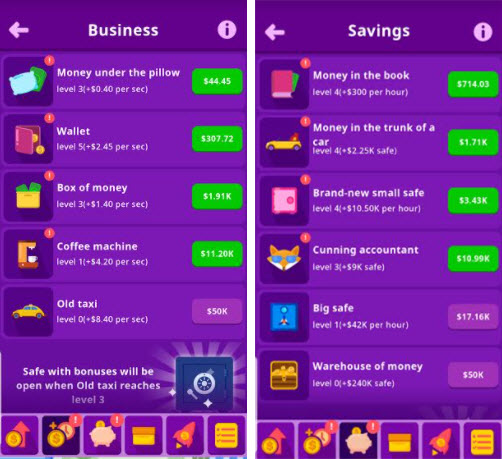 Money Cash Clicker is addictive, but you can get easily bored due to a lack of challenges.
The more you play, the more money you will make. However, further upgrades will become more expensive, so you will always feel like a donkey chasing the carrot. This is a typical behavior of idle games.
The Amount of Advertising is Insane! 
The worst thing about Money Cash Clicker is the large number of ads. It displays a sponsored clip every time you open an upgrade list, which is so annoying!
Many people complain about the ads on Google Play!
It's okay if you have a large data plan and you never use it all. But if you have a small one, I wouldn't recommend playing this game unless you love it above anything else you can do online.
Money Cash Clicker has an add-on that allows you to disable ads forever for £1.39!
If you enjoy playing this game, you think you are spending more money on internet data, this upgrade may be worth it for you.
A player complained that he was watching videos even after purchasing the "no ads" package. So, be aware of that!

Is it Worth Buying Gold Bars? 
In my opinion, yes, but only the real gold bars, not the virtual ones inside the Money Cash Clicker app.
I just don't see the point in wasting your hard-earned money on accelerators and other game customizations.
Pros and Cons
Pros
It's great for those who want to kill time.
It has nice graphics.
Earn virtual cash offline.
Cons
There are ads every time you want to upgrade.
Many people install and play the game with the expectation to withdraw money.
Some people think it's boring.

This reward platform is going viral! Cash out via PayPal, Visa, Gift Cards, and in-game currencies - Click here to find out how to generate an extra $10+ per day! 
Conclusion 
Money Cash Clicker is an addictive money-making simulation game that is perfect for killing time.

Unfortunately, many users mistake it for those games that supposedly pay through PayPal.
I think the company should display a more visible message in the game to warn people they won't be able to cash out.
The main downside of Money Cash Clicker is the excessive number of ads, which screws up the gaming experience.
Besides, it consumes a lot of internet data, which is a bummer for those who have a very limited plan.
Final Words
Thanks for taking the time to read my Money Cash Clicker app review. So, how long did you take to earn 1 trillion dollars? What is your honest opinion about this game?
Let us know in the comment box below!
Peace!