Welcome to my Merge Animal Kingdom app review!
Thousands of people are playing Merge Animal Kingdom in hopes to win $200 by reaching level 90!
The game awards tokens every time you unlock a new level animal. Then, you can supposedly convert 325000 tokens for $5 and cash out via PayPal, GCash, Visa prepaid and more.
Who doesn't like the idea of making an extra income without the usual hard work involved?
Maybe you suspect this is another fake money-making game that will drain not only your time but also your expensive internet data.
If so, you have come to the right place! In this review, I uncover everything you need to know about Merge Animal Kingdom and give you my honest opinion about it. Does it pay or not? Is it legit?
Keep reading to find out!
Top Recommendation: Check out the step-by-step program that helped me build an online business and generate over $1,600 per month.
Merge Animal Kingdom App Review
Name: Merge Animal Kingdom – Zoo Tycoon
Developer: Perseverance Game
Eligibility: Worldwide
Price: Free
Overall Rating: 

1/5
What is Merge Animal Kingdom?
Merge Animal Kingdom is another idle game where players must combine two animals of the same level to form a new one.
As soon as you merge and unlock a new animal, the developer awards tokens you can supposedly convert to real money.
Merge Animal Kingdom is very similar to other popular merging games like Merge Money and Cute Garden.
What I noticed was that developers who supposedly give your money for playing never create unique games.
They only change the graphics and include the virtual dollars, but the gameplay is always the same!
How Does Merge Animal Kingdom Work?
The app is available for free on Google Play for your Android device. Once you launch it for the first time, they will show you a short tutorial on how to play the game.
It's simple, but very time-consuming!
Just tap to purchase your first animal. Next, drag animals of the same level together to craft another one of higher-level.
For example, when two rats (level 1) are merged, a frog (level 2) will emerge.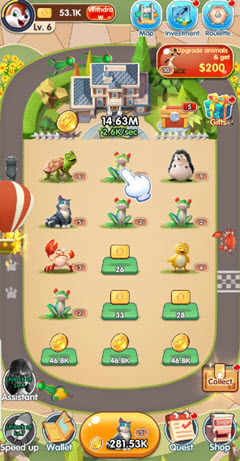 Every animal will generate another type of coin that has a paw symbol. The higher the level, the more coins per second you will earn.

Keep in mind this currency is used to buy more animals and does not convert to cash rewards.
The shop is where you can purchase higher level animals and save time!
Once you reach a specific level, you can unlock different perks to boost your earnings such as investments, assistant, and speed up.
Earning Tokens 
Whenever you upgrade and unlock a new creature, you will receive a red packet with tokens. Merge Animal Kingdom always gives you the opportunity to earn a bonus if you watch the commercial.
This is a clever strategy to make more profits since the player is encourage to play for longer.
There are several ways to collect more tokens such as quest achievements, roulette, hot-air balloon, affinity award, and crafting higher level animals.
How Much Money Can You Earn?
Now you may wonder how much money you can earn by playing Merge Animal Kingdom.
If you tap the withdraw button at the top, you will see the number of tokens in your account and the approximate amount of cash.
64,711 tokens are worth $1.
By unlocking a new level, you will earn a specific number of token that is usually equivalent to $0.01. Then, if you opt for the bonus, you will get another penny.
I haven't played Merge Animal Kingdom for long enough, but at this slow rate, it will probably take you a couple of weeks to reach $5.
However, you may benefit from the Animal Level Reward and earn lots of tokens by achieving milestones. For example, once you unlock the Elephant (level 90), you will get 13000000 tokens, which is $200!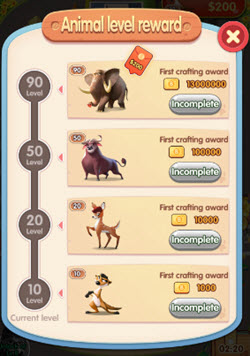 How Do You Get Paid?
Merge Animal Kingdom differs from other merging games as you can cash out at $5.
You must have 325,000 tokens to withdraw $5 via PayPal, GCash, Dana, Emirates NBD securities, Visa and MasterCard.
You can also withdraw higher amounts like $20, $100 and $200. However, I advise you to redeem $5 to see whether or not they will pay you.

This reward platform is going viral! Cash out via PayPal, Visa, Gift Cards, and in-game currencies - Click here to find out how to generate an extra $10+ per day! 
Is Merge Animal Kingdom Legit? Does it Pay?
No, I don't think Merge Animal Kingdom will pay you. You may have to play for weeks and watch hundreds of videos to meet the cash out requirement. But unfortunately, there is little chance of success!

The game is "early access", which means there are no users reviews on Google Play. You see, many developers launch incomplete versions of their apps to avoid negative feedback, and thus, prevent people from knowing if the company pays.
So, I searched for evidence of payments on Google and YouTube, but I coudn't find any!
One person published a gameplay on YouTube and reported winning $200. However, he replied to comments by saying he didn't receive any payout yet.
If Merge Animal Kingdom were giving away real cash, they would certainly provide the Terms of Service. Besides, it would be easy to find positive testimonials.
Here are other merge games that do not pay:
Conclusion 
Merge Animal Kingdom is great for killing time and has excellent graphics. However, no one should expect to earn money just by merging animals and watching videos on their phones.
You may collect enough tokens and cash out, but the company will probably ignore your payment request just like most of the so-called "money" games. There is no legal agreement between players and the company, so they are not obligated to pay you.
I know it's tempting to play a free game that is offering money. After all, you have nothing to lose, right?
Well, not really! You will not only waste time but also money since videos consume a lot of internet data.
Earn a Full-Time Income Online
If you want to earn hundreds and even thousands of dollars every month, playing mobile games is not the answer!
My advice? Build an online business and take advantage of the digital economy!
One of best strategies to set up a website and write helpful content that ranks on Google.
When people visit your site in search for information, you will earn revenue by showing them banners and links to your affiliate offers.
That's how I make a living online! It all started when I discovered this excellent step-by-step program almost 6 years ago.
This platform gave me all the knowledge, support and tools to succeed as an internet marketer. Which is why I highly recommend to this date!
Join here and start your first 10 lessons for free!
Final Words
Thanks for reading my Merge Animal Kingdom app review. I hope it was helpful. So, what do you think about this game? Did you cash out? Kindly share your results with us in the comment box below.
Peace!