Welcome to my Tap Money Rain app review!
The creators of Tap Money Rain are advertising their app by saying it's a real money-making machine. 
In a video ad, they show a simulation that suggests players can cash out £335 via PayPal. All you have to do is tap on the virtual cash notes to make a killing and feel like a magnate!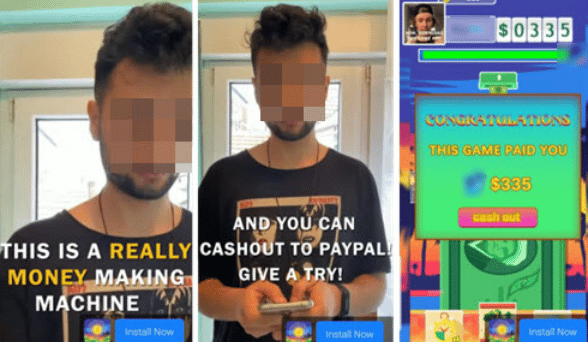 If it's true, then why are millions of people still struggling to pay the bills?
There is no argue that Tap Money Rain is offering cash rewards as a bait to attract more people, make them play for longer, and as a result, maximize profits.
But unfortunately, I am yet to find a single person who received hundreds of dollars by these so-called "money" games.
So, is Tap Money Rain legit? Will they pay you or not? Keep reading to find out!
Top Recommendation: Check out the step-by-step program that helped me build an online business and generate over $1,600 per month.
Tap Money Rain App Review
Name: Tap Money Rain
Developer: lilytyrellgo
Eligibility: Worldwide
Price: Free
Overall Rating:

1/5
What is Tap Money Rain?
Tap Money Rain is a game where you flick dollars bills and accumulate virtual dollars. It's almost identical to other get-rich-quick simulations like Make it Rain and Money Cash Clicker.
The main difference is that it supposedly allows users to cash out through PayPal once they reach $1000. The app description entice people to experience the money clicker and make real money. They say it loud and clear!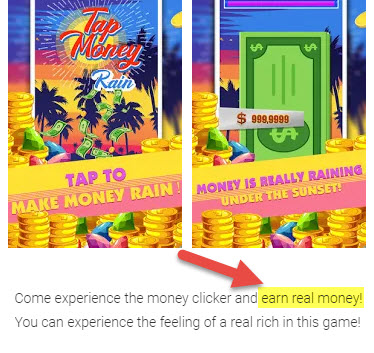 Many people get their hopes high because they see the PayPal logo and the space to fill in their email. But there is always more than meets the eye!
Tired of fake money games? You can earn over $100/month by joining Prizerebel and completing simple online tasks.
How Does Tap Money Rain Work?
Intallation
Tap Money Rain is available for Android devices, so you can install it for free on Google Play. It doesn't require registration or any permissions.
Before opening the game, you will see the link to Privacy Policy and Terms of Service. However, these important pages don't exist.
How to Play?
When you open Tap Money Rain, you will see a stack of cash with the Yen (¥) – the Chinese currency.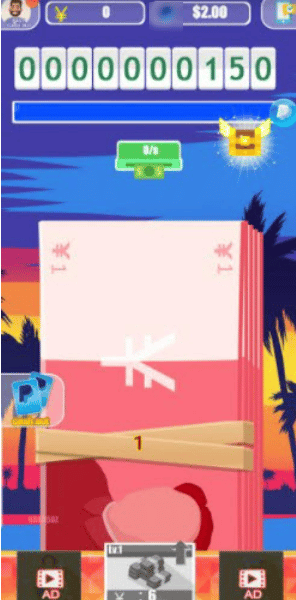 Just tap on the cash note to flick them out into the air. If you are at level 1, every tap will generate ¥1.
Virtual Yen will accumulate in your account, and you can use the money to upgrade your cash notes to earn more.
At every level, they increase the value of your notes by 1 unit. So, at level 2, you will earn ¥2, and so on and so forth!
After you reach specific levels, the currency will chance. For example, the Yen will be replaced by the British Pounds.
Keep in mind that all this money cannot be withdrawn via PayPal and doesn't count for the minimum cashout requirement.
Earning PayPal Cards
You may have noticed there is a progress bar at the top with the PayPal logo at the end.
Every time you tap the cash note, this bar fills up to the right. Then, you will receive virtual dollars whenever it hits the PayPal symbol.
However, you must tap the "Get" button and watch a short video to collect the "reward". That's how the developers encourage players to watch lots of sponsored videos and hence maximize profits.
How do You Get Paid? 
When you open the cash balance, you see this message:
"In a limited time, you will receive a random PayPal bonus. Can get bonuses through videos." 
There is a countdown from 24h, a button to fill in your PayPal account, and the amount of cash you have.
Besides, they display a progress bar to make it seem like you need to reach $1000 to cash out.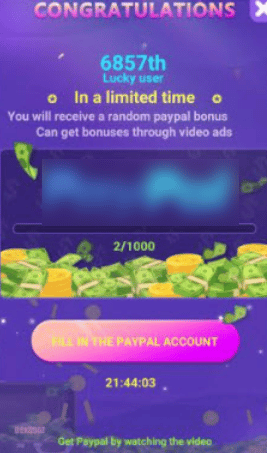 So, when you reach $1,000 you must submit your payment details and wait.
Is Tap Money Rain Legit? Does it Pay? 
No, it doesn't pay. There is no evidence that Tap Money Rain is processing payments and no reason to believe they will give you money.
The developers are using a common strategy of lunching the game as "Early Access", meaning players are not allowed to write reviews and share their results.

This reward platform is going viral! Cash out via PayPal, Visa, Gift Cards, and in-game currencies - Click here to find out how to generate an extra $10+ per day! 
However, the last 3 years testing and reviewing these so-called "money games" have taught me a lot about their behaviour. Sadly, I can count on my finger the ones that actually pay!
Tap Money Rain works like most apps that overuse the "PayPal" logo to entice users searching for easy money online.

You can reach $1,000, but you will never receive the payment in your account. Don't even try to email the company because you will waste even more time.
Also, there is no evidence that Tap Money Rain is organizing genuine sweepstakes because they provide no rules.
To top it all off, it has no Terms of Service and no Privacy Policy, which means the developer is breaking Privacy regulations in many countries. 
There is a link to these documents, but when I tried to open them, I got this message:
"Sorry, this website has been removed due to a legal issue related to its content."
Many game developers are using the same excuse. Surprisingly, they continue to operate business as usual despite not being ignoring Google's guidelines on User Data.
Here are other "money" games to avoid:
Conclusion 
There is no way you can make $1,000 or even a single penny from Tap Money Rain. The only one who is earning revenue from this app is the app owner.
The individual or company behind this game doesn't seem to worry about advertising or privacy regulations. Perhaps because he may operate overseas.
I don't recommend using this app because of all the reasons stated above. It doesn't pay, and it's no fun!
Verdict: Not Recommended 
Earn a Full Time Income Online
Being able to earn money from the internet is a blessing, especially now when people are forced to stay home.
You can make thousands of dollars per month using different business models. However, content marketing is the one that works best for most people.
In 2015, I created this website thanks to this excellent step-by-step program. I learned how to rank articles on Google and attract a large audience in search of information.
The more people browse my website, the more money I make from advertising and affiliate marketing.
You can do the same, but it's important to be aware that results depend on how much time and effort you put into it.
When I started my online business, I was working in a coffee shop and also attending classes at uni twice a week.
So, you can succeed and generate a decent amount of money, even if you do it in your spare time!
>> Click here to join for free and take your first steps today! 
Final Words
That's it for this post. Thanks for reading my Tap Money Rain review! If you have any question or want to share your results with the world, use the comment section below.

Peace!