Welcome to my Ball Sort Puzzle 2021 app review!
Ball Sort Puzzle 2021 is another addictive match color game that went viral recently.
Over 1 million people have already installed this application in hopes to reach $100 and withdraw their money to PayPal.
I am not surprised as there are many people losing their jobs and struggling to pay their bills.
It would be nice to earn some extra income just by sorting bubbles and completing levels, but deep inside you fear that this may be a complete waste of time!
I already reviewed two identical games that also entice people with cash rewards: Golden Bubble Sort and Light Sort Puzzle.
Unfortunately, the developers collect advertising revenue and don't share a single penny with players.
So, can you trust this new money game called Ball Sort Puzzle 2021? Is it real or fake? I am here to give you all the details!
Before you leave this post, check out the step-by-step program that helped me build an online business and generate $1600/month. 
Ball Sort Puzzle 2021 App Review
Name: Ball Sort Puzzle
Developer: Happy Bubble Games
Eligibility: Worldwide
Type: Puzzle
Payout Threshold: $150
Price: Free
Overall Rating:

1/5
What is Ball Sort Puzzle 2021? 
Ball Sort Puzzle 2021 is an addictive game where you must solve the puzzle by sorting the colorful balls.
Just place same color balls on top of each other and fill up the glass tube. Once you sort all the balls, you will pass the level and earn virtual dollars that will be added to your wallet.
As with most "money" games, you can only withdraw the money once your account reaches $150.
How Does Ball Sort Puzzle 2021 Work? 
Ball Sort Puzzle 2021 is available for Android devices and is funded by advertisers. That means you will watch lots of videos ads while playing it.
Most adverts are promoting other "money-making" games, so be aware of the unfolded claims!
As soon as you launch it, you will receive a Daily Bonus of $0.5, and you can double the reward by clicking the button and watching the short clip.
They encourage you to check in consecutively for 7 days for a chance to withdraw $100.
At level 1, you will see 3 glass tubes with pink and orange balls. Transfer the ball from one tube to the other and try to place all the balls of the same colour on top of each other.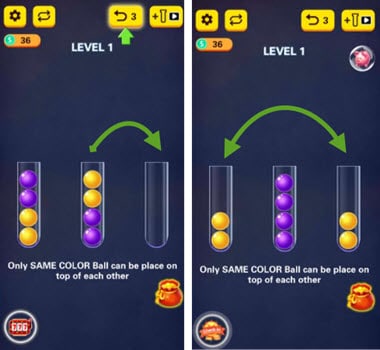 Complete the tubes with four balls of the same colour and finish the level by sorting all the balls available.
The higher the level, the more challenging it becomes. For example, at level 10 there will be 7 colors and 9 tubes. Besides, you won't be able to transfer the balls wherever you want.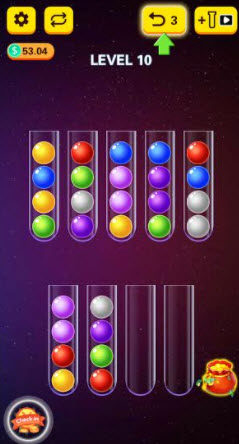 So, you will be forced to use the brain and make smart decisions.
If you feel stuck, you can restart the game, undo your last move or add another tube after watching a video.
Virtual Dollars
Whenever you complete the level, you will receive a few cents and you can always double the reward by watching the video.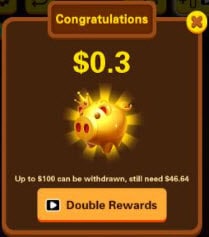 Occasionally, you can earn cash by clicking on the piggy bank inside a bubble.
You can also open the red bag, play the slot machine and scratch cards for a chance to win more virtual dollars.
Unlike many other games, Ball Sort Puzzle 2021 doesn't give you puzzles for winning iPhones and other prizes. It's not a big issue because those developers never give the last fragment, anyway!
How Do You Get Paid? 
In order to request the payment through PayPal, they say you must have at least $100. However, they will increase the requirement to $150 as soon as you reach $100.
I know how it feels, but this is only the tip of the iceberg!
If you click the green button and achieve 50 views, you can supposedly withdraw the money faster.
This is another strategy to increase profits, but does Ball Sort Puzzle 2021 actually pay?

Is Ball Sort Puzzle 2021 Legit? Can You Make $150? 
No. Just like many other fake reward games, you won't receive a single penny! I have seen lots of people who left negative reviews by saying they cannot withdraw the money.
Many players report the same story! It takes ages to reach the minimum requirement, but once they got there and tried to cash out, it said "Sold Out".
If that wasn't bad enough, there is a countdown to make people wait for longer!
But it's hopeless because they never transfer the money to PayPal, even after the clock counts down.

This reward platform is going viral! Cash out via PayPal, Visa, Gift Cards, and in-game currencies - Click here to find out how to generate an extra $10+ per day! 
I tried to find someone who had a different experience, but everyone complain they cannot cash out.
So, don't get your hopes high because your chance of getting paid by Ball Sort Puzzle 2021 is much lower than being struck by lightning.

Conclusion 
Ball Sort Puzzle 2021 is an interesting time-killer, but forget about the cash reward!
I believe most people have installed this application since the advertising told them they could win actual money.
So, even if the game is nice, players get furious when they realize it's impossible to withdraw.
The reason is that they had to endure hundreds of videos that only wasted their time and internet data.
If you just want to have fun, there are other similar puzzle games with fewer ads. Now, if money is what you are after, I suggest you check my top recommendation below.
Earn a Full-Time Income Online
Earning hundreds and even thousands of dollars takes a lot more than playing a mobile game.
I always recommend setting up a website and publishing helpful content that ranks on Google. There are other ways to build an audience and generate an online income, such as growing a YouTube channel.
Me, personally, I focused on building a site for a long time and I don't regret it. I am also publishing videos as well from time to time.
That's how I make a living online! It all started when I found this excellent step-by-step program 6 years ago.
This platform opened my eyes to internet marketing and helped me build a successful online business. You can make it happen if you take action and don't give up!
Wanna try it? Join here and start your first 10 lessons for free!
Final Words
Thanks for reading my Ball Sort Puzzle 2021 app review. I hope it was helpful!
So, have you made it to $150? Did they pay you or not? Let us know your thoughts in the comment box below.
Peace!