Welcome to my Amaze Link to Win app review!
I am writing another post to expose a new "money" game called Amaze Link to Win, and hopefully, save your time and mobile data.
The developer entice people to play his game in order to win free money and get rich!
With so many apps offering free money, you would expect no one would have financial problems anymore. But unfortunately, that's not what we see in the real world.
In a video ad, an Asian woman advises you to stop playing fake games and claim you can cash out when you reach $30.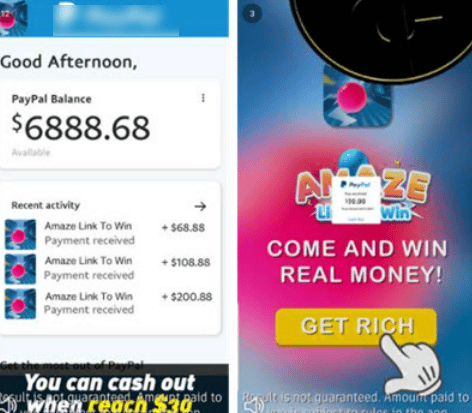 Then, they show us a PayPal account with $68, $100 and $200 payments made by Amaze Link to Win.
Right at the bottom, the small print says "Result is not Guaranteed. Amount paid to you is subject to rules in the app."
So, what are your chances of success? Does Amaze Link to Win pay or not? Is it legit? Keep reading to find out!
Before you leave, discover the step-by-step training that helped me build an online business and generate over $1,600 per month.
Amaze Link to Win App Review 

This reward platform is going viral! Cash out via PayPal, Visa, Gift Cards, and in-game currencies - Click here to find out how to generate an extra $10+ per day! 
Name: Amaze Link to Win
Developer: David.Liu
Type: Puzzle
Payout Threshold: $200
Price: Free
Overall Rating: 

1/5
What is Amaze Link to Win? 
Amaze Link to Win is a puzzle game where you have to swipe the screen to paint the entire maze.
As you color the squares and complete the levels, you will earn virtual PayPal cards and diamonds. However, you can only cash out once you reach 200 USD or 325,500 gems.
Amaze Link to Win is very similar to Cube Rotator 3D. The fundamental difference is that the maze is in 2D and not on the sides of a cube.
How Does Amaze Link to Win Work? 
Amaze Link to Win is available on Google Play and doesn't require registration. Just press Start and you are good to go!
Swipe your finger to move the ball and paint the maze. It's very easy because the white hand will always show you the direction of your next move.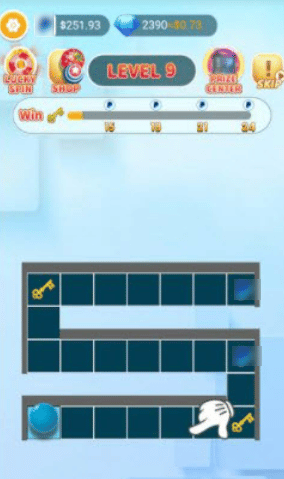 You may have noticed some PayPal logos and yellow keys in the maze. When you hit the logo, Amaze Link to Win will give you a virtual card worth a few dollars.
You must click the button and watch a video ad in order to collect your reward.
Whenever you collect a key, the progress bar will advance and you will get "Stage Rewards" by the time it's completed.
Once you finish the puzzle, you can open the gift box and earn virtual dollars or diamonds.
Collect More Rewards
Amaze Link to Win provides other ways to boost your earnings and win big prizes:
Lucky Spin: Spin the wheel for a chance to win cash and diamonds.
Daily check in: Open the game for 7 consecutive days to earn rewards.
Stage Win: Earn cash, gems and different paint balls.
Prize center: Collect puzzle pieces to win several prizes such as a Samsung Galaxy S20, Sony 55 inch TV, HP Notebook and more!
How do You Get Paid? 
As you already know, you can only cash out via PayPal once your balance reaches 200 USD. If you are more ambitious, you can wait and cash out $400, $600, $800 and $1000!
As for diamonds, they can be exchanged for Amazon, Google Play, iTunes, Playstation and Xbox gift cards. You need at least 325,500 gems to redeem 100 USD.
Is Amaze Link to Win Legit? Does it Pay? 
No! Amaze to Win will never pay you because the amount of cash they are offering is absurd!
No game company could ever afford to pay hundreds of dollars, and that is because they only earn a few cents when people watch a video ad.
So, each person would have to watch tens of thousands of videos to generate this level of income.

However, I reached $251 after playing Amaze Link to Win for just 10 minutes! It's not realistic, so don't fall for the illusion!
If it was so easy, then I am sure everybody would be filthy rich by now!
When you reach $200, you can submit your PayPal and request the payment, but you will never see a dime. 
As with many other money games, the developer has launched the app as "Early Access", preventing users from leaving a review. This is another big problem because people rely on user reviews to check the app's reputation.
It's not fair because the game seems complete and generating profits at full blast!
Here are two other viral games you should be aware of:
Is There an Alternative to Amaze Link to Win?
Avoid games that claim to pay a lot of money via PayPal because they are only helping developers maximize profits.
If every company could afford to pay, I am sure other popular apps would be doing the same to attract even more players.
If you want to earn a little extra income by playing games, the best strategy is to join a GPT site and complete specific offers.

Many developers promote their apps on these platforms and you get paid to try them out! You cannot get rich with this method, but it's an opportunity to earn a few dollars here and there.
Conclusion 
Amaze Link to Win is a boring game, and the cash reward is fake. It's impossible to win so much money unless the company is rewarding just a few lucky players as WINR Games Inc does.
That's not the case because this is not a sweepstakes app, otherwise, the rules would have to be set up in the "User Agreement". However, there is no information about cash prizes there!
Make no mistake. You will just waste your time collecting virtual currency with no value.
I don't even recommend playing it for fun because it's not challenging and there are frequent interruptions.
Verdict: Not Recommended
Final Words
That's it for now! Thanks for reading my Amaze Link to Win app review, and if you want to join the discussion,  leave us your thoughts and results in the comment box below.
Peace