Welcome to my Monster Drop app review!
I was playing a game recently when I saw an advertisement suggesting players could get rich by dropping balls! Well, they didn't say it precisely, but a word to the wise is enough. 
In the advert, a woman stores a big stack of money in the drawer and they say this was two days later. Then, they show a fridge full of cash and claim this was a week later!
Check this out!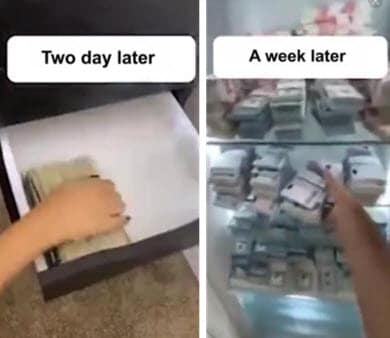 I am writing this post because people need to be aware of how Money Drop works and what will happen if they try to cash out.
So, can you really make money by playing this type of roulette game? Is it a legit or fake? Keep reading to save time and avoid extreme frustration!
Before you leave, discover the step-by-step program that helped me build an online business and generate over $1,600 per month.
Monster Drop App Review
Name: Monster Drop
Developer: Nigel Fowler
Payout Threshold: $300
Price: 100% free
Overall Rating: 

1/5 
What is Monster Drop? 
Monster Drop is a shameless copy of another money-making game called Lucky Drop. It features a wheel with lots of holes, a slot machine and a tube at the top from where the balls will drop from.
Basically, you just have to tap on your screen to drop the balls on the wheel that keeps turning. Whenever a yellow or green ball falls into a hole, you will earn tokens or virtual dollars, respectively.
Both types of virtual currency will accumulate in your account, and you can supposedly cash out once you reach $300 or 6 Million tokens.
By activating the slot machine, you will also collect puzzle pieces for a chance to win smartphones and many other items virtual.
Keep in mind that Monster Drop wants you to watch as many videos as possible. That's why they try to make you believe you will earn money if you reach the requirement.
How Does Monster Drop Work? 
Installation 
You can download and install Monster Drop for free on the Play Store. It's completely free to play, so there is no risk of losing money.
The problem is that the game is full of ads, which consume a lot of data. So, you may waste money indirectly, especially if you are using a limited mobile network plan.
How to Play?
Just tap the screen to drop yellow balls. They will bounce and fall into the holes around the roulette.
Whenever they fall into the hole, you will earn anywhere between 5 and 100 tokens.
Every ball that falls into the centered hole will activate the slot machine. That's the only way to get green balls and earn virtual dollars ranging from $0.01 and $1.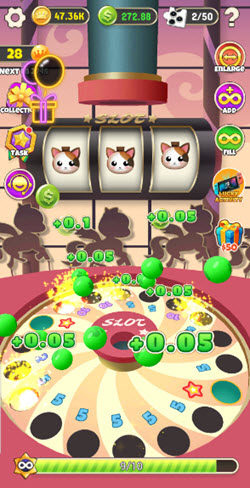 The slot machine also awards extra yellow balls and mystery items such as puzzles.
There are holes with a star on the top. When the balls fall into these "fever" holes 10 times, you will earn infinite balls for 30 seconds. 
If you run out of balls and you don't want to wait, you can get an extra 50 balls by watching a video or spending $2.
Check out the best apps to earn cash instantly! 
Lucky Activity
In this section, Monster Drop will give you more puzzles to redeem expensive products such as MacBook Pro, Sony TV, Samsung Galaxy S20, luxury bags and more.
You must always watch a commercial to play the lucky spin or use the Puzzle Bubbles.
How to Cash Out?
By opening the cash or token balance, Monster Drop will show you a list of all requirements to redeem different prizes.
300 coupons: $300 PayPal
6 Million Tokens: $200 PayPal
Collect 100 bundle: $5000 PayPal
Match the 777: $1000 PayPal
Collect 17 Dolls: $1000 PayPal
Get 26 Chips: $1000 PayPal
50 Puzzles: Win a smartphone worth $1499
According to the Monster Drop, your rewards will be sent to you within 3 – 15 working days.
Invite Friends
Monster Drop also entice users to invite friends and earn $7 after they install the game. A $50 "Bonus dollars" can be redeemed once you refer 7 friends.

Is Monster Drop Legit or Fake? Does it Pay? 
No. Monster Drop doesn't transfer any money to PayPal, and you will never collect enough puzzles to redeem the gift.
The proof is in the app's description, which says the following:
"This game is intended for an adult audience and does not offer an opportunity to win real money or prizes."
Yet, they promote the game as if users could earn stacks of cash!
I have seen many complaints on Google Play from players who got stuck because the game stops giving coupons and virtual items.

This reward platform is going viral! Cash out via PayPal, Visa, Gift Cards, and in-game currencies - Click here to find out how to generate an extra $10+ per day! 
Here is one example: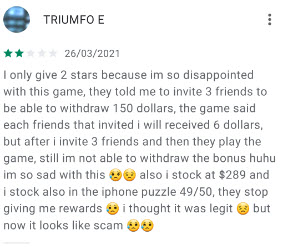 The developer created the Monster Drop app to generate as much profits as possible with advertising.
That's why they will give you lots of fake cash in the beginning, so that you keep watching the videos with a big smile on your face.
However, green balls will become rare and the money will stop rolling out before you reach $300. Therefore, you won't be able to withdraw this money!
The same will happen with puzzles and other items, which will never appear in the slots.
If you check the Terms of Service, the company claims that winners are selected at random using a computer algorithm.
But there is no evidence of payments! Instead, I only see many negative reviews from players who made no money.
Conclusion
Forget about making money with Monster Drop or any other game that supposedly pays hundreds of dollars. That's very unrealistic!
Unfortunately, the developer has no intention of paying anyone!
Many players expect to win $300 and even $1000 once they reach the payout threshold. But everyone gets stuck at around $270 and 49 puzzles.
I lost count of how many fake money games I reviewed on my blog. Yet, I keep on finding new ones every single day.
Verdict: Not Recommended
Earn a Full-Time Income Online
Many folks all over the world are operating profitable online businesses in the booming digital economy.
To earn a lot of money online, the key strategy is to grow your audience by providing helpful content. You can set up a website and attract visitors by ranking articles and reviews on Google.
This is the exact business model that allows me to work from home, coffee shops and hotels around the world!
If you want to follow a similar path, click here and discover the best step-by-step program! 
I have been a member since 2015, and this was the place where I built the site you are reading now. The fact that you are reading this now is proof that the training works!
Final Words
Thank you for reading my Monster Drop app review. I hope it was helpful and informative! So, have you made it to $300? Did you receive the payment?
Peace!