Welcome to my Big Watermelon Merge app review!
I saw this crazy advertisement claiming you can get paid thousands of dollars directly via PayPal within 3 minutes.
All you have to do is play Big Watermelon Merge and pretend the developer is the most generous individual on planet earth.
The game is all about combining same fruits until it becomes a watermelon. As you play, you will collect virtual dollars that will accumulate in your Amazon and PayPal balance.
But just like the other "money games", they impose a minimum cash out threshold to withdraw the money.
They also claim you can redeem an iPhone 12 Pro after you merge 10 watermelons and watch 150 videos!
So, can you trust Big Watermelon Merge? Is it another fake app? Read my review until the end to save time and avoid bitter disappointment.
Before you leave, discover the step-by-step program that helped me build an online business and generate over $1,600 per month.
Big Watermelon Merge App Review
Name: Big Watermelon Merge
Developer: Win Win easygame2020
Payout Threshold: $300 (Amazon)
Eligibility: Worldwide
Price: Free
Overall Rating: 

1/5 
What is Big Watermelon Merge? 

This reward platform is going viral! Cash out via PayPal, Visa, Gift Cards, and in-game currencies - Click here to find out how to generate an extra $10+ per day! 
Big Watermelon Merge is a merging game where you combine same fruits to unlock other fruits of bigger sizes. It goes from grapes to watermelons!
There are many similar games on Google Play, including Merge Fruit, which also entice users with unrealistic cash rewards.
It also reminds me of several 2048 games such as Balls Merge, which is based on numbers and colorful balls.
These are very addictive games not only because of the gameplay but also the opportunity to earn actual money.
How Does Big Watermelon Merge Work? 
Installation 
You can install Big Watermelon Merge for free and play it on your Android device. It doesn't require prior registration or permissions.
The Prize Claims
As soon as you launch the game, it entices you to merge 10 watermelons to redeem an iPhone 12 Pro.
Not only that, but it shows you a countdown from 24 hours, and says all the money collected during the event will be redeemed to PayPal.

They also claim that if you collect $1000, you will redeem immediately without waiting.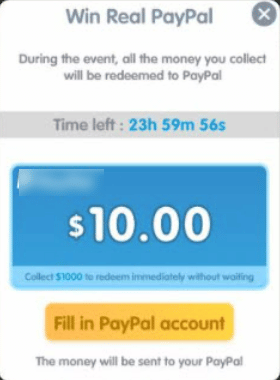 How to Play? 
Tap on your screen and swipe your finger to drop the fruit down. Then, try to collide identical fruits so that they merge and form another larger fruit.
After merging two half pieces of watermelons, they will merge into an entire fruit. Then, combine two watermelons and they will disappear!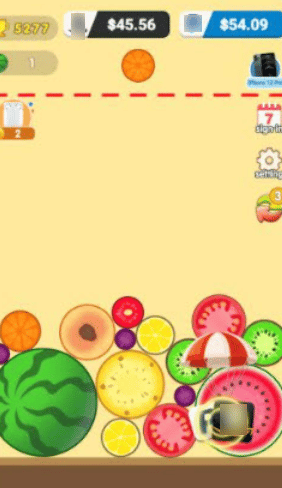 From time to time, you will drop PayPal and Amazon balls instead of fruits. When they hit any fruit, Big Watermelon Merge will give you virtual dollars with the condition that you watch a video ad first.
The money will then be added to your Amazon or PayPal balance.
The game is over if you let the balls hit the red line on the top of the screen. In that case, you can watch a video ad to revive or start again. But don't worry, as you won't lose your progress towards the cashout requirements.
Lucky Draw
Big Watermelon Merge also organizes sweepstakes every three days for a chance to win a McBook Pro, an iPad, and AirPods.
You can collect entries by merging fruits and also by watching videos. The more tickets you enter, the higher the probability of winning.
How do You Get Paid? 
You can request your payment by opening the Amazon or PayPal balance. You need to reach $300 to redeem an Amazon gift card.

As for the PayPal option, you you can supposedly earn all the money you collect in the game once the countdown is finished. Just enter your PayPal account twice and click "Redeem".
Is Big Watermelon Merge Legit? Does it Pay? 
Unfortunately, you will probably not receive any money or prizes from this company. I am confident about it because it's very similar to hundreds of other apps reviewed in this blog.
They entice players with virtual cash just so you watch more videos and help the developer make bigger profits. However, they are not obligated to pay you a dime!
I exposed lots of games more than a year ago, but they are still available and causing a lot of trouble for people all over the world. There is no reason to believe Big Watermelon Merge is different because its business model is identical.
Not to mention this app is still in development (Early Access) even though it was installed 100,000 times. Therefore, users are forbidden to publish reviews on Google Play and expose their results.
Conclusion 
Don't play Big Watermelon Merge with the expectation to win PayPal cash, gift cards or iPhones.
The virtual dollars you see on the game have absolutely no monetary value. Therefore, trying to make money with this app is like strolling around the streets in hopes someone will hand you $100 for doing nothing!

I don't even recommend playing this game for fun because the developer doesn't deserve your time.
Verdict: Not Recommended
Earn a Full Time Income Online
Everyone wants to make money online, but only a small percentage of people are prepared to put in the work!
Maybe you are the kind of person who would do whatever it takes (legally) to create an alternative income from home. That's the right mindset that will put you ahead of the curve!
There are different ways to generate +$1,000 per month, but in 2015, I decided to build this website and publish helpful content.
You can do the same and achieve remarkable results within 1 or 2 years. It depends on how much time and effort you put in. Click here and check out the step-by-step program I used!
Final Words
Thanks for reading my Big Watermelon Merge app review! If you have any question or want to share your thoughts, feel free to leave a comment below.
Peace!