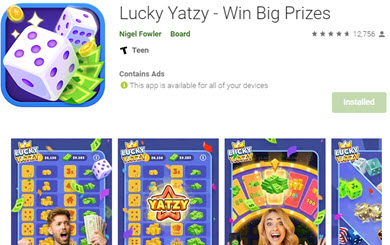 Welcome to my Lucky Yatzy app review!
I believe you are reading this post because you saw a video ad suggesting you could win over $1,000 by playing Lucky Yatzy.
The advertising has a woman with a stack of cash in her hands and the saying, "One step left will you get rich!
New games go viral because of strong marketing campaigns targeting people who dream of making easy money online. They entice players with virtual dollars and even iPhones, but there is never any evidence of payments.
You don't want to feel like a fool running dices for hours in return for nothing! So, is Lucky Yatzy a scam or legit app? Will they pay what you deserve? Keep reading to find out!
Before you leave, discover the step-by-step program that helped me build an online business and generate over $1,600 per month.
Lucky Yatzy App Review
Name: Lucky Yatzy – Win Big Prizes
Developer: Nigel Fowler
Payout Threshold: $300
Eligibility: Worldwide
Price: Free
Overall Rating: 

1/5 
What is Lucky Yatzy? 
Lucky Yatzy is a mobile game about rolling dices and spinning wheels to win virtual cash rewards.
The app is owner by Nigel Fowler, who operates other popular apps such as Monster Drop, Kitty Town, and Dozer Time.
He promotes his games as if players could earn a lot of money just by playing and reaching the payout threshold.
Well, he is not inventing the wheel as there are hundreds of game that are doing exactly the same in order to maximize ad views and profits. Here is another dice game doing the same! 
How Does Lucky Yatzy Work?
Lucky Yatzy is available on Google Play for Android devices. Opon launching the game, it tells you to click the "ROLL" button to make money.
You can roll the dices 3 times per round. Extra "Rolls" will be added every 5 minutes, but you can get more if you watch a video ad!
Did you know the developer is making money every time you watch these videos? Part of that revenue should straight to the player's pockets. Well, at least in theory!
Once you press the button, it will throw 5 dices simultaneously, and the ones with the same number will be saved.  Roll twice more in order to match the other dices with the first number.
Lucky Yatzy will give you coins or coupons (dollars) depending on the combinations you get. Here is the full list from the lowest to the highest prizes: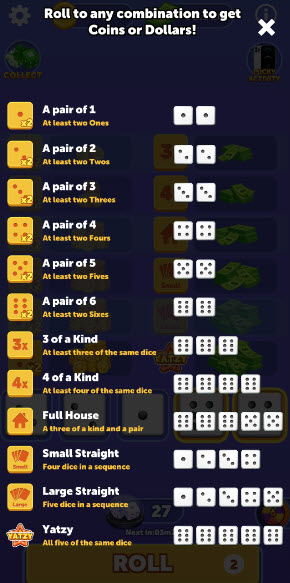 If you get the same number in all five dices, you will earn the Yatzy prize. You will always have the chance to increase the reward by up to 10 times after watching a video.
However, ads pop up frequently at any time during the game.

Lucky Wheel
By playing 3 or more rounds, you can spin the lucky wheel and get the chance to win coins, coupons, extra rolls, and even $1000.
According to Lucky Yatzy, you can redeem $1000 if you collect 30 special dices or a $777 in the Lucky Wheel.
Lucky Activity
Lucky Yatzy also allows you to collect different puzzle pieces, which can be redeemed for expensive items such as MacBook Pro, Sony TV, Louis Vuitton Bag, Samsung Galaxy S20 and more!
You can get puzzle fragments by using the Puzzle Bubble or Lucky Spin. As expected, it will only give the puzzles if you watch the ad and help the developer increase his profits.
Tired of fake money apps? Check out my top recommendation and learn how to build your own online business!
How do You Get Paid? 
Check the minimum payout threshold and request the payment by opening your cash or coin balance.
Lucky Yatzy claims that if you reach $300 or 6 Million coins, you can redeem 300 USD via PayPal. They also offer $1000 for those who collect 30 Special Dices or one $777.
As per the app's instructions, your reward will be processed within 3 – 15 business days. However, the Terms of Service states that the payment deadline is actually 30 business days.
Is Lucky Yatzy Legit? Does it Pay?
I checked lots of reviews on Google Play to see whether players were getting paid. Unfortunately, the game doesn't seem to reward anyone who meets the requirements.

If the developer was paying users regularly, it would be easy to find positive testimonials. But it's quite the opposite!
I just found one person who said he made lots of cash and coins. But the question is:
Did he get the actual payment via PayPal or just won virtual dollars? I would just believe him if he showed his PayPal account with the payments on live streaming!
There is no proof, so even if one or two people said they got the money, it wouldn't be enough to convey trust.
According to Lucky Yatzy's terms of use, any token balance in your account is not real money and does not reflect any stored value. Besides, winners are selected at random by a computer algorithm.
I cannot claim this app is a scam because I have no proof that it doesn't pay. However, the developer should prove that he is operating fair sweepstakes and be more transparent.

This reward platform is going viral! Cash out via PayPal, Visa, Gift Cards, and in-game currencies - Click here to find out how to generate an extra $10+ per day! 
Conclusion

Don't play Lucky Yatzy with the expectation to win $300, or else you will just waste time and internet data.
I wouldn't even recommend playing it for fun, because it's all about pressing the "Roll" button and watching one ad after the other.
These applications make extravagant money claims so that people fantasize about making money.
This is a common tactic used to increase profits because you will watch videos in hopes to collect your reward.
However, they have no obligation to pay anyone!
Verdict: Not Recommended
Final Words
Thanks for reading my Lucky Yatzy app review! So, did you play this game and reached $300? How was your experience? Let us know in the comment box below!
Peace!