Welcome to my Ball Connect app review!
I have recently found Ball Connect, a game that supposedly pays you real money just for connecting coloured balls.
Just connect two balls of the same color and avoid creating lines that intersect each other. Complete the level and you will earn coins. There are over 1000 levels with varying degrees of difficulty.
Ball Connect is very similar to Golden Dot Connect, but it doesn't give you virtual dollars. Instead, they encourage players to reach 20,000 in order to cash out via Paytm or PayPal.
So, does Ball Connect pay or is it just another fake money-making app? Keep reading to find out!
Before you leave my blog, check out the step-by-step program that helped me build an online business and reach $1,600+ per month. No special skills required!
Ball Connect App Review
Name: Ball Connect
Company: Bsquare Studio
Type: Puzzle
Eligibility: Worldwide
Price: Free
Overall Rating:

2/5
How Does Ball Connect Work?
Installation 
Ball Connect is available on the Play Store for Android devices. As soon as you open the app, they will give you 100 coins for installing Dosto, and Indian video network app.
Close the window if you don't want to accept this offer.
Next, you must enter your name and tap the play button to get started.
How to Play Ball Connect? 
Ball Connect is an addictive puzzle game where players must connect pairs of balls with the same color. By connecting the balls, you will form lines that cannot cross over each other.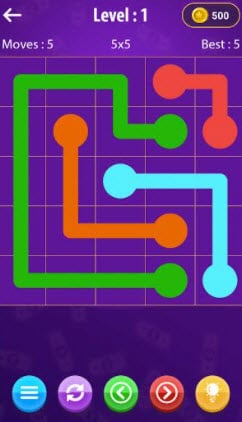 There are 5 x 5 – 10 x 10 grids depending on the level. However, you can play at any level by choosing the grid size and watching a video ad.
The first 50 levels are easy because there are few balls in a 5 x 5 grid. But the more levels you complete, the more challenging it becomes. If you feel stuck, watch a video and get 1 free hint.
Whenever you connect all the balls in the grid, you will pass the level and earn coins. Keep in mind you must click the bonus button to collect the reward.
You will start with 500 coins in your wallet and get 3 – 5 coins per level.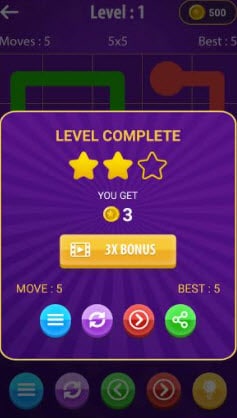 I played Ball Connect for a while and at some point, I coudn't pass the level even though I completed the puzzle. It's very annoying to solve the puzzle and keep stuck!
How Much Money Can You Earn? 
Unfortunately, Ball Connect doesn't tell us the actual value of a coin, which is a bummer!
If you tap the cash out button, they show the number of coins you have and claim you need 20k coins to redeem via PayPal or Paytm.

Invite Your Friend
Ball Connect encourages users to invite their friends in return for prizes. Apparently, you will get 200 coins per referral plus 5,000 if you win the contest.
Is Ball Connect Legit? Does it Pay? 
Right off the bat, I noticed Ball Connect is not serious about rewarding players because they don't even tell the amount of money you can earn with 20k coins.
I was reading lots of review on Google Play but no one seems to make any money with this app. From what I have seen, many players have reached 20,000 coins, but could not cash out.
It's really frustrating because it takes an incredible amount of time and effort to collect 20k coins. Besides, you may watch hundreds of videos, which will consume too much internet data.
I also need to mention that Ball Connect doesn't provide a user agreement, which shows a complete lack of transparency.
Pros and Cons
Pros
It's an addictive game that helps to pass the time.
There are over 1000 levels.
Cons
There is no evidence that players earning cash prizes.
Lots of people complain there cannot cash out.
It's glitchy. Despite connecting all balls, I didn't pass the level.
No Terms of Service.
Is There an Alternative to Ball Connect? 
The best advice I can give you is to avoid mobile games that claim to pay via PayPal. Even the legit ones are not worth playing for money because of the low pay.
There are some popular apps that pay you to install and try their games, such as appKarma and Mistaplay. These apps are more trustworthy and provide better cash incentives.

Nevertheless, some users report missing points and payments. That's why I always recommend a GPT site called Prizerebel, which works on any mobile device! I have cashed out hundreds of times in the last 3 years and had never missed a single penny!
Conclusion 
Ball Connect is a great time-killer, but don't expect to convert coins to cash and redeem via PayPal! They entice you to play and win prizes, but they provide no information or guarantees! 
Thousands of people are downloading and playing this game just because they want to make money.
The problem is that these apps cannot afford to pay everyone, but they make it seem like anyone will cash out as long as they meet the requirements.

This reward platform is going viral! Cash out via PayPal, Visa, Gift Cards, and in-game currencies - Click here to find out how to generate an extra $10+ per day! 
If the developer wants to offer cash prizes, he should at leat organize regular sweepstakes and show proof of payment. That's not how genuine apps work!
By playing Ball Connect, you will just collect worthless coins that will not convert to actual money in your pocket. If you need money, don't waste your time with this application!

Final Words
Thanks for reading my Ball Connect app review. So, have you made it to 20k coins? Did you receive the payment or not? Kindly share with us your experience in the comment box below!
Peace!