Welcome to my Chip 2048 app review!
Perhaps you have seen a video of an Asian woman claiming Chip 2048 will pay you directly to your PayPal.
The advertising also says the game pops up $5 – $100 randomly and that you can withdraw as soon as you reach $50.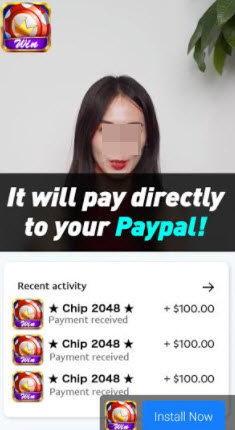 I have seen the same story repeat itself hundreds of times, but it's important to keep warning people.
Therefore, created this Chop 2048 review to help answer some important questions: Does Chip 2048 pay? Is it legit or fake?
Keep reading to find out, and before you leave, don't forget to check out my #1 recommendation for making money online. This is the same program that helped me grow an online business and make $1,600+ per month. 
Chip 2048 App Review
Name: Chip 2048 – Early Access
Developer: new Sunflowers
Eligibility: Worldwide (age: +18)
Prize: Free
Payout threshold: N/A (PayPal); $300 (Amazon)
Overall rating:

2/5
What is Chip 2048?
Chip 2048 is a single-player puzzle game in which you must combine the numbers displayed on the chips.
It's a nice game to exercise your brain and is very similar to Super Dice, except you play with small discs instead of dices.
It doesn't take long to get the hang of it! All you have to do is place at least 3 chips with the same number together. As a result, they will merge into one chip that displays a higher number.
As you are matching chips, you win virtual dollars that can be redeemed to PayPal or Amazon gift cards.
Chip 2048 has been advertised in many "money" games, and has the potential to go viral in the following weeks.
How Does Chip 2048 Work? 
Installation and Permissions
Chip 2048 is available worldwide for Android devices. Therefore, you can install and download the app for free on the Play Store.
Just be aware that the developer automatically gets your permission to access any files on your USB storage. That includes your personal photos and videos!
How to Play Chip 2048?
Simply drag the chips to the 5 x 5 grid with the goal of arranging at least three equal numbers together.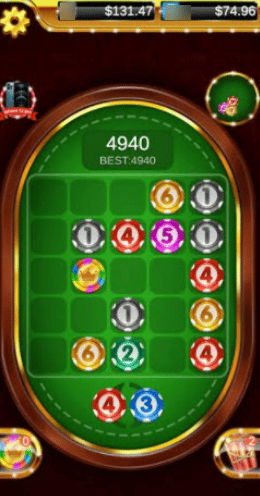 When 3 or more identical discs are side by side, they will merge into one with a higher number. For example, four chips "1" will generate one chip "2".
At first, I thought the game would continue until number 2048, but I was wrong.

After merging chips number six, you will generate a colorful disc with a crown symbol instead of number seven.
Once you combine these special chips, no other chip will replace them. You will get 3 iPhone puzzle pieces with the condition that you press the "Collect" button and watch a video ad. More on that later!
You can shuffle the two chips clockwise in order to find the best position on the grid. Also, there are two tools you can use:
TNT – Place the bomb anywhere to destroy all the chips on a 3 x 3 grid.
Special Chip – replace a random number.
Check out the top sweepstakes apps that awards real cash prizes!  
Rewards
From time to time, Chip 2048 dishes out virtual dollars that will be stored either in two separate wallets.
The PayPal balance says all the money you collect during the event will be redeemed to PayPal. There is a countdown of 24 hours and a button to fill in your email address.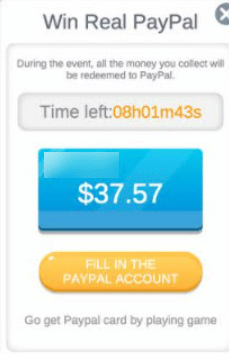 If you open your Amazon balance, it suggests that the minimum cashout requirement is $300.
Do you remember I said you would get puzzle pieces after merging special chips?
The company claims that if you can redeem an iPhone 12 worth $1499 once you collect 300 puzzles and watch 200 videos. 
Is Chip 2048 Legit? Does it Pay? 
No, it doesn't. I don't recommend playing Chip 2048 with the expectation of winning money.

Virtual cash coupons are given away just to entice players to watch the commercials and help the developer make profits.
However, these types of games never pay out, causing more frustration than joy.
Once the countdown finishes, you may submit your PayPal details, but Chip 2048 will not transfer the funds. Do not wait for it or waste more time trying to contact them.
To top it all off, the developer has launched early access to the game, preventing users from publishing reviews on Google Play. Therefore, people are deprived of testimonials from other players who would otherwise expose the app.
Not to mention that the lack of User Agreement gives Chip 2048 free hand to ignore payment requests and operate as they wish.

This reward platform is going viral! Cash out via PayPal, Visa, Gift Cards, and in-game currencies - Click here to find out how to generate an extra $10+ per day! 
Conclusion 
Chip 2048 is far from being a money-making app, and therefore, should only be played for fun. So, if you want money more than anything else, don't waste your time!

Many people enjoy puzzle games and wished they could turn their gameplay into profits. Unfortunately, I am yet to find one that truly pays hundreds of dollars!
There are very few games that are processing BTC payments via Coinbase, such as Bitcoin Blocks and Sweet Bitcoin.
However, rewards amount to a few cents per week, even if you play multiple games! Heck, I suspect it doesn't even pay for the internet data that it consumes.
Earn a Full-Time Income Online
Most people are unhappy with their jobs and wished they had more freedom!
I was on the same boat a few years ago and dreamed of the day I would finally quit my job to travel the world.
That was when I discovered the power of internet marketing. This business model would allow me to work anytime, anywhere I wanted. Not only that, but I would never have to work for other people again!
I created a successful online business thanks to this exact step-by-step program.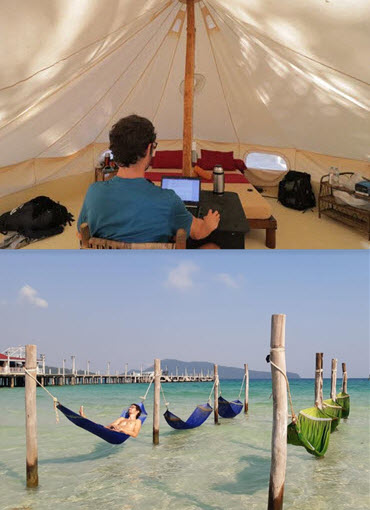 If you want to pursue a solid strategy to work remotely and make real money online, click here to and get started today! 
Final Words
Thanks for reading my Chip 2048 app review. If you have questions or just want to exercise your freedom of speech, use the comment box below.
Peace!