Welcome to my Spin for Cash! app review!
I came across another "money" game that went viral recently called Spin for Cash.
The company advertises its app as an opportunity to hundreds of dollars, and the best part is that it's risk-free! 
As if the monetary incentive was not good enough, they also claim you can win an iPhone 12 within just 7 days.
It just seems too good to be true, right? And that's why this app has been installed over half a million times!
I am very familiar with these types of apps that give users the expectation of winning money after reaching specific balance requirements.
Whether you are struggling to pay the bills or you just want to earn cash while having fun, this post can save you a lot of time!
Is Spin for Cash legit? Does it pay out not? keep reading to find out!
Sick of apps that don't pay? Check out the step-by-step program that helped me create an online business and make $1,600+ per month. Join here and start your first 10 lessons for free! 
Spin for Cash App Review
Name: Spin for Cash
Company: Shape Keeper
Eligibility: Residents in the United States (+18)
Minimum Payout: $2 (Amazon Gift card), $100 (PayPal)
Price: Free (no in-app purchases)
Type: Entertainment (no financial risk)
Overall Rating: 

1/5
What is Spin for Cash? 
Spin for Cash is a reel slots game developed by Shape Keeper, a Hong Kong-based company which boasts 20 other apps on the Play Store.
Some of the most popular ones are Lucky Money, Lucky Spade, and Pusher Mania. Here is a review of their Solitaire game! 
All of them provide virtual dollars that can supposedly be transferred to PayPal once the player accumulates a specific amount like $100 or $200.
With Spin for Cash, you need to have $100 to cash out with PayPal or Amazon gift card. Before I show you if it's fake or not, let's have a closer look at this app!
How Does Spin for Cash Work? 
Eligibility
It's important to know that Spin For Cash is only intended for residents of the United States. You may be able to play the game in another country, but in that case, you won't receive any payments. That's for sure!
Installation 
Spin for Cash is available for free in the Play Store. Once you download and install the app, you will see a big slot machine will appear on your screen.
You don't need to sign up or allow any type of suspicious permissions. However, the company collecting personal information in many ways. So, if you care about your data, check the privacy policy before playing Spin for Cash.

How to Play? 
Simply press SPIN to trigger the slot machine. You can also hold the button for auto spins! Just sit back, relax, and collect rewards on autopilot.
You will win tokens, virtual dollars, and extra spins if you match any arrangement stated on the pay table. 
Here are all the possibilities: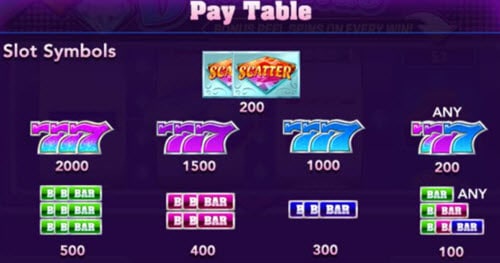 You start with 10 free spins and always get another one every 2 minutes.
Special Icons
Free spins: March 3 scatter icons to win a specific number of auto spins. At the end, you can double your earnings after watching a short video.
2x Wind: Match with any symbol to double your reward
3x Wind: Match with any symbol to triple your reward
There is also a bonus reel on the right spins. Sometimes, they will give you cash or tokens.
Example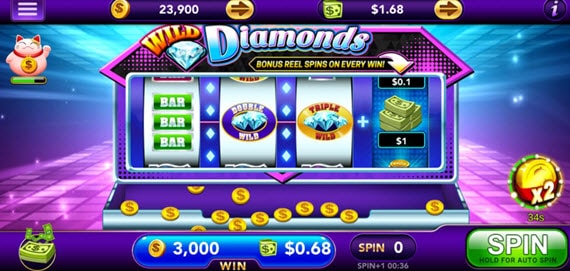 In the example above, I got 3 green bars in the first reel, which are worth 500 tokens.

Next, they multiplied this amount by six because of the two special icons: 2x wind and 3x wind.
Finally, I received a bonus of $1.
So, that's a total of 3,000 tokens and $1.
Extras
With Spin for Cash, you can boost your earning by breaking the fortune cat and also playing the Funky Town.

This reward platform is going viral! Cash out via PayPal, Visa, Gift Cards, and in-game currencies - Click here to find out how to generate an extra $10+ per day! 
What are the Odds of Winning? 
In their Terms of Service, Spin for Cash gives us the probability of winning the following prizes:
No Reward: 59%
30 Tokens: 41%
70 Bonus reel tokens: 65%
$0.1 Bonus reel coin: 35%
Seriously, I coudn't make sense of these numbers! Have you noticed they just provide the odds for prizes that don't actually exist in the game?

If you check the Pay Table, token rewards range from 100 to 7000. So, what does it even mean having a 41% chance of winning 30 tokens?
I don't think these numbers are correct, but if you think I am wrong, please let me know in the comment box below.
Usually, "money making" games have complete control of how many tokens and coins players can win. Most of them are rigged. 
Who knows whether Spin For Cash generates symbols based on a fixed probability…
How do You Get Paid? 
Spin for Cash requires that you collect at least 10,000,000 tokens or $100 to be able to cash out via PayPal or Amazon gift cards.
If you are lucky enough to meet the requirements, open your cash or tokens, balance and follow the instructions.
Is Spin for Cash Legit? Does it Pay?
I have reviewed lots of Shape Keeper's games, but I am yet to find someone who received actual money from any of them.
UPDATE: Some Shape Keeper's games have been transferring $2 Amazon gift cards to those who collect millions of coins. This slots game is one of them! 
As with their other apps, complaints about Spin for Cash keep pilling up on the Playstore.
One player reported playing it for 3 weeks straight, 4 hours per day. Despite his commitment to pursuing the $100 check, he got stuck on $94 and 16 million coins.
He lost 84 hours of his life. Can you imagine!?
Well, this guy could have made $100 by completing simple tasks with a GPT site like Prizerebel!
When you reach a certain amount (around $70 – $73), it gives just a few cents at a time, making it almost impossible to reach the $100 mark.
But there also is another potential problem. Some layers claimed that when they reached around $70, the game doesn't open or don't let them spin anymore.
I cannot predict with 100% certainty if Spin for Cash will pay you or not. What I can tell you is that the odds are not in your favour.
Without solid proof, I cannot make any accusations. 
No Guarantees! 
Another reason I cannot call Spin for Cash a scam is because their Terms of Service doesn't make any promises.
It says, among other things, that…
They can determine the availability and exchange rate for coins.
They can ban you from using the service and cancel your rewards at their sole discretion.
Tokens and coins are not actual money.
You have no property interest, rights or title in or to any digital currency.
In other words, there is no guarantee that you will get any money from Shape Keeper.

Pros and Cons
Pros
It's risk free, but you you will waste a lot of time watching videos.
Cons
The videos are not always accessible, preventing you from earning rewards.
The company doesn't provide the odds of winning rewards listed on the Pay Table.
There is no guarantee you will reach $100 or 10 Million tokens and get paid.
No evidence of payment.
It receives lots of negative reviews.
Conclusion 
I don't believe Spin for Cash is all about luck since they limit the number of tokens and coins you can earn.
It's just like their other games. They let you accumulate cash quickly in the beginning so you get exited and motivated enough to watch videos.
But after you pass a certain amount, rewards drop drastically, and you have no other option but to give up.
If you cannot afford to waste time in this current situation we are living, you will probably regret playing Spin for Cash.
Verdict: Not Recommended
How I Make Money Online
In a nutshell, I publish helpful content for this website and generate revenue using affiliate links and advertising.
I prefer this type of business because I have the freedom to set my own schedule and work from my laptop from anywhere.
You don't need any coding or special skills to create a site and make it profitable. However, there are many things you need to learn and you must commit yourself to the process.
Well, that's what I did, and I don't regret it. If you that's something you would like to try, this step-by-step program will show you the way! 
Final Words
Thanks for reading my Spin for Cash app review. I hope it was helpful! So, what you think about this game? Did you reach $100? How was your experience?
Feel free to leave us a comment below and help other people!
Peace!