Welcome to my Match Pops app review!
I recently watched this crazy advertisement saying I could win a ton of money by playing Match Pops!
The woman in the video said I could get at least $100 to download the app and $1000 per week! 
Not only that, but there are no missions or cash out restrictions, and you can withdraw the money to PayPal easily.
It's very important to understand that the word "Can" is a lot different from "Will".
You are reading this post to know if you will actually get paid because you are probably not playing for fun, right?
Is Match Pops legit or fake? Let's find out!
Before you leave, discover the step-by-step program that helped me reach $2,000+ per month from my laptop, and quit my day job. No special skills required!
Match Pops App Review 
Name: Match Pops
Developer: Village Master Games
Eligibility: Worldwide
Prize: Free (no in-app purchases)
Payout Threshold: $1000
Overall rating: 1/5

This reward platform is going viral! Cash out via PayPal, Visa, Gift Cards, and in-game currencies - Click here to find out how to generate an extra $10+ per day! 
What Is Match Pops? 
Match Pops is a match-3 game that allows players to accumulate thousands of dollars in virtual cash. 
The game identical to Match Chips, which is another app developed by Village Master Games.
According to the app rules, you can supposedly cash out all the money after 24 hours or when you collect $1000.
Match Pops has been installed over 10k times so far and rated 4.7 on Google Play.
But don't be misled by the overall rating because the reality behind this game is bleak!
How Does Match Pops Work? 
Installation 
You can play Match Pops right after installing the application on your phone or tablet.
Just be aware that the application can access content in your USB storage, such as your photos, videos and other files.

How to Play Match Pops? 
Switch the position of each diamond and try to match at least 3 identical ones.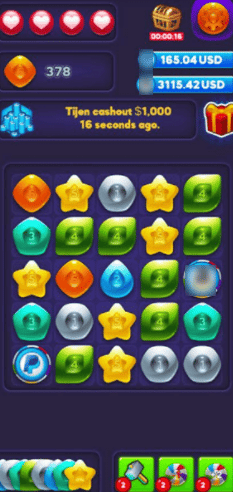 When you combine the same diamonds together, they will merge and unlock a new gem with a higher number.
Sometimes, you will unlock a "universal gem" with the Amazon or PayPal logo.
When you merge it with any other gem, you will receive a cash coupon. To collect the money, you must watch the sponsored video until the end.
The money will be added to either your PayPal or Amazon wallet, depending on the cash coupon you get.
At first, your cash balance grows fast since the rewards are over $80. But the closer you get to  $1000, the less you will earn!
Therefore, reaching $1000 will take much longer than you predict!
The developer has programmed the game to work this way because that's how he gets you to watch more videos and increase profits.
Use the tools to eliminate gems, increase 2 units or decrease 1 unit.
Don't forget to boost your earnings by opening the treasure chest at the top every 20 seconds. Of course, the money is given only after watching the video.
Almost 100% of the adverts are promoting other games that can supposedly make you rich overnight! Stay clear from these fake applications! 
How Do You Get Paid?
Match Pops will supposedly transfer all the money to your PayPal account after 24 hours. However, you can cash out immediately if you reach $1000.

If you open your Amazon wallet, you will find that you need 10000 USD to redeem the gift card.
Do you really think they will pay you? That's what we will discuss in the next section!
Is Match Pops Legit? Does it Pay? 
No, you won't receive any money or gift card from this company!
It will take a very long time to reach $1000 because cash rewards get smaller and smaller, especially after the $900 mark.
Those who persist and tap the cash out button will be told to watch 50 videos to activate the order.
The order activation means nothing because after you watch all the videos, they claim all the orders have been sent out.
As a result, you are encouraged to wait for 24 hours and what more commercials. In the end, they won't transfer you any money!
It's a trap because the developer is making profits off people's time without having to pay anyone.
I couldn't find a single person who received the cash reward, which is enough evidence that it's fake!

Check the reviews on Google Play and you will see hundreds of complaints about Match Pops.
Conclusion 
I urge you to stop playing Match Pops because the developer doesn't honor payment requests.
There are countless games that entice people with fake dollars just so they waste time watching hundreds of videos.
By playing Match Pops, I discovered another 10 new money-games that promise big payout.
It's unbelievable how certain companies feel comfortable promoting their products on such apps.
I believe apps with over 10k installations are making a substantial amount of money off of players.
But even if they wanted to pay everyone who meets the requirements, they could not afford it.
Avoid Match Pops to save your time, data and battery life!
Final Words
Thanks for taking to the time to read my Match Pops app review.
If want to share your thoughts about this application, feel free to spill the beans in the comment box below.
Peace!