I have exposed an insane number of reward applications during the past three years.
The first one I reviewed in this blog was App Trailers, which rewarded players for completing simple tasks, such as watching videos and completing offers.
Although it was one of the first mobile apps to reward users for such activities, its concept was not new.
The reason is that GPT (get-paid-to) sites have been around since the early 2000s and provided similar opportunities.
The crucial difference is that, in the past, gpt platforms didn't pay for installing apps because there were none.
Since 2012, many money-making applications like AppNana, and AppKarma have been launched and become incredibly popular.
Like most gpt sites, companies require users to accumulate specific points to cash out.
This strategy encouraged people to use the app for some time to get paid.
It's a clever tactic that unscrupulous app developers would exploit a few years later.
The Down of Sweepstakes Apps
In 2013, a new concept of reward apps emerged with the launch of an American app called Lucktastic. 
This innovative app allows users to play free daily scratchcards for a chance to win up to $10,000. 
Although you don't need to pay for scratchers, you must watch lots of sponsored videos since Lucktastic is entirely funded by advertisers.
Like the other apps I mentioned, the developer claims you can withdraw your money via gift cards once you reach $5.
Now, here is the catch:
They make it seem like prizes are given away randomly, but most players stop earning cash rewards and get stuck.
Therefore, people cannot withdraw the money since they haven't reached the minimum cashout requirement. That's classic!
Another issue is that players who collected enough tokens were told the gift cards were sold out. 
Here, we can see that reward apps are not playing fair since the early days!
Then, Lucky Day was launched in 2015 and became the most popular sweepstakes app of all time.
This app is almost identical to Lucktastic, except it's available worldwide.
Unfortunately, Lucky Day uses the same strategy of making it very hard or even impossible to cash out.
Some people have been playing Lucky Day for years with no money to show for it. The fact that it's still causing lots of frustration almost seven years later is mind-blowing!
Here are some recent reviews about Lucky Day:



You will find thousands upon thousands of complaints from users who couldn't make any money!
Sadly, the company will never let them reach $10, proving that the prizes you earn initially are fake until they allow you to cash out.
During the following years, many apps like Lucky Day emerged, such as Daily Scratch, Happy Scratch, and Lucky Now, just to name a few.
All of them were following the same strategy to maximize profits for developers while rewarding just a tiny percentage of users.
The Terms of Service are Key To Their Success! 
Note that these sweepstakes apps thrive and operate legally because of their well-crafted Terms of Service.
If you take the time to read their ToS, you will most likely find the something along the lines of:
" Virtual Tokens does not constitute real money or reflect any stored value, but instead constitutes a measurement of the extent of your license. We may at any time expire free or promotional Virtual Tokens given to you."
Or…
"The Provider does not guarantee any winnings. You have no right to the payout of a certain award. "
Since virtual items are worthless, the developer has no obligation to provide cash rewards.
That explains why many apps are still up and running despite very few users making any money.
People may call it a scam and try to report them to the authorities.

But the truth is that most of these companies/developers are protected by the ToS. Therefore, they are not committing any crime by not paying users.
The Down Of FAKE Money Games
At some point, unscrupulous app developers from a faraway land realized they could take one step further and make huge profits. 
They devised this fantastic idea of replicating several casual games and adding virtual dollars instead of points.
Then, they applied the same strategy of Gpt sites, claiming that you will be able to cash out if you accumulate enough dollars or coins.

This reward platform is going viral! Cash out via PayPal, Visa, Gift Cards, and in-game currencies - Click here to find out how to generate an extra $10+ per day! 
False Advertisements

Their huge success can be explained by showing false and over-hyped advertisements to create the illusion of "easy money."
The overuse of the PayPal logo is also one of their striking features!
In the past 2 or 3 years, app developers have become increasingly aggressive with their deceptive practices.
These videos usually show people winning hundreds and even thousands of dollars. However, they constantly lie about the possibility of withdrawing money via PayPal.
Here are some screenshots of misleading advertisements: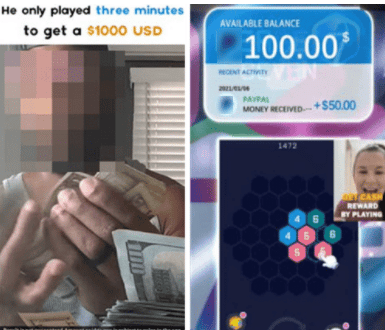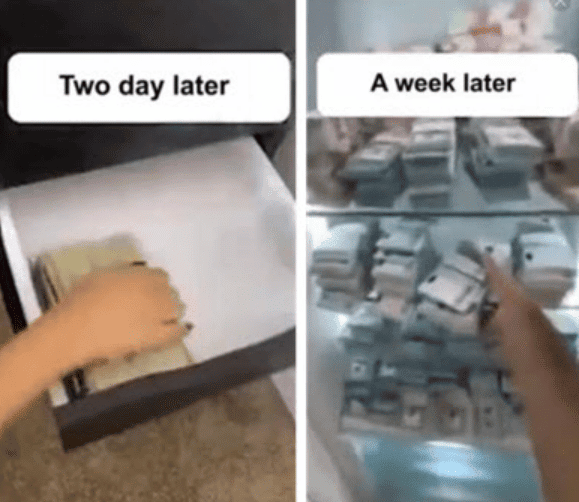 They also entice players with the latest iPhone as long as they collect enough puzzle pieces.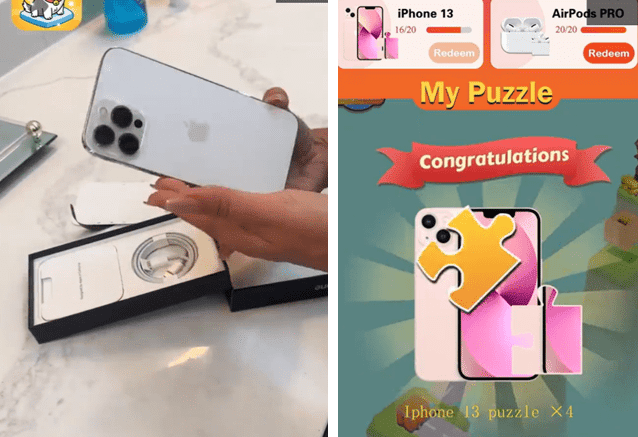 My blood boils every time I see these commercials.
Sometimes, I sit in disbelief that these games can operate as if they were not infringing on any consumer rights.
How Do They Profit? 
Even though fake money games won't steal your money, they profit from your time and internet data.
The reason is that they will only allow you to collect the virtual dollars if you watch their sponsored videos.
More recently, games have been using a different and more effective approach to get players to watch even more videos.
They let you reach the minimum payout requirement and press the cash-out button. But then, you need to watch a specific number of videos to activate your payment order.
Of course, this is a complete lie because once you meet the condition, they will impose another condition.
They treat you like a fool because the more videos you watch, the more money they make.
They Will Never Pay You! 
You will never get paid, despite watching millions of videos!
Don't install it if you see an advert showing people earning lots of money by playing a specific game.
Boycott app developers who mislead thousands of people and waste their precious time.
Many people who fall victim to such fraudulent apps are in a delicate financial situation.

They believe the lies because they lack accurate information on how these applications work.
That's why it's so important that content creators speak out the truth and warn people because they don't deserve to be exploited like this.
Is There Any Legit Money Making App? 
Many legit apps allow you to earn a little extra cash on your phone.
Many of them will pay you to install and play mobile games, which is pretty cool.
Some of the best apps in this category are Mistplay, JustPlay, and Rewarded Play. But the rule of thumb is that the easiest the task, the less money you will earn!
That's why you should never get your hopes high while using any of these reward applications.
The best apps to make money online are the ones that pay you for sharing your opinions with marketing research companies. Click here to discover the top survey apps! 
Mystery shopping apps pay you to complete location-based jobs like reporting on the availability of products in-store.
Unfortunately, they work best in large urban areas with a high concentration of businesses searching for that type of service.
You can also check out these reliable sweepstakes apps that operate fair prize draws.
Final Words
I hope this eye-opening post helps you make an informed decision and avoid fraudulent apps that steal your time and spirit.
Thanks for reading!
Peace!