Welcome to my Crazy Cut Money app review!
I am writing this post because many people are wondering if they can trust this application.
The game developer is trying to convince players they can withdraw up to £704.10 after 24 hours.
If you don't live in the UK, the maximum bonus will be equivalent to that amount in your currency.
It's important to raise awareness about this type of games because they all cause too much frustration.
I receive daily comments on my blog from players who didn't receive a dime after watching hundreds of videos. This is sad, disturbing and infuriating!
Many of them still wonder why they cannot cash out, and the answer is always the same: Because those apps are not designed to reward anyone!
So, does Crazy Cut Money Pay? Is it legit or fake? Let's find out!
Top recommendation: This reputable site can help you earn an extra $200 per month by completing simple tasks on the go. Cash out PayPal and gift cards. 100% Legit!
Crazy Cut Money App Review
Full Name: Crazy Cut Money
Developer: Dillon Sinclair
Payout Threshold: £704.10 (UK)
Price: Free (no in-game purchases required)
Overall Rating: 1/5
What Is Crazy Cut Money?
Crazy Cut Money is another simple knife game that dishes out lots of virtual cash while you are playing.
All you have to do is throw the knives at the dollar bills to collect your rewards.
Once you accumulate enough banknotes and virtual PayPal cash, you can supposedly withdraw the money.
Crazy Cut Money is a clone of several apps, such as Shooting Money and Royal Cut Money.
They all demand more videos views when you try to cash out and never pay!
How Does Crazy Cut Money Work? 
Installation 
Crazy Cut Money is available for Android users and is free to install on Google Play Store.
Before the game starts, they will ask you to enter your PayPal account to receive the payment.
How to Play Crazy Cut Money? 
Tap anywhere to throw the knife towards the green, PayPal and other banknotes.
You will earn a few pennies whenever you hit the PayPal note.

When you slice the green notes, the reward will be added to another cash balance on the left side.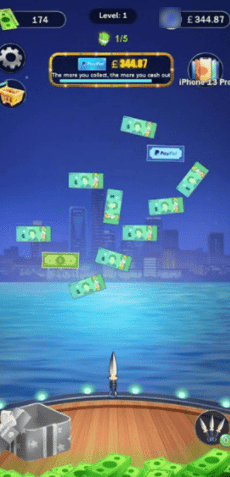 By eliminating all the banknotes, Crazy Cut Money will give you decent cash prize ranging from £30 to £70 or more.
But as with all these money games, you must tap the "Collect" button and watch the video to get the reward.
The closer you get to the minimum cashout requirement, the less money you will earn. The good news is that it doesn't take long to accumulate enough to cash out.
If run out of knives before slicing all the banknotes, the game will refresh and you won't collect the big prize.
However, you can try it again as many times as you want!
Win an iPhone 13 Pro 
Crazy Cut Money gives away iPhone jigsaw fragments after your first withdrawal request.
Keep playing to receive 4 reward cards/boxes from time to time.
Tap each card and watch a sponsored video to collect more virtual items. Then, you will collect 10 iPhone 13 Pro puzzles if you flip the 4 cards.
According to Crazy Cut Money, you can win an iPhone 13 Pro once you collect 350 jigsaws and watch 250 videos.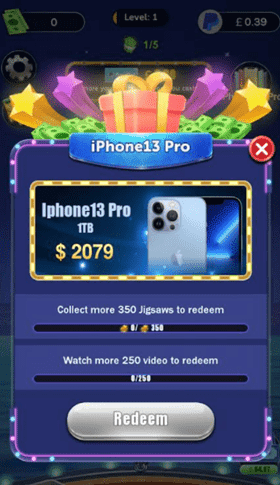 Don't waste time with fake apps that lie about cash prizes. Click here and get paid for completing simple online tasks!

How Do You Get Paid? 
At first, they ask you to play and reach £704.10 (UK) to receive the payment via PayPal.
You can also cash out £140.82 once your green banknote balance reaches 68,000.
You will probably meet the criteria in less than 30 minutes of gameplay if you watch all the videos.
But there is a big surprise for anyone who taps the cash out button!
They claim you must watch the video 30 times or more to activate the order. What a JOKE!

This reward platform is going viral! Cash out via PayPal, Visa, Gift Cards, and in-game currencies - Click here to find out how to generate an extra $10+ per day! 
Is Crazy Cut Money Legit? Does It Pay? 

No, it doesn't! Crazy Cut Money only provides fake cash rewards, so the money will never be transferred to your PayPal account.
The order will remain under review for 24 hours to entice people to watch even more ads and reduce the waiting time.
But that's not true because once the countdown finishes, they expect you to watch another 113 videos to activate. 
Eventually, they put you on a ranking system and suggest that only the top 50 players get paid.
They say they are a specific number of users waiting for the payout and that you can improve your rankings by watching more videos!
Sadly, the countdown will drop to zero, and you will never receive the money.
Winning the iPhone 13 is equally impossible since it costs over $2,000 and no developer could ever afford it.
Conclusion 
Crazy Cut Money is only fun as long as you believe the rewards are real and that you can eventually cash out.
But the more you play, the more videos you have to watch in order to receive the money.
They are literally holding a carrot in front of you to increase profits with the advertisements.
Don't waste your time playing Crazy Cut Money unless you enjoy the process of becoming rich in a virtual world.
Unfortunately, no one can put food on the table with a fake cash balance!
Earn A Full-Time Income Online
If you value freedom, I am sure you would love to work remotely as I do.
Having an online business allows me to make money on my own terms and get paid in dollars even while travelling the world.
I have been running a lucrative site since 2015, after joining this excellent step-by-step program.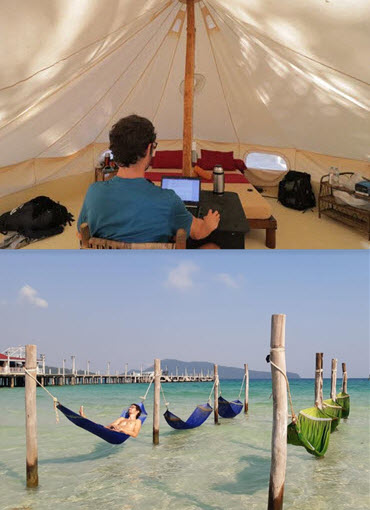 If this lifestyle appeals to you, click here and learn how you can do the same! 
Final Words
Thanks for reading my Crazy Cut Money review. If you have anything to say about this app, feel free to leave us your comment below.
Peace!