Welcome to my Shooting Money app review!
Perhaps you are reading this post because you saw an advertising about Shooting Money.
It persuades the audience to download the game by claiming that all users earn hundreds of dollars! Here is a screenshot that took while playing another game:
I am very familiar with fake money-games that only help developers increase their profits.
In this blog, I reviewed hundreds of them, and do you know what's crazy? That doesn't represent even 5% of all the apps available on the Play Store.
You don't want to fall victim and waste time using applications that don't keep their words. So, is Shooting Money legit? Does it pay once you fulfill the requirements?
Let's find out!
Top recommendation: This excellent program helped me generate over 2,000 US Dollars per month online and quit my job for good in 2019. You can make it happen too by joining the Free membership here and taking massive action.
What is Shooting Money? 
Shooting Money is a game in which you throw knives at rotating dollar bills.
It's a very boring game, and the developer knows that. That's why it gives away PayPal cash coupons and claims to transfer the money once players reach £140.82.
Not only that, but you can collect diamonds and iPhone 12 puzzles. More on that later!
By the way, that's a new strategy that game developers are using to lure young players into watching adverts.
Unfortunately, there is no information about the company or individual who runs this application.
Another matter of concern is the fact that the app is in "Early Access", meaning they are blocking reviews on Google Play.
Shooting Money is identical to another game I reviewed recently called Money Hit. Since this other game doesn't exist anymore, I suspect it was just rebranded by the developer.
How Does Money Shooting Money Work? 
Installation
Shooting Money is available for Android devices and can be played straight away after a quick installation on Google Play.
How to Play Shooting Money? 
Tap the screen to throw the knife towards the rotating cash notes.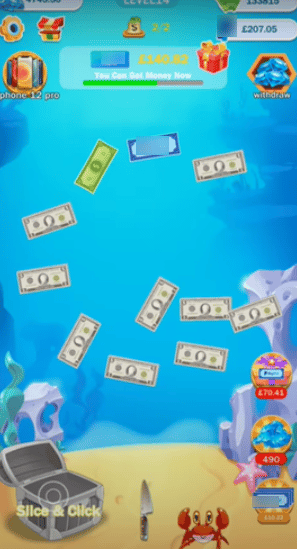 By slicing all of them, you will get the chance to select 4 lucky cards to win virtual dollars and diamonds.

Keep in mind you have to watch a video every time you wish to collect the reward. Besides, you can get 15 iPhone 12 puzzles for flipping the four cards.
Shooting Money is tedious since there are infinite knives at your disposal and no sense of accomplishment.
Who cares, right? The reason you installed the game in the first place was to earn an extra income. So, let's cut down to the chase!
How Do You Cash Out? 
At first, Shooting Money requires that you collect £140.82 and watch 20 videos to be able to withdraw the money.
After these 2 conditions are met, you must input your email address to cash out via PayPal.
You can also convert diamonds to in-game currency on games like Free Fire, Roblox, and Clash of Clans.
But wait, there is more! If you collect enough puzzle fragments, you can supposedly claim an iPhone 12 Pro! Crazy, right?
Is Shooting Money Legit? Does it Pay? 
Nope. Shooting Money won't pay you regardless of your persistence and commitment. This is what will happen after you enter your email address:
Your payment request will stay under review, and you must watch more adverts to receive the reward.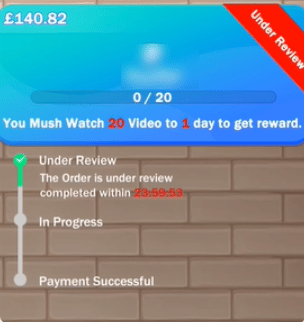 Sadly, this is a lame excuse to keep you hooked for longer. The more you play, the more money the developer earns. It's that simple!

I hope it's clear by now that you won't receive any money, and that you are just helping the developer make profits.
The same applies to diamonds and puzzle pieces. Don't expect to win an iPhone or expensive in-game currency just for shooting knives and watching videos.
Don't forget, you are wasting both time and mobile data by chasing fictitious rewards.
To make matters worse, the developer is blocking the reviews by classifying the game as "Early Access".
I think this is very unfair because players cannot even share their frustration and warn other people about the game.

This reward platform is going viral! Cash out via PayPal, Visa, Gift Cards, and in-game currencies - Click here to find out how to generate an extra $10+ per day! 
Conclusion 
Shooting Money does not transfer real money nor give away iPhones and in-game currencies.

This is very unrealistic, but don't blame yourself. The more effective lessons are those you learn from experience!
Games are meant to entertain you, not lure you into watching videos in exchange for fake dollars. So, avoid Shooting Money if you value your time and need cash for yesterday.
The best way to make money by playing games is by joining a GPT site like Prizerebel and complete app offers. There are daily opportunities and you can accumulate a decent amount of cash over time.
It's not enough to quit your job, but at least you can get paid while entertaining yourself.
Earn a Full-Time Income Online
If you are sick of playing games or completing tasks that don't pay much, I suggest you build your own online business.
You can take different paths, but personally, I think creating content is one of the most rewarding activity! Plus, it's accessible to anyone with no previous experience!
I write articles for my website, which generate passive income through banners and affiliate marketing.
That's how I bring in over 2,000 USD per month while having the freedom to work anytime, anywhere I want.
If this type of business appeals to you, click here and follow the steps to succeed! 
Final Words
Thanks for reading my Shooting Money app review. I hope it was helpful!
If you want to share your experience with this game, feel free to use the comment box below.
Peace!