Welcome to my Forest Garden app review!
Forest Garden is using the PayPal logo to convince people they can grow a real money-tree and cash out. I am talking about thousands of dollars! 
All you have to do is tap the tree and collect random card coupons that accumulate in your cash balance.
There are lots of similar game trying to hook people in order to make big profits.
They get you to watch hundreds of videos using fishy tactics such as offering cash rewards, iPhones and even in-game currency.
You are here because you don't want to partake in this win-lose situation where they make money and you waste time.
So, is Forest Garden a legit or fake application? Does it pay or not? Keep reading to find out!
Top Recommendation: Check out the top gpt site where members are making an extra 200 USD per month. Earn points by completing simple online tasks and withdraw the money via PayPal or gift cards. 100% Legit and no verification required.
Forest Garden App Review
Full Name: Forest Garden (Early Access)
Developer: XiaoXiao wang
Payout Threshold: $1000
Price: Free (no in-app purchases)
Overall Rating: 1/5
What is Forest Garden?
Forest Garden is another get-rich simulation where players tap the money-tree to collect virtual dollars.
It gives cash coupons with the PayPal logo, suggesting people can withdraw the money when they reach $1,000. 
This is crazy, considering advertisers only pay a few cents when you watch a video. So, how can Forest Garden pay you thousands of dollars? Where is the money coming from?
Apps like Forest Garden have flooded Google Play in the past few years. In this blog, I already reviewed Click Money, Tree for Money, and Tree Fish farm.
They all ignore payment requests, causing unnecessary distress! 
Tired of being tricked by fake games? Get paid by completing surveys and offers. It's not a full-time job, but it can help pay your bills. Click here to join teh best reward site and get paid via PayPal!
How Does Forest Garden Work? 
Installation
Forest Garden is available for Android devices all over the world. After installing the game on Google Play, you can start the game straight away as no registration is required.
Just be aware the app has access to your USB storage, which may include photos, videos and documents. That means the developer can read, modify and even delete files.
Many people say this is not a big issue, but why do they such permissions? They should at least be clear of their intentions to avoid raising the red flag.
How to Play Forest Garden? 
It's the easiest game ever! Simply tap the money-tree to collect rewards and use the in-game "cash" to buy fetilizers and upgrade your tree.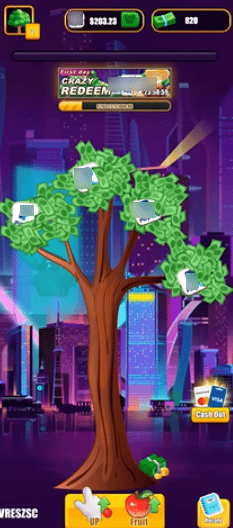 By leveling up, you will double the amount of cash per tap. However, the price of reaching the next level increases, so you are basically stuck in a kind of rat rage.
There is no challenge to keep you entertained for a long time. That's why they entice you with these virtual cash coupons with the PayPal logo.
In order to collect the money, you have to click on "get bonus" and watch the video until the end. Sometimes, you get stage rewards too.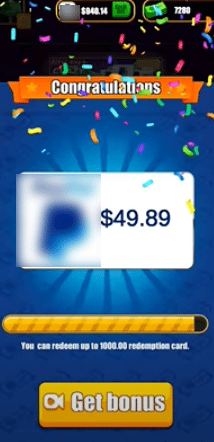 Let's not forget Forest Garden earns revenue every time someone watches these adverts. So, I hope it's clear by now that they entice people with cash rewards to maximize their own profits.
But the question is: Will this application share a slice of the pie with you? If anyone can make $1000 just by tapping the phone, then why isn't everybody doing it?
I will give you the answer later on…
How Can You Get Paid?
At first, Forest Garden suggests you can withdraw the money once you reach $1,000 within 24 hours.
Just open your cash balance, tap the Cash out button, and input your email address linked to PayPal.
Is Forest Garden Legit? Does it Pay?
No, it doesn't! After you provide your PayPal email, your order will stay "under review" and you must watch 100 videos to activate it.

Note they always put a countdown timer next to the cash out requirement to convey a sense of urgency.
That's all part of the marketing strategy to hook players and increase ad revenue.
Before you watch all the videos to receive your $1,000, you will accumulate an extra $1,500 and request the payment.
Again, they demand that you watch another 100 videos to activate this new order.
But that's all fake because you won't make a single penny from this application. There is no hope, so don't waste your time trying to contact the developer.
Most of the time, they don't even reply because there is clearly no intention of rewarding players.

This reward platform is going viral! Cash out via PayPal, Visa, Gift Cards, and in-game currencies - Click here to find out how to generate an extra $10+ per day! 
Conclusion 

Forest Garden does not transfer real money to your PayPal account. The more you play this game, the more you help the developer make profits, which is not right.
Games are meant to be played for fun, not for watching videos with the pretence of making money.
This app only benefits the developer, who gets paid every time the player takes the time to watch a video.
Money doesn't grow on virtual trees, so avoid Forest Garden to save your time and mobile data.
Verdict: Not Recommended 
Earn a Full-Time Income Online
There are countless ways to make money online, but content marketing is hands down the best strategy for most people.
in my opinion, creating content is one of the most exciting ways to make money. The main reason is that it gives you the flexibility to work anywhere, anytime you want!
Work from home and be your own boss! That's all about freedom! Besides, it's accessible to everyone regardless of their background.
I make money by writing articles for this website, which generate passive income through affiliate marketing and advertising.
It has helped me quit my job in 2019 and follow my dreams! Learn more about my story here! 
If this type of business appeals to you, click here to follow the best step-by-step training.
 Final Words
Thanks for reading my Forest Garden app review. Do you have any question or thoughts about this game?
I think you have at least a word or two. So, feel free to use the comment box below!
Peace!