Welcome to my Mining Gold Rush app review!
I just came across Mining Gold Rush and the opportunity to earn real money by tapping on the gold mine.
The game gives you virtual cash coupons when you fill up the progress bar and, of course, watch the video.
But here is the catch: You need to collect more than $1,000 to cash out via PayPal or Amazon gift cards.
So, you need to commit yourself for a long time before you can request the payment.
You are a smart person who values your time, otherwise you wouldn't be here searching for information about this application.
So, is Mining Gold Rush legit or fake? Does it pay once you fulfil all the requirements? Keep reading to find out!
Top recommendation: This step-by-step program helped me earn 2,000+ US Dollars per month and quit my job in 2019. There is a free membership available here! 
Mining Gold Rush App Review
Full Name: Mining Gold Rush (Early Access)
Developer: Green Jade 48
Payout Threshold: $1000
Price: Free (no in-app purchases)
Type: Entertainment (no financial risk)
Overall Rating: 1/5
What is Mining Gold Rush?

This reward platform is going viral! Cash out via PayPal, Visa, Gift Cards, and in-game currencies - Click here to find out how to generate an extra $10+ per day! 
Mining Gold Rush is a simple clicker game in which you tap the gold mine to collect virtual dollars and gold coins.
It has the same concept as in Deposit Coin Tap to Win, Forest Garden and so many other games. The main difference is that instead of tapping money-trees, or piggy bank, you get to tap on a gold mine.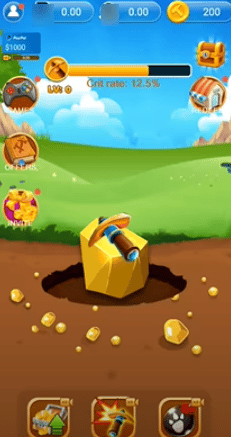 The app allows you to collect more rewards by spinning the wheel and playing other games, such as the scratcher and the flappy reward.
Not only that, but you can also get coins for completing sponsored offers and inviting friends.
It's all about watching videos and completing tasks that generate revenue for the developer.
Although Mining Gold Rush has been installed over 500,000 times on Google Play, the app is still in Early Access.
That means no one can publish a review to tell people if the company pays.
How Does Mining Gold Rush Work? 

Installation
Mining Gold Rush is available for Android users all over the world. You can install it on the Play Store and start mining immediately.
Before getting we discuss the game, I just want to warn you that the developer has access to files and any type of media that you store in your phone such as pictures and videos.
This may not be a big issue, but the question is: Why would a game require permission to access our personal data? They should at least explain themselves.
How to Play Mining Gold Rush? 
Simply tap the gold ore to fill up the progress bar aka Crit rate.
Once you complete the bar, you will get a cash coupon with either the PayPal and Amazon logo.
Cash rewards range between $200 to $30, but you only get credited if you tap "collect" and watch the video.
Besides "dollars", you collect gold coins that can be used to buy tools or exchange for diamonds.
Tools increase your mining performance, whereas diamonds are redeemable for in-game currency like Free Fire, Clash of Clans, and Roblox.
Mining Gold Rush features some mini-games that award virtual money and gold coins. You can play Lucky Spin, Slash Fruit (Slots machine), Flappy Rewards, Lucky Twist and more.
How Do You Get Paid? 
As you already know, you can only cash out once you reach $1,000, either on your PayPal or Amazon balance.
It says the payment will take 24 hours unless you watch 30 videos. 

Oddly enough, Mining Gold Rush asks players to input their real phone number to receive the funds.
But anyone who has used PayPal knows they only need to provide the email to receive the payment. So, this is very suspicious!
I need to warn you anyone who gets your phone number on the internet can sell it to other companies for marketing purposes.
Of course, no one knows how they will use your phone number. Just be aware that your contact details are worth gold for those who have it.
Is Mining Gold Rush Legit? Does it Pay? 
No, you won't receive any money or in-game currency from Mining Gold Rush. The app does not pay out because the prize is so unrealistic!
It doesn't matter how much "money" you collect or how many adverts you watch, you won't get paid.
This is one of those games that cause a lot of frustration because it lures players into watching videos in return for nothing.
This is very unfair because the developer is making money from advertising while you are wasting your time and mobile data.

Conclusion 
Mining Gold Rush tries to convince players they can win cash rewards, but virtual currency and diamonds have no monetary value.
Unfortunately, you will tap your device screen thousands of time and watch hundreds of videos for NOTHING!
If you want to make real money, I suggest you avoid this type of game and focus your energy on proven strategies and reliable platforms.
For example, this top-rated GPT site allows you to get paid for completing simple surveys and app offers.
It's easy to make money with this platform, but if you'd rather put in more effort and make a living online, check out my top recommendation below.
Earn a Full-Time Income Online
Content marketing is one of the most exciting methods to make money online. The main reason is that it allows you to become the owner of an online business and enjoy a freedom lifestyle!
I assure you it doesn't get any better! Imagine a life where you can work anytime, anywhere you want?
Thanks to my affiliate website, I was able to work and make money while travelling for 2 years in South East Asia, Turkey and Europe. Learn more about my story here! 
That's all about freedom! 
If this type of business appeals to you, click here to follow the best step-by-step training!
 Final Words
Thanks for reading my Mining Gold Rush app review. Do you have any question or thoughts about this game?
If so, feel free to leave us a comment below!
Peace!