Welcome to my Tap Black Gold app review!
Tap Black Gold is advertised as an opportunity to withdraw thousands of dollars via PayPal. The advert says you can win money every day and collect $100 as a new player bonus!
Here is a screenshot of how they promote this game: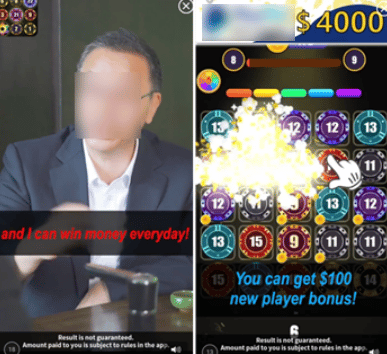 You probably know why Tap Black Gold is offering cash rewards. The developer wants players to stick with the game for a long period and watch as many ads as possible.
I already tested many similar games using this strategy to boost revenue at the expense of people's time. This match chip game is just one example. 
Unfortunately, none of these apps pay users despite their commitment to fulfill the requirements. So, is Tap Black Gold fake as well? Will it transfer the money to your PayPal account?
Keep reading to find out!
RECOMMENDED: Check out the step-by-step program that helped me build an affiliate site and quit my job in 2019. No special skills required! 
Tap Black Gold App Review 
Name: Tap Black Gold (Early Access)
Developer: William Ann
Eligibility: Worldwide
Payout threshold: $1,000
Price: Free
Overall Rating: 1/5
What is Tap Black Gold?
Tap Black Gold is another chip merging game that supposedly allows you to earn real money.
By matching at least 3 poker disks, you will collect virtual dollars that you can withdraw via PayPal after 24 hours or after you reach $1,000. 
You will also collect diamonds redeemable for in-game currency on Coin Master, Free Fire, ROBLOX, and a few other games.
What makes this game so tempting is the frequent use of the PayPal logo. It makes many people believe this payment platform is somehow involved with Tap Black Gold, which is not the case.
Tap Black Gold is still in development, meaning players still may not publish reviews on Google Play.
Wanna make real money by playing games? Click here and join my #1 reward site! 
How does Tap Black Gold Work? 
Installation and Permissions
Tap Black Gold is available for free on Google Play for Android devices. Once the game is installed on your phone or tablet, you can play it right away.
But it's important to know you are giving the developer permission to read photos, media and other content of your USB storage.
I am not saying they will violate your privacy or personal data. However, they should be more clear as to why they require such permissions. More transparency never hurts!

How to Play Tap Black Gold? 
The game consists of a 5 x 5 grid containing 25 chips with different numbers.
Your job is to eliminate chips by placing at least 3 same numbers together. But instead of sliding your finger to switch the chip's position, you need to tap the chip to increase its number.
Here is one example:
Tap the chip number 1 to turn it into number 2 and match with the other chips in the vertical.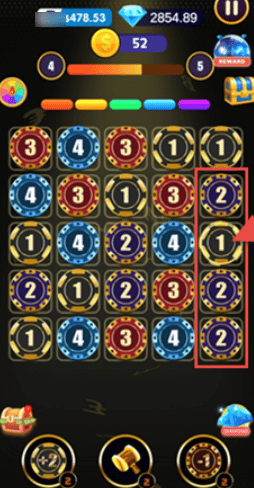 Other chips will fall from the top, replacing the ones that were destroyed and making automatic matches with the ones below.
You can use three props to eliminate chips, increase or decrease their numbers.
Pay attention to the 5 colorful signs, which represent your life. Every time that you tap the chip and you cannot match any number, you will lose one sign.
The game if over if you run out of signs, but don't worry since you can restart anytime and your cash balance will remain intact.
Earning Rewards
By destroying discs, you will earn virtual cash coupons with only one condition: You must click "Get" and watch the commercial to collect the reward.
You may have to watch an advert even if you select "no, thanks" or anytime while playing the game.
Besides, Tap Black Gold will give you diamonds than can be traded in for in-game currency.

How do You Get Paid? 
Inside your cash wallet, it says you will redeem all the money to PayPal after 24 hours. But there is another way!
Every time you get a cash coupon, there is a progress bar at the bottom suggesting that you can exchange for gift cards once you collect $1,000.
You may think it will be quick because the first prizes are worth $50 or more. But the more you play, the less money you will earn!
If you reach the cash requirement, simply input your real PayPal account and wait for the payment.
As for the diamonds, you need at least 10,000 to redeem in-game currency. Simply select your favorite game, press "redeem" and enter your player ID.

This reward platform is going viral! Cash out via PayPal, Visa, Gift Cards, and in-game currencies - Click here to find out how to generate an extra $10+ per day! 
Is Tap Black Gold Legit? Does it Pay? 
Sorry to say, but Tap Black Gold does not pay. After you reach $1,000 or 10,000 diamonds, they will demand that you watch 80 videos to activate your order.

This is a common tactic used by many game developers to squeeze even more money from your gameplay.
Many people will hold on to this opportunity and do whatever it takes to redeem the cash prize.
But the reality is that the money will never be transferred to their PayPal accounts, regardless of how many videos they watch.
Don't waste your time trying to contact the developer and ask for explanation because it's hopeless.
Conclusion 
Tap Black Gold is another match puzzle game that lures players into watching videos in exchange for real money.
However, people don't receive the reward they were promised, and end up wasting a significant amount of time and data. This is wrong in so many levels!
No game developers can afford to give thousands of dollars to users who fulfill specific requirements. So, they should not entice people with cash rewards.
App developer can only offer excellent prizes through sweepstakes, which is not the case with Tap Black Gold.
Verdict: Not Recommended
Earn a Full-Time Income Online
Have you ever thought about working anywhere as long as you have a laptop and internet connection?
How about not having to wake up early, communizing to work and reporting to a miserable boss?
For a long time, I wished I could quit my job and benefit from the digital economy. I just didn't have a clue back in 2015!
That's when I found this excellent step-by-step training program in affiliate marketing.
At first, I joined for free to see what it was all about and was mesmerized! Upgrading my account to get the full training and premium support was one of the best decisions I've made.
This platform has helped me build a massive online audience and generate a steady income. You can do the same if you take massive action!
Click here to learn more and start today!