Welcome to my ChipWin to 21 app review!
Thousands of people have installed ChipWin to 21 and are now trying to cash out via PayPal and Amazon gift cards.
The developer has promoted this casual merge game as an opportunity to win real money, making it even more addictive.
You probably know why they are offering cash rewards. They want to hook players for a long time and increase the time they spend watching sponsored videos.
That's how many game developers are maximizing profits!
But the question is: Will ChipWin to 21 pay you once you fulfill their requirements? Is it legit or fake? Keep reading to find out!
Top recommendation: This excellent program helped me generate over 2,000 US Dollars per month online and quit my job for good in 2019. You can make it happen too by joining the Free membership here and taking massive action.
 ChipWin to 21 App Review 
Developer: BeX.mobile
Eligibility: Worldwide
Payout threshold: $500
Price: Free
Overall Rating:

1

/5
What is ChipWin to 21?
ChipWin to 21 is a match-3 game where players merge poker discs by placing at least 3 of them together.
It's very similar to Candy Crush, except you are playing with numbered chips instead of candies.
Another crucial difference is that ChipWin to 21 gives virtual cash that you may redeem via PayPal and Amazon gift cards.
Over 10K people have installed this game, but there are no reviews on Google Play. That's because the developer still classifies it as incomplete – aka Early Access.
How Does ChipWin to 21 Work? 
ChipWin to 21 is available for free on the Play Store. Before installing this application you must need to be aware that the developer has permission to access all teh content stored in your phone or tablet.
That means the company can read, modify and even delete files, including your photos and videos! So, if you care about data leak and privacy, then you should think twice before keeping ChipWin to 21 on your device.
Discover legit game apps that pay in this post. 
How to Play ChipWin to 21?
It's very simple! Just move the chip up, down, left or right to match at least 3 same number chips.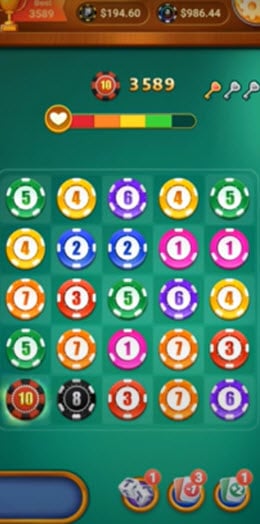 The discs will merge into a chip that has a higher number. For example, by merging three chips number 2, you will create one chip number 3.
From time to time, you will receive virtual dollars either with the PayPal or Amazon Logo. But you should first tap "collect" and watch the commercial as usual.

You will also collect keys you can use to open Lucky Chests and win more cash rewards.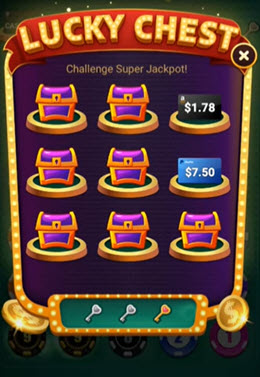 If you want to achieve fast progress, you can use three tools:
Hammer: Choose any chip to eliminate it.
-1: Decrease the chip number by one unit.
+1: Increase the chip number by one unit.
How Do You Get Paid? 
The money will accumulate in two separate balances, and you can supposedly cash out once you reach $500.
However, your payment request will be set as "processing", and you must watch 100 videos to activate your order.
There is a countdown from 72 hours, suggesting you need to fulfil the requirement before the deadline.
Before you commit yourself to ChipWin to 21 body and soul, read the next section.
Is ChipWin to 21 Legit? Does it Pay? 
Unfortunately, ChipWin to 21 will not pay you a dime! After you watch 100 videos, they will demand that you watch 200 videos in 5 days.
Who knows what will be the next requirement? But the point is, even they stop asking for more views, they will not transfer the money to your account.
I have seen the same story time and time again! They just collect ad revenue thanks to people who are playing the game with the expectation of winning real money.
I cannot make any accusations without proof, but from my experience, a game developer cannot afford to pay hundreds, let alone thousands of dollars.

Well, there is actually a company that gives away over 3,000 USD. Search for WINR Games on the Play Store and you will find over 40 apps that allow you to get free entries into the prize draw.
That's not the case with ChipWin to 21 since there is no evidence it operates weekly or monthly sweepstakes. 
Conclusion 
ChipWin to 21 is another merge game that will make you watch hundreds of videos in return for nothing.
The app claims you can withdraw the money once you reach $500, but it hides the fact that you will also need to watch 100 and 200 videos to active the payout. That's ridiculous!

This reward platform is going viral! Cash out via PayPal, Visa, Gift Cards, and in-game currencies - Click here to find out how to generate an extra $10+ per day! 
Don't get your expectations high because it's impossible to earn real money from it.
It's okay if you are just playing for fun because the game is not so bad. The key problem is the frequent ad interruptions, which are very annoying!

Now, if you need real money more than anything else, forget about merging poker discs as you will just waste time and mobile data.
There are countless merge chip games that entice players with the opportunity to win cash and big prizes. Ocean Chip World went as far as to offer a TESLA car! 
Here are two other similar apps that don't pay a single penny.
Make a Full-Time Income Online? 
Luckily, there are many ways to grow a profitable online business from home and bring in thousands of dollars every month.
Me, personally, I created this website where I publish helpful content and generate revenue though affiliate marketing and advertising.
You can also create a site from scratch and turn it into a money-making machine by following this excellent step-by-step program. 
This is the best platform to get the right training and succeed as a content creator.
Final Words
Thanks for reading my ChipWin to 21 app review. Was it helpful to you? Do you have any question? If so, feel free to ask anything in the comment box below.
Also, let us know how was your experience. Did you watch all the videos they require? How long have you been waiting for the payment?
Peace!