Welcome to my Royal Fish Hunter app review!
I just came across a merge game that instantly reminded me of Big Win Hunter, which I reviewed 7 months ago.
It turned out it's the same app! The developer just rebranded it to Royal Fish Hunter and changed the reward system slightly.
Instead of sending you the direct link to the old game, I thought it would be better to create another post to target people searching for the new name on Google.
My mission is to raise awareness by explaining how the game works and answer key questions: Is Royal Fish Hunter legit? Does it pay or not?
Keep reading to find out and make sure you subscribe for the latest app reviews!
Tired of earning fake cash? This step-by-step program helped me build my own online business and generate over $1,700 per month. Join for free and start today!
Royal Fish Hunter App Review
Name: Royal Fish Hunter
Developer: Rechard John
Payout Threshold: £1000
Availability: Worldwide
Price: Free
Overall Rating:

1/5
How Does Royal Fish Hunter Work?
Installation and Permissions
Royal Fish Hunter is available for free in every country. You just need to install the app on Google Play and start merging cannons to collect the virtual dollars.
But if you haven't done it already, I urge you to think twice before you do so. That's because it automatically grants access to photos, media and files in your phone.
Well, I don't even trust apps from big companies, let alone apps developed in a faraway land!
How to Play Royal Fish Hunter?
First, drag the same level weapons so they merge and turn into more powerful cannon.
Then, place the weapon in the attack position in order to attack the fishes from the bottom to the top.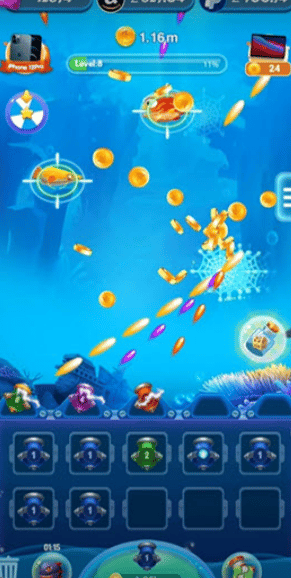 Every time you kill a fish, you will earn gold that can be used to buy more cannons at different levels.
After completing the green bar, you must fight the boss, which can be a shark, whale, or another big ocean creature. They are more difficult to kill!
Keep upgrading weapons to make them more powerful and eliminate stronger fishes.
Activate the speed tool will grant double attack speed for 1 minute. You can also use the auto-merge tool in order upgrade weapons on autopilot.
Some people find merging games like Royal Fish Hunter very boring because there is no other challenge. Players only play for longer because of the cash incentives.
Cash Rewards
Whenever you unlock a level cannon, Royal Fish Hunter will offer you virtual cash rewards with the PayPal symbol.

Just like most money games, they want you to click the button and watch the short clip until the end.
For example, by unlocking the level 2 turret, you may earn a virtual PayPal card worth £100.
You will also collect virtual Amazon coupons so that you can redeem for an Amazon voucher.
How Do You Get Paid? 
If you open the cash balance, Royal Fish Hunter says you can withdraw all the money after 24 hours. Besides, it entices you to accumulate £1000 so you can redeem immediately to your PayPal account.
That seems too good to be true since the game is awarding over £40 at a time!
Well, unfortunately, the developer will not pay you if you meet the requirement. Instead, they will ask you to watch 15 adverts within 12 hours to activate your £1000 order.
He is lying because those who watch 15 videos will receive the following message:
The daily limit is 10 orders. All orders have been sent out today and will be reset in 168 hours. Watch 20 videos to apply directly without waiting. 
Another lie!
I didn't waste my time watching the videos because the entire scheme is crystal clear to me. But I found a video on YouTube that shows what will happen after you go through the adverts again.
Royal Fish Hunter will give you another excuse to lure you into watching even mode ads. Here is the proof!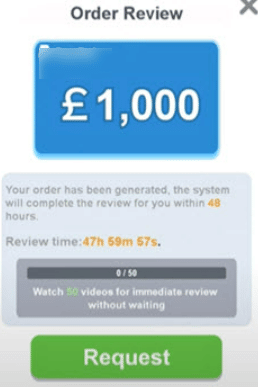 Is Royal Fish Hunter Legit? Does it Pay?
No, you simply cannot make a single penny by playing Royal Fish Hunter, let alone £1000+. They will not pay you even if you watch 1 million ads!
It's impossible because the business model doesn't generate enough ad revenue to offer payments of such magnitude.
No game developer can afford to pay thousands of dollars to everyone who reaches the payout threshold.
Games developers have been using this kind of "play-bait" tactic for years! Think about it, if it was true, then most people would have quit their jobs a long time ago.
Some legit applications operate regular prize draws, but the odds of winning a decent amount of cash is very low.

This reward platform is going viral! Cash out via PayPal, Visa, Gift Cards, and in-game currencies - Click here to find out how to generate an extra $10+ per day! 
Conclusion

Royal Fish Hunter has excellent graphics and gameplay, but you will not receive cash as promised.
The developer comes up with excuse after excuse to delay your payment and make you watch more advertising.
It's important to know he is the only one who makes money, since he is selling advertising space to promote other applications.
So, I don't recommend Royal Fish Hunter for those are just playing with the expectation to withdraw the money via PayPal.
If you are are sick of playing game that don't pay, uninstall this one and search for a real opportunity!
In the next section, you can discover the method that generates me over 1,700 USD per month. It takes time and commitment, but that's what can actually put real dollars in your bank account.
Earn a Full-Time Income Online
If you are searching for a real opportunity to work remotely and make a decent income, I suggest you try content marketing!
Many people work as a freelance writer, but personally, I prefer publishing content for my own website.
I cannot even express the feeling of earning a steady monthly income without depending on clients or bosses!
This excellent step-by-step program helped me create a WordPress website and rank articles that attract thousands of visitors per day.
Today, advertisers pay me for placing banners ads on my site. I also earn money by promoting products and services as an affiliate. You can do the same if you put in the work as I did.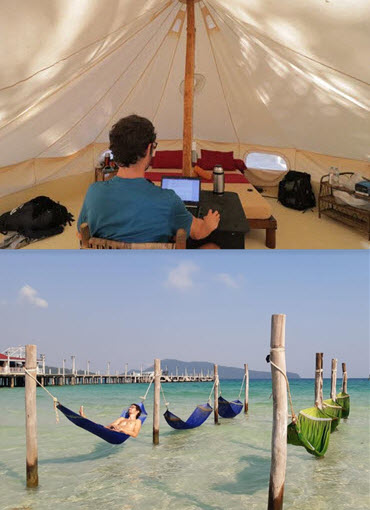 >> Check out my #1 recommendation and join now for free! <<
Final Words
Thank you for taking the time to read my Royal Fish Hunter app review!
As you may have noticed, the developer classifies the app as "Early Access", which means people cannot leave reviews. So, use the comment box below to share your experience and warn other people.
Peace!