Welcome to my Deposit Coin Tap to Win!
In today's pots, we will expose another application that supposedly pays you thousands of dollars for the easiest of tasks.
All you have to do is tap the yellow piggybank to collect gold coins and PayPal dollars.
Of course, the main purpose of the app is to maximize the time you spend watching videos and generate big profits for the developer.
Perhaps you already started playing this "game", but you suspect they will never pay you.
So, is Deposit Coin Tap to Win legit? Can you make real money or is it all false advertising? Keep reading to find out!
Tired of earning fake cash? This step-by-step program helped me build my own online business and generate over $1,700 per month. Join for free and start today!
Deposit Coin Tap to Win App Review
Name: Deposit Coin Tap to Win
Developer: wangyewang
Payout Threshold: £1000
Availability: Worldwide
Price: Free
Overall Rating: 

1/5
What is Deposit Coin Tap to Win?
Deposit Coin Tap to Win is a mobile game where you tap the piggybank to collect virtual cash coupons and coins.
The gameplay is very similar to games like Starry For Cash and Tap Money tycoon. The major difference is that they replaced the money tree and cash notes for a piggybank.
It's nothing new!
Players watch lots of sponsored videos with the expectation to cash out.
Deposit Coin Tap to Win is classified as "Early Access" or incomplete. Therefore, users cannot publish reviews and tell the world if it's legit or fake.
It's a shame they can run this kind of application and still avoid critics on Google Play.
How Does Deposit Coin Tap to Win Work?
Deposit Coin Tap to Win is available worldwide for Android devices.
Depending on your location, the cash rewards won't be enabled, and you will just collect coins that cannot be redeemed for money.
Before you play the game, you are encouraged to input your real PayPal account. The page suggests you need to collect $1000 to withdraw the money.
You just have to tap the pig quickly to collect coins and another type of virtual currency. Let's name it "token".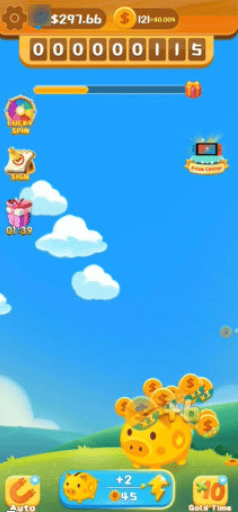 You can use the tokens to upgrade your piggybank and earn more coins per tap.
The game shows you how much your coins are worth in US Dollars. Currently, 100 coins are equivalent to $0.003.

Once your progress bar reaches the gift icon, you will earn stage rewards, which comprises four prizes.
Tap the card and watch the commercial to win PayPal coupons or coins.
Deposit Coin Tap to Win also gives you random PayPal bonuses, but only after you watch the video until the end.
In the Prize Center, you can watch more clips and spin the lucky wheel to win puzzle pieces. Most money games are enticing players not only with cash, but also expensive electronics.
They claim you can redeem smartphones, laptops, and modern TVs if you collect 10 or 20 fragments.
Check out the top game apps that actually pay here! 
How Do You Get Paid?
In the beginning, you just have to reach $1,000 in order to redeem the money via PayPal.
But once you request the payment, they come up with another requirement. Now, you must watch 300 videos in 3 days to get the reward!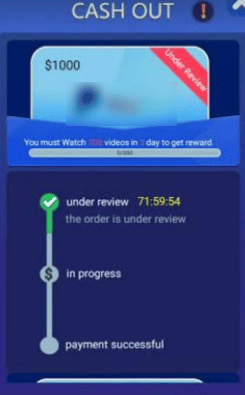 At this point, you may suspect you have been duped into watching more videos for nothing.
Is Deposit Coin Tap to Win Legit? Does it Pay?
No, the developer will not pay you. It's not reasonable to expect he can afford to pay everyone who fulfils all the requirements. The cash reward is very unrealistic!

Well, you may wonder if only a few players are selected to win the prize. I don't think so!
If the game was giving away cash rewards through a kind of prize draw, they would make that clear in the Terms of Service.
Instead, they want you to believe you will eventually withdraw the money if you play for long enough.
Of course, this is a trick to make more profits at the expense of your time! Make no mistake, you won't receive the payment.
Conclusion

This reward platform is going viral! Cash out via PayPal, Visa, Gift Cards, and in-game currencies - Click here to find out how to generate an extra $10+ per day! 
Deposit Coin Tap to Win wants you to convince players they can make lots of money and win expensive products as long as they watch enough videos.
You will be tricked into tapping your phone screen thousands of times and watching hundreds of videos in return for fake cash.

However, this virtual currency will never be transferred to your PayPal account! You will just waste your time and mobile data.
Some "money games" don't pay a dime, but at least they are fun to play. Well, that's not the case with Deposit Coin Tap to Win.
The game is so tedious that it couldn't even entertain a 2-year-old baby. That's why virtual dollars are added to the game to spice it up!
It must be very frustrating to complete tasks and play mobile games that do not pay out.
If you are serious about making money from home, check out the next section and discover one of the best opportunities. It stood the test of time and is proven to work!
Earn a Full-Time Income Online
You can make a decent amount of money by creating a website and becoming a content creator. That's the business model that earns me over 1,700 USD per month!
Basically, I publish the type of reviews that you are reading right now. They rank high on Google and bring me visitors in search of information.
The more people visit my site, the more money I make from advertising and affiliate marketing.
You can do the same and create a successful online business on any topic of your interest.
In 2015, I joined this step-by-step program that helped me set up a website from scratch and build the foundation for a lucrative business.
Final Words
Thanks for reading my Deposit Coin Tap to Win app review. If you would like to share your thoughts about this game, feel free to use the comment box below.
Peace!