Welcome to my Jelly Connect app review!
If you are reading this post, chances are you have seen a very tempting video promoting Jelly Connect.
The advert shows someone with a hand outside of the car, dishing out lots of money on the streets. Next, there is a game simulation suggesting you could cash out $100 via PayPal.
I know many people still fall for fake money games and need a wake-up call to what is really going on behind the scenes.
You need to know whether Jelly Connect pays because time is money!
Is Jelly Connect legit or scam? Keep reading as this post will save your time and internet data.
Tired of earning fake cash? This step-by-step program helped me build my own online business and generate over $1,700 per month. Join for free and start today!
Jelly Connect App Review
Name: Jelly Connect
Developer: blinggame
Payout Threshold: $100
Availability: Worldwide
Price: Free
Overall Rating: 

1/5
What is Jelly Connect? 
Jelly Connect is a mobile game where players draw a line connecting the same numbers to merge them.
Both Google Play and App Store platforms are full of similar games that only differ in name and form. This is just one example of merging game.
Many of these games are using virtual dollars instead of points to lure people into playing for longer. That's also the case with Jelly Connect.
The developer gives PayPal coupons and claim you can cash out once you accumulate $200.
This is a well-known strategy to make players watch an insane number of adverts and maximize ad revenue. It's very profitable for app developers!
How Does Jelly Connect Work? 
Installation 
Jelly Connect can be installed for free on Google Play for your Android device. As with most apps, they have permission to access pictures, media and files stored in your phone.
No one knows whether they will respect your data and privacy, so it's always risk you have to take. Me, personally, I just install the app to test them out because it's my job.
However, I never keep them on my phone after the review is done.
How to Play Jelly Connect? 
Jelly Connect a very simple and addictive game. You just have to connect the same number jellies by swiping the finger over them in any direction.
All the jellies will merge into a jelly with a higher number, which follows the sequence: 2, 4, 8, 16, 32, 64…
Just keep merging and unlocking higher numbers! As you do so, you will collect diamonds that accumulate in your account.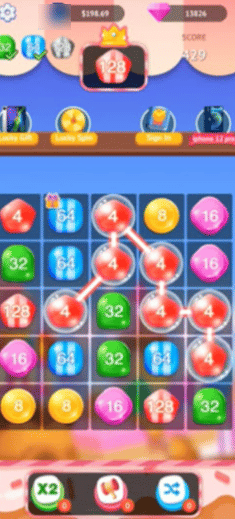 In some countries, players are also earning virtual dollars when they connect a colorful jelly "WILD". It has a PayPal logo on their side.
After merging this one, you will receive a message encouraging you to click "Collect" and watch the ad to earn the reward.
It gives you anywhere between $9 and $16, which is insane considering the developer may not even make 10 cents.
You can use 3 tools to make faster progress in the game:
x2: Choose any jelly to double its number.
Hammer: Drag it to the target position to eliminate the jelly.
Randomize item: Rearrange all the tiles.
Earn an iPhone 12 – Seriously? 
Jelly Connect will give you Streak Rewards from time to time. You must flip 4 cards and watch videos for a chance to win puzzles, cash and diamonds.
They say you can win an iPhone 12 if you collect only 4 puzzle pieces. That's the most sought-after prize, but there are many others available in the Lucky Gift section.
How do You Get Paid? 
You can request the payment only after you reach $200, but this is only the tip of the iceberg, my friends.
Once you tap the "cash out" button, it says the order is under review, and you must watch 60 videos in 1 day to receive the payment.
Guess what happens if you do that? Well, they will increase the requirement to 200 videos and give you a 72-hour deadline!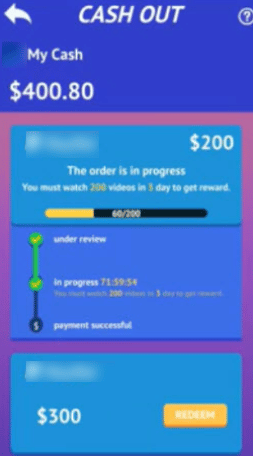 This tedious game works exactly the same. There is always a new message demanding additional video views. It's very frustrating!

At this point, I believe you already figured out what is really happening. If not, don't worry! The next section will make it crystal clear for you.
Is Jelly Connect Legit? Does it Pay? 
No, it doesn't! Jelly Connect won't pay you a dime even after you have 200 videos under your belt.
I don't know if the developer will come up with another excuse to postpone your payment. But one thing is certain. The money will never be transferred to your PayPal account as advertised.
The same applies for all the other rewards!

This reward platform is going viral! Cash out via PayPal, Visa, Gift Cards, and in-game currencies - Click here to find out how to generate an extra $10+ per day! 
If you are just playing for the money, you will probably regret installing this app on your phone. The reason is that you will not only waste your time but also lots of mobile data.
Jelly Connect is still incomplete (Early Access), meaning players cannot publish reviews on Google Play. This prevents people from having a clear picture of what is really going on!

Many users learn the hard way, whereas others search on Google for reviews in other sites like the ones you are reading.
That being said, I cannot accuse the company of fraud because there is a lot more than meets the eye.
Conclusion 
Forget about earning real money with a merge number game like Jelly Connect. Unfortunately, many of my readers discover my site after spending many hours playing fake money games!
The developers are just using virtual dollars to entice you to install their apps and boost profits.
Jelly Connect is great for killing time, but it's not a money-making application by any means.
Read the next section to find out my top recommendation if you are here to make money instead of having fun.
Earn a Full-Time Income Online
You can earn a decent amount of money by creating a website and creating helpful content.
That's the business model that brings me over 1,700 USD per month and allows me to enjoy more life without the constraints of a 9-5 job.
Basically, I attract visitors by writing reviews and generate revenue by displaying advertising and affiliate links on my pages.
You can do the same and create a successful internet business if you are motivated and willing to put in the work.
In 2015, I joined this step-by-step program that helped me set up this site and build a large audience.
These guys helped me achieve my goals and reach my dream of working from my laptop while travelling the world!
Final Words
Thanks for reading my Jelly Connect app review. If you would like to share your thoughts, use the comment box below because Google Play blocks reviews for this app.
Peace!