Welcome to my Tap Money Tycoon app review!
I just came across another game that supposedly rewards players just for tapping the cash notes.
The developer promotes the app as an opportunity to earn each money and receive payments through PayPal.
Unfortunately, many people don't bother reading reviews to find out whether the game actually pays.
They install the app immediately and do whatever they are told to do without realizing they are just being used.
You are here because you value your time and you don't want to be treated as a fool. So, is Tap Money tycoon legit or fake? Does it pay? Keep reading to find out!
Recommended: This step-by-step program helped me build an online business and generate $1,600+ per month. It's free to join!
Type Money Tycoon App Review 
Full Name: Type Money Tycoon (Early Access)
Developer: Blast Money Game
Eligibility: Worldwide
Price: Free (no in-app purchases)
Overall Rating: 

1/5
What is Type Money Tycoon?
Tap Money Tycoon is a game where you collect virtual cash and make smart investments to build your money empire.
There are lots of get-rich-quick simulations on Google Play such as Cash Rush, Money Cash Clicker, and Make it Rain.
The fundamental difference is that Tap Money Tycoon claims you can make real money! If you read the rules, it clearly states that your reward will be sent within 7 business days.
But is it just part of another simulation? I will get to that later. First, let's see how the game works.
How Does Tap Money Tycoon Work? 
Installation 
Tap Money Tycoon is available on Google Play for people in all countries.
It's important to be aware that the company will have access to your location, photos, files, and connections.
So, if you care about your privacy and security, think twice before installing Tap Money Tycoon on your phone.
How to Play Tap Money Tycoon? 
Simply tap or swipe the stack of dollar bills to collect virtual cash.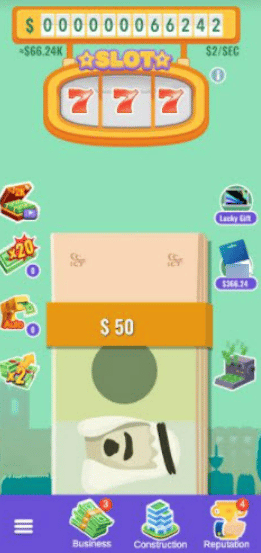 Use your earnings to set up businesses, invest, and work on your reputation. Keep upgrading to earn passive income and increase the value of each dollar bill.
For example, by building a restaurant business, you will get $792 per second. Grow a business hotel and earn up to $50 per swipe.

Tap Money Tycoon also provides boosters to help you make money faster. However, you will always have to watch a video to use them.
Unfortunately, the dollars cannot be converted to real money, otherwise you would be the richest person on earth.
Are you struggling to find a legit opportunity to make an extra income online? Check out my top recommendation here! 
Special Cash Notes
While you are swiping the money, you will occasionally come across cash notes stamped "Slot 777" and "PayPal".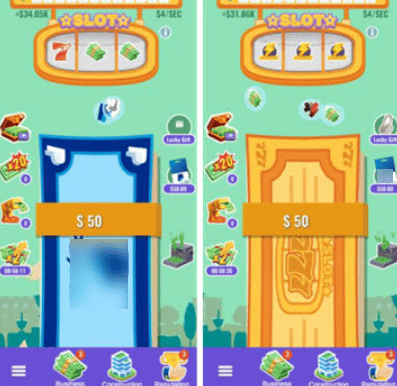 When you tap the one stamped "slot 777", the game triggers the slot machine, giving you the chance to win $1,000. Match the 777 to win the jackpot.
As expected, the ones stamped "PayPal" give you cash rewards that accumulate in your virtual PayPal balance.
This virtual currency is the one you can supposedly cash out via PayPal.
Lucky Gift
As you are playing Tap Money Tycoon, you will also collect puzzle pieces to win gifts. Here is the full list of prizes along with the minimum number of fragments required:
Samsung Galaxy S21 – 100
iPhone 12 Pro – 100
Apple MacBook Pro – 150
AirPods Pro – 20
iPad Pro – 80
Sony WH – 30
Nintendo Switch – 40
$200 Amazon gift Card
Syson V11 Vacuum cleaner – 50
How Do You Get Paid? 
Tap Money Tycoon says to need to collect at least $1,000 to withdraw the money via PayPal. The list of cashout amounts is extensive and goes until $20,000.
In theory, you could redeem by opening the PayPal balance, selecting the value and filling up your email.

Is Tap Money Tycoon Legit? Does it Pay?
– No, it doesn't.
– But what if….
– Nope! Forget about it!
Tap Money Tycoon does not differ from other games that simply ignore payment requests.
Mind you, I reviewed hundreds of them in this blog, including similar get-rich-quick simulations.

This reward platform is going viral! Cash out via PayPal, Visa, Gift Cards, and in-game currencies - Click here to find out how to generate an extra $10+ per day! 
So, trust me when I say that something wrong will happen and you won't get the funds sent to your PayPal account.
Games like Tap Money Tycoon usually make it impossible to reach their minimum cashout requirement.

The rewards get smaller and smaller so that you are lured into playing for much longer. As a result, you will end up watching lots of ads that are only benefit the developer.
To top it all off, Tap Money Tycoon has no Terms of Service, which means a total lack of transparency.
Many people will say they should be penalized for false advertising, but at the bottom of the ad, it says "Result is not guaranteed". 
Unfortunately, many people fall for the hype without careful consideration.
Verdict: Not Recommended
Conclusion 
Tap Money Tycoon encourages people to play with the expectation to win actual money. But there is no reason to believe they will pay you.
The amount of money is too high considering the app is only funded by advertising. Therefore, the developer could never afford to transfer 1,000 to everyone.
I hope I save you the trouble of tapping on your phone thousands of times and watching hundreds of ads.
Earn a Full Time Income Online
In 2015, I built an internet business to pursue my dream of quitting my job and travelling the world.
I knew I would have to work hard to grow a big audience and generate a substantial amount of money. But I was prepared for the challenge since I was motivated enough to break free from the 9-5, and so I did it!
Thanks to this excellent step-by-step program, I created a profitable site that allows me to work anytime, anywhere I want.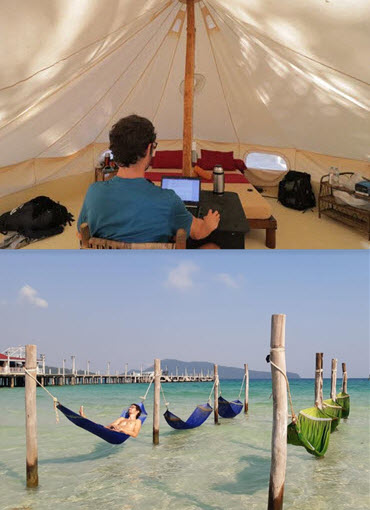 I am still a member to this day and can help you on this journey! Click here to learn more! 
Final Words
Thanks for reading my Tap Money Tycoon app review. So, did you reach $1,000? Did they pay you? Leave your thoughts and questions below.
Peace!