Welcome to my 2048 Hexagon app review!
In today's post, I would like to warn you guys about another Android game called 2048 Hexagon.
The app is advertised as an opportunity to cash out $100 through PayPal.
You are here because you suspect the game might be fake, and that you won't receive any money.
Yes! It's very important to read reviews and get informed before installing any application, especially the ones that claim to give big cash rewards.
Recommended: This step-by-step program helped me build an online business and generate $1,600+ per month. Don't miss out on the free starter membership available! 
2048 Hexagon App Review 
Full Name: 2048 Hexagon
Developer: Mantour Studio
Eligibility: Worldwide
Price: Free (no in-app purchases)
Overall Rating: 

1/5
What is 2048 Hexagon?
2048 Hexagon is another match puzzle game that gives you virtual dollars for matching hexagonal tiles.
The app is owned by a company based in Hong Kong called NIUNIU STUDIO CO., LIMITED.
It's confusing because on Google Play, the developer is presents himself as Mantour Studio.
The goal is to place at least three same numbers together in order to create a higher number. It's very similar to Crazy Hexagon and Merge Up 7!
Like many games, you cannot claim cash rewards without watching the video. Besides, you must accumulate $100 to be able to cash out.
People enjoy playing games like 2048 Hexagon as they train the brain and help to pass the time. However, some developers entice people with money as their games are mediocre and cannot attract as many players as they wish!
2048 Hexagon has been installed over 100,000 times, which proves this business model is highly effective. The question is: Will it be beneficial for you as well?
Before I answer this question, let me show you how the game works!
How Does 2048 Hexagon Work? 
Installation 
2048 Hexagon is available for free on Google Play. Upon installing the game, you can play immediately without having to register or give permissions.
However, it's good to know the app developer has automatic access to your media, photos and files. That means he can read, modify, and delete all the content stored in your phone or tablet.
If you hold nothing important in your SD card and you don't care about privacy, then this may not be a problem. Me, personally, I deleted 2048 Hexagon after testing it for a short period.
How to Play 2048 Hexagon?
It's as simple as counting 1 – 2 – 3! Just drag the hexagonal tiles to the grid and try to put the same numbers side by side.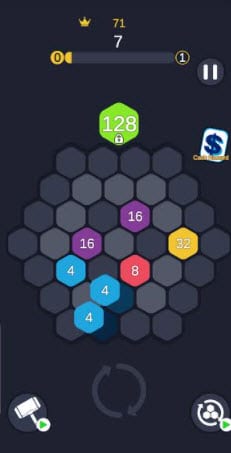 When three or more tiles of the same number are put together, they merge into a single hexagon with a higher number. It follows the geometric sequence: 2, 4, 8, 16, 32, 64… 2048.
Turn the arrangement clockwise to find a better position for the tiles in the grid. In addition, you can use the hammer to break any tile or the rearrange tool.
By merging a couple of tiles, you will get a message saying you've received a cash reward. Just tap the "open" button and watch the 30-second video to claim it.
Then, 2048 Hexagon will deposit the virtual dollars into your account. However, the video is not always "ready" when you try to claim the money.
TIP: With Prizerebel, you can make over $100 per month by completing simple tasks. 100% LEGIT! 
How Do You Get Paid? 
2048 Hexagon claims that the money can only be withdrawn at $100. If you are lucky enough to reach the target, open your cash balance, press "withdraw", and submit your email.
Is 2048 Hexagon Legit? Does it Pay?
I don't think 2048 Hexagon pays, although I cannot prove it doesn't!
If you check the user reviews on Google Play, you will find many people saying they got stuck at $96 – 98 and cannot cash out.
The reason is that they don't get more videos to claim the points and reach $100.
On the cash reward pop up, there is a link called "winners". It shows a list of recent winners and screenshots of PayPal payments.

What caught my attention was that those payments were in the name of Crazy Hexagon Team.
Crazy Hexagon is almost identical to 2048 Hexagon, but it's operated by Lucky Game Studio, not Mantour Studio. Besides, the screenshots are not proof of anything since they can be easily falsified.
Another important consideration is that the only way to access the Terms of Service link is through the company's website. However, by accessing the page, you quickly realize that it's actually their Privacy Policy.
Conclusion 
2048 Hexagon is a fun game, but it's a complete waste of time for those who are just playing for money.

This reward platform is going viral! Cash out via PayPal, Visa, Gift Cards, and in-game currencies - Click here to find out how to generate an extra $10+ per day! 
They make it impossible to cash out by not showing more ads when you are approaching $100. It's very frustrating since you had to endure lots of videos to claim rewards.
Apparently, the developer is the only one making profits since he is getting paid from advertisers to show their ads.

I don't recommend anyone to play games with the expectation to win hundreds of dollars. They never pay! 
If you want to play for fun, install an alternative app that doesn't entice you with money. Those who do usually show more advertising and consume too much data.
Verdict: Not Recommended
Earn a Full-Time Income Online
With so much uncertainties in the "new normal", you would feel much safer if you could make money on your own terms!
Perhaps you want to quit your job altogether and be your own boss. How about working from your laptop and enjoying time and location freedom? 
Internet marketing is one of the best business models to earn money online. I started my journey back in 2015 after joining this excellent step-by-step program.
I am very glad I did! Today, the affiliate site I built using their platform engages thousands of visitors per day and generates me a decent income every month!
Mind you, I started with zero knowledge about web design and marketing. So, everyone can benefit from the training and achieve remarkable results depending on their level of commitment.
Click here and take your first steps today!
Final Words
I hope this review helps you understand how 2048 Hexagon works and why I don't recommend it. So, how was your experience? Did you also get stuck before reaching $100? Let us know in the comment box below.
Peace!