Welcome to my Words to Win review!
I was searching for a legit money-making app on Google Play when I found Words to Win!
By playing this nonoriginal puzzle word game, you can supposedly withdraw real money to PayPal.
The reason Words to Win look more convincing than other games is that players can cash out at $7 instead of the usual amounts of $100 or $200.
Yes, it looks more realistic considering the company may earn over $7 in ad revenue per user. However, I reviewed lots of games that don't pay, despite promising small cash prizes.
So, is Words to Win legit or fake? Is it possible to withdraw the money or not? Keep reading to find out!
Wasting too much time with fake money games? Check out my #1 recommendation. This step-by-step program helped me generate over $2K+ per month. Join the free starter membership here and start now! 
Words to Win App Review 
Full Name: Words to Win: Real Cash Rewards
Developer: Rewardify Inc.
Eligibility: Worldwide
Price: Free (no in-app purchases)
Overall Rating: 

1/5
What is Words to Win?
Words to Win a word puzzle game where you connect letters to uncover hidden words. There are hundreds of levels that will help you exercise your brain and pass the time.
As you pass the levels, you will receive virtual dollars that accumulate slowly in your wallet. You can then cash out through PayPal once you hit $7!
The app is owned by Rewardify Inc., an American company that also operates this sweepstakes app.
How Does Words to Win Work? 
Installation and Permissions
Word to Win is available on both Android and iOS platforms. Therefore, you can download and install the app on Google Play or App Store.
Only residents of the United States, Canada (except Quebec), Australia and United Kingdom are eligible to play and receive rewards.
Also, be warned that by using Word to Win, you are giving the developer permission to access photos and files on your device.
Cloud Save
Just tap the blue cloud icon and connect with Facebook to save the game and keep the cash you earned. You will also get a bonus of 500 gold when you sign in.
How to Play Words to Win? 
Simply connect the letters in the right sequence to unlock the hidden words.
It's very straightforward in the beginning when you have just three letters to play with. But after a certain level, they make it more challenging by adding an extra letter.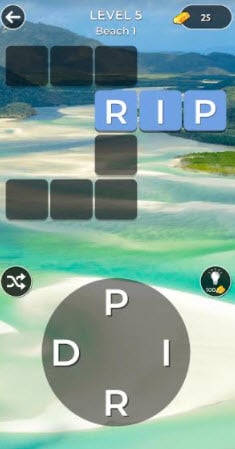 If you cannot guess the correct word, tap Shuffle or Hint button. Each tool costs 100 Gold, which is the currency

After completing each level, they will offer you a scratch card for a chance to win up to $250. Match three identical items to win the prize.
You will often get 3 cash note symbols worth only $0.05.
Words to Win is almost identical to many other games I reviewed a while ago. If you are curious, here are more reviews for you:
Sweepstakes
Words to Win also organize daily and monthly (super) sweepstakes for a chance to win $50 and $500.
To unlock contests, the first step is to click the green button and watch teh short video. Then, you can purchase tickets using the tokens that you collect on the scratcher or lucky wheel.
The $50 drawing is held every day at 9pm ET, whereas the jackpot of $500 is given away on the last day of the month.
There is at least one winner selected via a random drawing of all eligible tickets. Keep in mind that only registered users can win.
You can collect more cash and tokens by spinning the wheel, login daily, and watching for special events.
Also, you will get a $1000 scratcher for each friend who installs and plays Words to Win for the first time.
How Do You Get Paid? 
All the cash prizes are paid via PayPal, and you cannot cash out until you have $7 in your wallet.
Is Words to Win Legit? Does it Pay? 

I wouldn't call Words to Win a scam, but the prospects of winning real cash are bleak! It does pay, but not everyone! 
There is no guarantee the company will let you cash out $7 and you must be very lucky to win the big prizes.
After reading lots of reviews on Google Play, I noticed that most people get stuck at 6.55 – $6.95.
I guess one of the main reasons is that players are not from eligible countries. However, I believe that even if you qualify for rewards, you may not receive the money.
This woman was so disappointed as she got stuck at $6.70 for 6 months!


This reward platform is going viral! Cash out via PayPal, Visa, Gift Cards, and in-game currencies - Click here to find out how to generate an extra $10+ per day! 
Another player said it took her a long time to cash out, but the money was transferred to her PayPal with no issues.


Conclusion
Words to Win is an enjoyable exercise for the brain. Unfortunately, lots of players get stuck before reaching $7 and cannot withdraw any money.
Anyone can install the game and play for free. However, the company only rewards residents from few rich countries.
Since very few people read the Terms of Service, they will play the game for hours with the false expectation to win money.
Now you know! If you live in the US, the UK, Canada or Australia, you have a real chance of winning. But it's not 100% guaranteed!
Earn a Full-Time Income Online
One of the best strategies to make money online is to set up a website and provide helpful content.
Then, you can generate revenue by showing ads and placing affiliate links on your posts. That's exactly how I earn a living now, and it feels so much better than working 9-5, I can tell you!
This excellent training helped me create this lucrative online business and quit my job in 2019. If you dream of time and location freedom, give it a try and start working towards your goals!
Final Words
Thanks for reading my Words to Win app review. So, did you hit $7? Did you get the payment? Kindly share your results in the comment box below.
Peace!