Welcome to my Tree Fish Farm app review!
I have just found another game where players tap to grow a money tree and collect virtual dollars.
The developer claims that everything you earn within 36 hours will be redeemed to PayPal or Amazon gift cards.
I am writing this review to raise awareness, since millions of people are wasting time with similar games like Tree for Money and Click Money.
So, can you make real money from the Tree Fish Farm app? Is it legit or scam? Read this post as I uncover all the details.
Recommended: This step-by-step program helped me build an online business and generate $1,600+ per month. It's free to join!
Tree Fish Farm App Review 
Full Name: Tree Fish Farm (Early Access)
Developer: Qhei Mobile
Eligibility: Worldwide
Price: Free (no in-app purchases)
Overall Rating: 

1/5
What is Tree Fish Farm?
Tree Fish Farm is a game that gives you virtual dollars and diamonds for upgrading a money tree.
The cash accumulates in your account and is available to withdraw after 36 hours. However, you may redeem immediately once you reach $1,000!
You can also unlock fishes by completing milestones, but they have no currency value.
Although Tree Fish Farm has been installed over 100,000 times, there are no testimonials on Google Play. That is because the developer only provides early access to the game.
How Does Tree Fish Farm Work? 
Installation 
Tree Fish Farm is available for free on the Play Store. It doesn't ask for permission to use your phone's functionalities, nor to access content in your USB storage.
However, the developer can read, modify and delete any your files, including photos, videos and other files. Crazy, right?
How to Play Tree Fish Farm? 
All you have to do is tap the tree vigorously to earn cash notes. This type of virtual item can only be used to level up your plant and make it grow.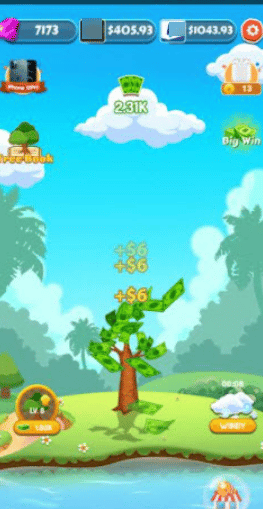 Every time you upgrade your tree, the amount of cash notes you earn per tap increases by 1. But at the same time, the requirement to jump to a higher level increases.
Tap "Windy" and watch a video to make the tree shake automatically and earn faster.
Once you achieve a specific level, you will unlock a fish. Okay, but what for?

Nothing! It's just for the "fun" of collecting them.
Rewards 
As you know, Tree Fish Farm gives you virtual cash and diamonds at regular intervals while you are growing your tree.
To collect them, you must tap the "Claim" button and watch video offers.
The cash will be credited either to your PayPal or Amazon balance, depending on whether it comes with a PayPal or Amazon logo.
>> Check out the best apps to earn money for playing games!
Lucky Draw
Every time you watch a video, you will get a lucky coin to take part in the Lucky Draw.
Each coin is a raffle ticket that enters you in a prize draw for a chance to win Apple iPads, Airpods and Macbooks.
Earn an iPhone 12 Pro
As if all the money and prizes were not enticing enough, Tree Fish Farm supposedly gives away an iPhone 12 for those who reach level 100 and watch 200 videos.
What the developer doesn't tell you is that watching 200 ads doesn't even pay for 5% of the price of that expensive phone.
How Do You Get Paid? 
If you open the wallet, you will see the cash amount you have and a countdown from 36 hours.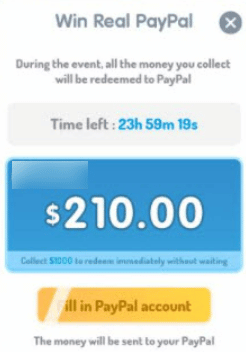 Tree Fish Farm claims you can redeem all the money you collect during this period. However, it encourages you to collect $1,000 to cash out without waiting!
Once the time is up or you fulfill the requirement, tap the button and enter your email.
Is Tree Fish Farm Legit? Does it Pay? 
No, it doesn't! I was surprised that the game let me reach $1,000 within just 20 minutes.

This reward platform is going viral! Cash out via PayPal, Visa, Gift Cards, and in-game currencies - Click here to find out how to generate an extra $10+ per day! 
However, I didn't even bother to give them my email because I know they wouldn't pay me a dime.
Most games start giving a lot of money in the beginning, but the rewards get smaller and smaller. So, it's impossible

The reason is that the developer is making money when you watch the videos. So, the more you play, the more views and ad revenue he is earning.
For some reason, Tree Fish Farm allows you to collect enough dollars and cash out relatively fast.
The problem is that you will never see the money in your PayPal account since the rewards are fake.
Conclusion 
Tree Fish Farm is another boring game where you grow the tree by clicking thousands of times.
If only the game was challenging, I would advise people to play just for fun. But unfortunately,
The main reason people play Tree Fish Farm is because they want to make easy money. But the only person who achieves this goal is the developer, who is smart enough to profit from advertising.
If you value your time, avoid this app at all costs.
Verdict: Not Recommended 
Earn a Full-Time Income Online
In 2015, I built an internet business so I could make money on my own terms and enjoy freedom.
It's quite easy to put everything in place, but I recommend you get proper training and support to avoid pitfalls.
As you may know, the internet is full of misinformation that may waste your time and money!
Thanks to this excellent program, I created a profitable website that allows me to work anywhere I want.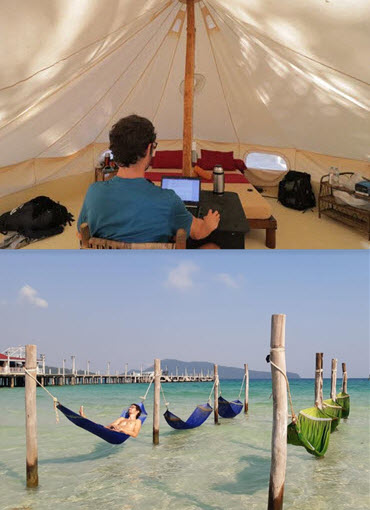 If you want guidance from expert marketers to avoid trial and error, join this top-rated program and take your first steps today!
I am still a member to this day and can help you on this journey!
Final Words
Thanks for reading my Tree Fish Farm app review. So, how was your experience with this game? Leave us a comment below.
Peace!