Welcome to my Owl Slide Blast app review!
The developer of Owl Slide Blast is going the extra mile to hook you with their addictive game.
In a video ad, there is this Asian woman who claiming you can get paid $100 every day via PayPal.
You may have seen this advertising enticing people to download the app with the expectation to earn easy money!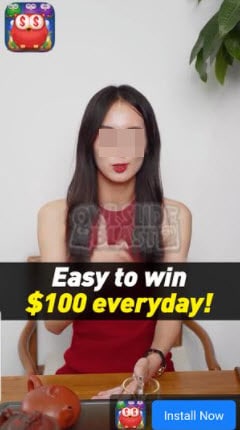 As you may know, fake money games are flooding Google Play and causing a lot of frustration.
I have tested hundreds of apps that make people watch videos in return for zero, zip, zilch, nada, nothing!
You are because you cannot afford to waste time just to make app developers richer. So, is Owl Slide Blast legit or fake? Does it pay? Keep reading as I uncover all the details!
Recommended: This step-by-step program helped me build an online business and generate $1,600+ per month. It's free to join!
Owl Slide Blast App Review
Full Name: Owl Slide Blast (Early Access)
Developer: BigBang Team LLC
Eligibility: Worldwide
Price: Free (no in-app purchases)
Overall Rating: 

1/5
What is Owl Slide Blast?
Owl Slide Blast is a very interesting puzzle game in which you eliminate blocks by sliding them to the left or right.
As you destroy owls and complete levels, you will earn virtual dollars that can be transferred to PayPal once you reach $200. 
As of writing, the app has been installed 1,000 times, but it has the potential to go viral in the next few months and reach 100,000 installs!
My mission is to warn as many people as possible while the developer is growing his large audience. If only one person benefits from this post, I am happy!
Owl Slide Blast is operated by BigBang Team LLC, which is the same company behind this popular candy blocks game.
How Does Owl Slide Blast Work?
Installation 
Owl Slide Blast is available on the Play Store for your Android device. You don't need to register or allow any permissions before the games starts.
You can just sign in and watch the sponsored clip to collect your daily reward worth $5 – $50. Next, press the "Play" button to get started!
How to Play Owl Slide Blast? 
It's very simple! Slide blocks to the left or right to make the owls drop to the lower level. Then, another row will appear at the bottom, pushing everything up.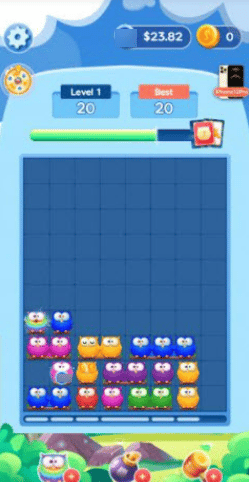 Every time you fill up the entire row, you will eliminate all the owls and cause the blocks to fall.
You must destroy as many owls as possible before the blocks reach the top.
The goal is to pass the level after achieving a specific score represented by the progress bar.
The more rows you eliminate at once, the higher your rating. Besides, there are colorful owls that give you bonuses!
Don't forget you can use three props after watching a video or spending 1000 coins.
Make 3 owls colorful and explore to clear the surrounding owls.
Use the Bomb to clear owls of a random color.
Use the hammer to turn 5 pair of owls into a single one.
Rewards
Owl Slide Blast will offer you virtual dollars after destroying a couple of rows or owls with the PayPal logo. They will also give you coins instead of cash.
The reward is credited to your balance only if you press the button and watch the video.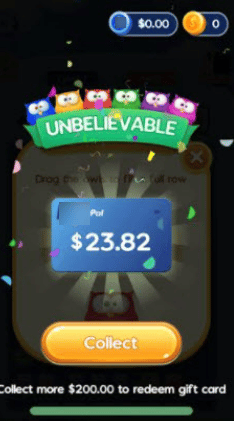 Bear in mind those are virtual items with no currency value, meaning you have no right to them!
Once you complete each level, you can flip 4 cards to claim big PayPal cards. But of course, not until you watch another 30s advert.
Another way to get more coins and cash is by playing the Lucky Spin.
How to Withdraw the Money? 
Owl Slide Blast supposedly pays you via PayPal once you accumulate $200.

In addition, you can exchange 980000 coins for a $100 gift card from Amazon, iTunes, Steam, Xbox, and Playstation.
How to Win an iPhone 12?
Owl Slide Blast also suggests you can win an iPhone 12 Pro ($1299) after you get to level 100 and watch 200 videos.
Now, on to the most awaited part!
Is Owl Slide Blast Legit? Does it Pay? 

This reward platform is going viral! Cash out via PayPal, Visa, Gift Cards, and in-game currencies - Click here to find out how to generate an extra $10+ per day! 
Nope! Owl Slide Blast won't give you a single penny, even if you manage to fulfill their cashout requirements.
The first red flag I noticed is the way they promote the game. They claim players make $100 per day, which is totally unrealistic!

Another wake-up call is the fact that Owl Slide to Blast comes with the "Early Access" badge. Therefore, people cannot publish reviews on Google Play and read what other users are saying.
Sadly, the developer will either ignore your payment request or make it impossible to reach $200.
Usually, these games stop giving cash when you are almost reaching the threshold. You may experience the same behaviour if you play Owl Slide Blast for long enough.
More games to avoid:
Conclusion 
Owl Slide Blast is a decent game to kill time when you are feeling bored and have nowhere to run.
However, the developer has no intention to pay users. If he did, he would launch the complete version of the game and let players publish reviews in Google Play.
Please, don't be fooled by false claims of developers who only intend to collect advertising revenue and leave you empty-handed.
There is no such thing as playing games in return for hundreds of dollars!
I have reviewed a countless number of games that supposedly transfer a lot of money to PayPal. But 99.99% of people who comment on my blog shares a very negative view on them!
If money is what you are looking for, don't waste your time playing Owl Slide Blast. Instead, focus on proven strategies like the one I will show you now.
Earn a Full-Time Income Online
Have you ever imagined being able to work from home or anywhere with an internet connection? What about making money on your own terms?
In 2015, I decided to build an online business so I could eventually quit my job and have more freedom in life.
Thanks to this excellent step-by-step program, I created and scaled a website that covers all my living expenses, even while I am travelling!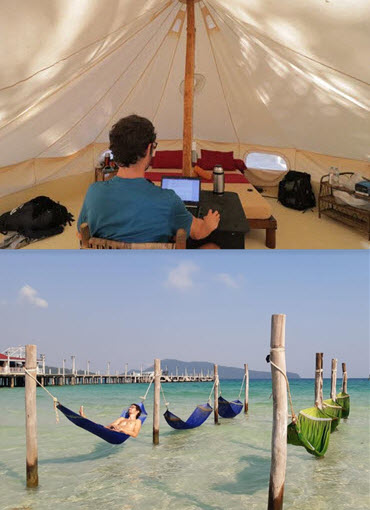 If you want to learn more how to create a profitable affiliate site, check out this top-rated program and take your first steps today.
Final Words
Thanks for reading my Owl Slide Blast app review. So, did you reach $200? How was your experience with this game? Your comments are very important to us!
Peace!