Welcome to my 2 For 2 Connet to Win app review!
I am publishing this post to warn as many people as possible about an addictive game called 2 For 2 Connet to Win.
The reason this app went viral is that Players have been told they can transfer $1,000 to their PayPal account.
Who doesn't like the idea of earning stacks of money while having fun? It feels like a dream come true!
Now, you are probably wondering whether 2 For 2 Connet to Win is a legit or fake money game. Does it pay or not? I am here to answer these questions and save your day!
Sick of fake apps? This step-by-step program helped me build an online business and generate $1,600+ per month. It's free to join!
2 For 2 Connet to Win App Review
Full Name: 2 For 2 Connet to Win
Developer: David.Liu
Eligibility: Worldwide
Price: Free (no in-app purchases)
Overall Rating:

 1/5
What is 2 For 2 Connet to Win?
2 For 2 Connet to Win is a "2048" game in which players connect the same numbers through a vertical, horizontal and diagonal lines.
It's very similar to Pops Connect, 2248 Link Connect Puzzle, Chip 2048, just to name a few.
The goal is to link as many tiles as possible in order to accumulate diamonds and virtual cash. They suggest can cash out to PayPal once you reach $1,000 or 325500 gems.
2 For 2 also features a Prize Center, where you can watch videos and play the Lucky Spin to win puzzle pieces.
Players may redeem prizes such as Samsung Galaxy, HP Notebook, and Apple Watch once they collect 10 fragments.
How Does 2 For 2 Connet to Win Work? 
Installation and Permissions
2 For 2 Connet to Win is available on the Play Store for Android devices. After launching the game, it will provide a short tutorial and then you are ready to roll!
It's important to mention the application has access to photos and files on your phone. They have not only permission to read but also modify and even delete them!
Many reliable apps ask for permissions that allow users to post pictures, etc. However, I don't think games like 2 For 2 Connet to Win need access to your USB storage to run. So, find it very suspicious!
How to Play 2 For 2 Connet to Win? 
Swipe to draw vertical, horizontal and diagonal lines connecting the same numbers.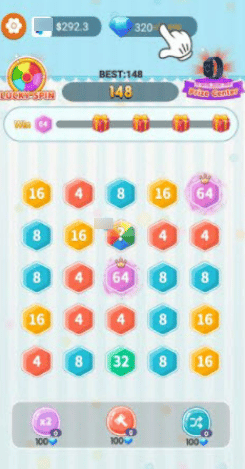 Next, the tiles will merge into a higher number that follows the sequence: 2, 4, 8, 16, 32, 64, 128… 2048.
You will always earn diamonds worth a few cents of a dollar after merging the numbers. The longer the connection, the more diamonds you will earn!

Sometimes, you will also receive virtual PayPal cards with the condition that you press the "collect" button and watch the clip.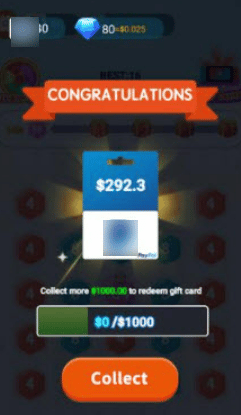 Colorful tiles with a small PayPal logo and a question mark will appear occasionally. They connect with any number and awards more "dollars".
Also, you will earn stage rewards every time the progress bar reaches the gift symbol.
Bear in mind these virtual items have no currency value, so you have no right to redeem for actual money.
There is only an expectation that the developer will transfer the funds if you reach the payout threshold.
2 For 2 Connet to Win provides a few tools to multiply, break, and rearrange the tiles.
Searching for a proven method to make over $1000/mo from home? Check out my #1 recommendation!
Prize Center
In the prize center, 2 For 2 Connet to Win entices you to watch more videos to collect different puzzle pieces.
You can redeem a Sony TV, HP EliteBook, Samsung Galaxy and many other prizes once you get 10 puzzles
To collect the fragments, tap the bubble of puzzle or spin the wheel.
According to the activity rules, the number of puzzles and the rewards may change from time to time.

How Do You Get Paid? 
2 For 2 Connet to Win suggests you can withdraw the cash balance via PayPal once you reach $1,000. 
Just open the cash balance, press the redeem button and submit your email address.
As for diamonds, you can exchange them for a $100 gift card from Amazon, Google Play, Playstation, Xbox and iTunes. The minimum cashout requirement is 325,500 gems ($100).
Is 2 For 2 Connet to Win Legit? Does it Pay? 
No, it doesn't! There is no chance to win cash rewards or any other prizes from this game.

This reward platform is going viral! Cash out via PayPal, Visa, Gift Cards, and in-game currencies - Click here to find out how to generate an extra $10+ per day! 
I thought my earnings would diminish over time, but it was actually easy to reach $1,000. It took me less than 15 minutes!
However, I knew it wouldn't pay me a dime, so I didn't even bother entering my PayPal email.

If 2 For 2 Connet to Win were giving away thousands of dollars, it would certainly solve everyone's financial problems.
The truth is that no mobile application can afford to pay everyone just for watching a few sponsored videos.
Note their marketing materials on Google Play do not show the PayPal logo or cash rewards. It seems as if they are trying to hide anything that suggests users can earn money.
Also, the Terms of Service state that owners of 2 For 2 Connet to Win reserve the absolute right to manage, modify, control, and eliminate virtual items as they deem fit.
To put it in layman's terms, they are basically saying: "We don't owe you anything and we will not pay you if we don't want to. Good Luck!"
Conclusion
2 For 2 Connet to Win is a great time-killer, especially while you are travelling or waiting in a long queue!
However, you should not expect to get paid since the cash rewards are very unrealistic.
I have tested and reviewed many 2048 games that lure people into watching videos in return for easy money. But they either ignore payment requests or make it impossible to cash out.
Don't waste your time playing 2 For 2 Connet to Win unless that's exactly what you want.
Verdict: Not Recommended 
Earn a Full-Time Income Online
Internet marketing is one of the best ways to bring an extra income from home!
Many people, myself included, have worked consistently and are now benefiting from the digital economy.
You can start from scratch and grow at your own pace, just like I did back in 2015.
In short, I make money by creating content for my own website. The articles rank high on Google and attract people from all over the world.
What I love about this type of business is that it gives me the freedom to work from remote places and enjoy tropical paradise!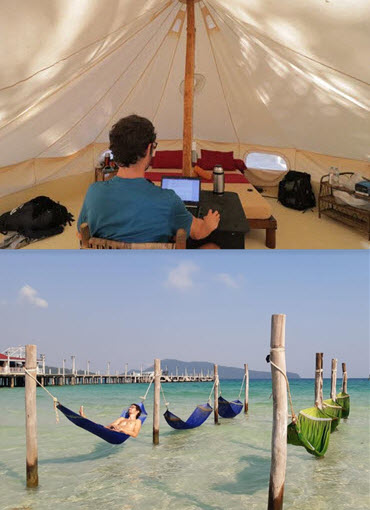 If this lifestyle appeals to you, check out this top-rated program and take your first steps today.
Final Words
Thanks for reading my 2 For 2 Connet to Win app review. I hope it was helpful!
Kindly share your opinions about this game in the comment box below.
Peace!