Welcome to my Ocean Chip World app review!
Today, I am going to expose another application that claims to give not only cash rewards but excellent prizes including a TESLA car.
Yes, you heard that right, and I am not talking about a toy here!
They want you to believe you can get this amazing machine just for playing a free game on your phone.
Can you believe that? I don't think you do, otherwise, you wouldn't be here searching for more information. 
So, is Ocean Chip World giving away real rewards? Is it a legit or another fake money game? Keep reading to find out!
RECOMMENDED: Check out the step-by-step program that helped me reach $1,600 per month and live the laptop lifestyle. No special skills required! 
Ocean Chip World App Review
Full Name: Ocean Chip World
Developer: Win Win easygame2020
Eligibility: Worldwide
Price: Free (no in-app purchases)
Overall Rating: 

1/5
What is Ocean Chip World?
Ocean Chip World is another merge chip game developed by the Chinese Win Win easygame2020.
These guys have other very similar Android apps such as this popular chip puzzle game. 
All of their games suggest that players who reach specific requirements can cash out via PayPal and earn expensive products.
However, I think Ocean Chip World crossed the line when they included the Tesla model 1 on the prize list.
How Does Ocean Chip World Work? 
The first thing to note about Ocean Chip World is that the game is funded by advertisers. So, they are making money off the video ads displayed while you are playing.
That gives you hint as to why the developers are enticing player with unrealistic prizes. The more you play, the more money they are making!
Installation and Permissions
Ocean Chip World is available for free on the Play Store, and it comes with invasive permissions.
Once the app is installed on your phone, the company has unrestricted access to photos, videos and other files.
What you will find by clicking the permission link is that they can read, modify and delete your files. So, be aware of that and decide whether it's worth putting your personal data at risk.
No Respect For Your Privacy
Another reason to be worried about Ocean Chip World is they don't provide a Privacy Policy. There is a link on Google Play, but it directs people to a black page, some Chinese characters, and a button.

Are you sick of using fake apps that never pay you a dime? Click here and check out my #1 recommendation. 
How to Play Ocean Chip World?
It's a simple yet addictive game. Place all the same number chips side by side to form connections.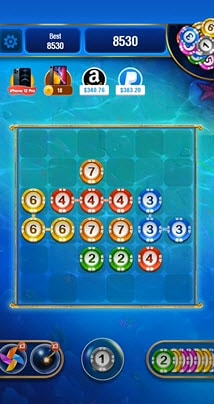 Every time make a move, the app will randomly throw another chip somewhere on the board.
After connecting a large number of chips, tap to merge them into a single chip that has a higher number.
Use powerful tools such as the bomb and the weather vane to eliminate chips faster.
The game is over when there is no more space left in the grid. So, you have to think carefully before every move act strategically.
Earning Fake Cash
As you already know, Ocean Chip World gives you virtual dollars after you tap "collet" and watch a vide ad.
This fake currency can supposedly be redeemed to PayPal and Amazon gift cards.
They say you can collect as much money as possible as withdraw after 36 hours. But if you reach $1000, you can cash out immediately!
Alternatively, you can redeem $300 if you reach this amount and watch 10 videos.
But it doesn't stop there. Ocean Chip World claims you can enter prize draws worth Apple products such as the MacBook Pro, iPad Pro, and iPhone 12 Pro.

As expected, you can take part in the sweesptakes by watching videos and collecting tickets (lucky coins).
Win a Real Testa Model 1  
I coudn't believe my eyes when I found that Ocean Chip World was giving away nothing less than a Tesla.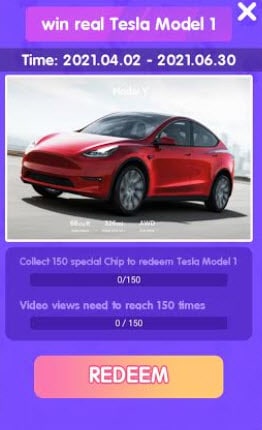 According to the developer, you just have to collect 150 special chips and watch 150 videos.
If this is real, then why isn't everyone driving a Tesla right now? I will explain why in the next section.

This reward platform is going viral! Cash out via PayPal, Visa, Gift Cards, and in-game currencies - Click here to find out how to generate an extra $10+ per day! 
Is Ocean Chip World Legit? Does it Pay? 

No, it doesn't! There is no chance of earning cash, iPhones, and Teslas for playing Ocean Chip World. The rewards are totally fake! 
It will certainly be a very frustrating experience for those who play without proper research.
Once you fulfill the first requirements, the company will ask you to watch even more videos. However, you will never receive the payment even if you persist and do everything correctly.
To make matters worse, the developer only gives "Early Access" to the game. In practice, it means that no one can publish reviews on Google Play.
This option is perfect for app developers who wish to avoid a significant number of complaints.
Sadly, people suffer the consequences as they cannot make an informed decision based on what other players are saying.
Conclusion 
Ocean Chip World is one of the craziest apps I have ever seen. The developer is not content with offering lots of cash and expensive Apple products.
He also suggests you can win the expensive Tesla Model 1 if you watch 150 ads and play for long enough.
There seem to be no boundaries when it comes to luring people to watch videos. So, what will they offer next? A Private jet?
Ocean Chip World does not provide real cash rewards, so don't waste your time unless you just want to play for fun.
Verdict: Not Recommended 
Final Words
Thanks for reading my Ocean Chip World review! I hope this posts answers the questions you need to make an informed decision.
If you want to share your thoughts about this app, please leave us a comment below!
Peace!