Welcome to my Chip Master app review!
Over 1 Million people have installed Chip Master in hopes of transferring hundreds, and even thousands of dollars to their PayPal accounts.
It's crazy to think how the developer can lure so many unsuspecting individuals into watching videos.
I lost count of how many games I reviewed in this blog. But if only 1% of them paid me what they "owed", I would be filthy rich by now.
You know that money doesn't grow on trees, which is why you suspect this is a fake money app. So, will Chip Master pay you once you fulfill the requirements? Is it a scam? Is it legit?
Keep reading to avoid frustration!
RECOMMENDED: Check out the step-by-step program that helped me build an affiliate website and quit my job in 2019. No special skills required! 
Chip Master App Review
Full Name: Chip Master (Early Access)
Developer: Win Win easygame2020
Eligibility: Worldwide
Payout threshold: N/A – Cash out after 24 hours
Price: Free
Overall Rating:

1

/5
What is Chip Master? 
Chip Master is a puzzle game where you match same number chips and supposedly earn cash rewards.
They claim all the money you collect will be redeemed to PayPal or exchanged for Amazon gift cards. You will collect hundreds of dollars in just a few minutes, which is insane!
How about the iPhone 12? Sure, they say you can win this amazing phone if you collect 200 puzzles and watch 150 videos!
However, if you check the app description on Google Play, it doesn't mention any rewards. Also, they removed the cash balance and the iPhone icon from the game screenshots.
I wonder if the developer is afraid to be banned from the Play Store. What do you think?
Speaking of the dev, he also operates a few other apps such as Popstar Unicorn, Chip to Ten, and Big Watermelon Merge.
How Does Chip Master Work? 
Installation 
Chip Master is available on Google Play for your Android device. You probably already downloaded and installed it on your phone.
If that's the case, then you may consider uninstall it asap if you want to play it safe.
Well, that is because the developer has unrestricted access to your USB store. Meaning he can read, modify and even delete your photos and files!
How To Play Chip Master? 
All you have to do is place at least three chips with the same number together to connect them.
Next, tap any connected chips to merge them into another chip with a higher number. Destroying longer connections will give you a higher score and therefore, bigger rewards.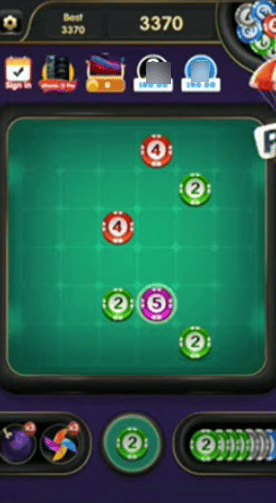 Once you merge chips number 7, they will give you a puzzle piece to win the iPhone 12.
You will also collect PayPal and Amazon dollars after merging the chips and watching the video.
Chip Master only add the funds to your account if you tap the "Get" button and watch the video until the end.
By the way, that's the main purpose of the game – Entice you to watch lots of clips with the expectation to earn money so that the developer makes profits.
How Do You Cash Out? 
Chip Master claims to transfer all the money to your PayPal account after 24 hours. But if you reach $1000, they let you cash out immediately.
It's the same for Amazon dollars, except you have to wait 36 hours for the payment.
To request the payment, just fill up your email address and cross your finger.
As you know, Chip Master also entices players to redeem an iPhone 12 once they collect 200 puzzles and watch 250 videos.
Is Chip Master Legit? Does it Pay? 
No, Chip Master will not pay you a dime and there is nothing you can do about it except uninstall the game and move on.
The developer is using the PayPal and Amazon logo to make you believe the app truly pays.

However, this is just a sneaky tactic to maximize the time people spend playing the game and watching commercials.
But make no mistake! The money will never arrive after you submit your details.
It will take you an incredible amount of time to collect 200 puzzle pieces and redeem the iPhone.
But again, Chip Master will just ignore you because it has no obligation to reward anyone.
Is There an Alternative to Chip Master? 

This reward platform is going viral! Cash out via PayPal, Visa, Gift Cards, and in-game currencies - Click here to find out how to generate an extra $10+ per day! 
App developers cannot pay thousands of dollars unless they are organizing genuine sweepstakes.
The games developed by the Canadian company WINR Games are one of the few ones that let players take part in real prize draws. You can also cash out to PayPal once you accumulate $10. Octa Glow is a nice choice! 

Conlusion 
You are a smart person! Don't let developers persuade you to watch video offers with the promise of making easy money.
You will just waste your time and internet data! By installing Chip Master, you also put your personal files at risk since you granted access to your USB storage.
Avoid it at all costs!
Verdict: Not Recommended 
Earn a Full-Time Income Online
I am sure you don't want to play games that don't pay unless you are not here for the money.
Why not spend your time wisely and build an online business that can help you generate a decent income month after month?
In 2015, I found this excellent program that showed me step-by-step how to create a site from scratch and earn affiliate commissions.
That's to the knowledge and support I received from Kyle and Carson, I can now work from my laptop whenever and wherever I want.
Click here to learn more about this platform and the business model that generates me over $1,600 per month.
Final Words
Thank you for visiting my blog and reading my Chip Master app review. I hope it was helpful. If you want to share your thoughts about this game, leave us a comment below.
Peace!