Welcome to my Royal Onet app review!
This post is all about Royal Onet, a casual game that supposedly rewards people for eliminating fruit pairs.
The developer is promoting the game as if players could make hundreds of dollars easily.
In this review, my mission is to explain how this application works, and why you will regret playing it.
So, is Royal Onet legit? Does it pay for all the time you players spend watching their video ads? Keep reading to find out!
RECOMMENDED: Check out the step-by-step program that helped me build an affiliate site and quit my job in 2019. No special skills required! 
Royal Onet App Review
Full Name: Royal Onet
Developer: The Mangoes Games
Eligibility: Worldwide
Price: Free (no in-app purchases)
Overall Rating: 

1/5
What is Royal Onet? 
Royal Onet is an interesting game in which you must connect two identical fruits to eliminate them. The connection occurs when two matching fruits are linked by straight lines.
As you are playing the game, you will collect virtual dollars that can be redeemed to PayPal or Amazon gift cards if you meet certain requirements.
They also claim you can win the new iPhone 12 if you pass the level 300.
According to the app description, the game has over 1000 levels. So, you can collect an incredible amount of "cash" until you get there.
How Does Royal Onet Work? 
Installation and Permissions
Royal Onet is available on Google Play and App Store for Android and iOS devices.
The developer automatically assumes that you allow access to your photos, media and files. It's crazy when you think about why they would need such permission!
Is Crazy Onet Collecting Personal Information? 
Yes, Crazy Onet may collect lots of information such as your name, gender, profile picture in your social media and more!
According to their Privacy Policy, the company can share personal information with its parent companies, but doesn't explain why.
I like to believe they are only collecting your data for marketing purposes, but it's impossible to know for sure.
How to Play Royal Onet?
Simply tap two identical tiles to connect them by lightening. Just bear in mind that you cannot make the connection if there is a tile between the two fruits.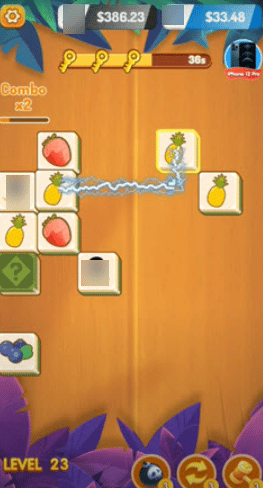 The goal is to eliminate all the tiles and pass the level before the timer runs out. Next, Royal Onet will encourage you to open 9 chests to claim $30.  
Some bricks have the PayPal or Amazon logo instead of fruits. After matching them, Royal Onbet will offer you virtual dollars that will accumulate in separate balances.
To collect the cash, you must press the Button and watch the video ad until the end.
You can use tree props to achieve fast progress in the game:
Bombs: It eliminates all the tiles with the same fruit.
Refresh: Alter the fruits.
Hammer: it destroys one pair of connected fruits.
How Do You Get Paid? 
Royal Onet claims you can withdraw $300 to PayPal if you meet two conditions. You must accumulate $300 and watch 200 videos.
Another option is to request a $500 Amazon gift card after collecting enough virtual dollars and watching 100 ads.
Once you meet the requirement, players are asked to provide their email address.
The payment will be under review for over 60 hours, but you can reduce the waiting time by 30 minutes if you watch a video ad.
Is Royal Onet Legit? Does it Pay? 
No, it doesn't! Royal Onet will never give you the money, gift card or iPhone 12. There is no chance!
The company lures people into watching a ton of videos with the expectation to win cash. However, they will just ignore the payment as hundreds of other games do!
Here are some examples:

It's important to realize that app developers cannot afford to pay so much money to so many players!
If Royal Onet was giving away cash and iPhones, I am sure every person on this planet would be playing this game right now. But I bet none of your friends have heard about it, right?
Another problem with Royal Onet is that it you cannot read user reviews since they are not allowed in apps that provide "Early access".
Conclusion 
If you are trying to make money, don't waste your time with Royal Onet.

This reward platform is going viral! Cash out via PayPal, Visa, Gift Cards, and in-game currencies - Click here to find out how to generate an extra $10+ per day! 
The developer has created a profitable app for himself because he collects ad revenue and ignores payment requests.
Whenever you watch videos in order to collect rewards, Royal Onet gets paid by advertisers. In turn, they give you virtual items that have no currency value.

I think people should never accept this win-lose situation.
If you like the game and would like to play just for fun, I suggest you try this popular Indian app called Tiledom. 
Verdict: Not Recommended
Final Words
Thank you for reading my Royal Onet app review. I hope it was informative enough! So, how was your experience? Are you still waiting for the payment? Let us know in the comment section below.
Peace!