Welcome to my Merge Rings Puzzle app review!
The creator of Merge Rings Puzzle, David.Liu, is persuading people to play his game to win real legit money.
I discovered this app through a video ad that I watched on my Android. It showed $50 – $200 payments.
What most people don't realize is that at the bottom of the advert, there is a small print which says:
"Result is not guaranteed. Amount paid is subjected to rules in the app."
Unfortunately, most people bite the bait immediately and install the game without careful consideration.
So, can you really make money with Merge Rings Puzzle? Is it legit or fake? Keep reading to find out!
Don't forget to check out the step-by-step program that helped me build an internet asset and generate $1,600+ per month. Don't miss out on the free membership available! 
Merge Rings Puzzle App Review
Full Name: Merge Rings Puzzle (Early Access)
Developer: David.Liu
Eligibility: Worldwide
Price: Free (no in-app purchases)
Overall Rating:

 1/5
What is Merge Rings Puzzle?
Merge Rings Puzzle is an addictive game in which players match rings of the same color.
You just have to arrange the circles in a horizontal, vertical, or diagonal line to eliminate them.
As you do, Merge Rings Puzzle will give you virtual PayPal cards and diamonds redeemable for real cash rewards. At least, that's they want you to believe.
The app was developed by David.Lu, who also created 2 For 2 Connet to Win, One Drawing to Win, and a few other games.
How Does Merge Rings Puzzle Work?
Installation and Permissions 
Merge Rings to Puzzle is available worldwide for Android devices. Therefore, you can install the app on the Play Store and run it straight away.
It's important to know the developer can access content stored in your phone such as your photos and files.
In my opinion, it's risky to provide this type of permission to developers who you don't trust. That's why I always uninstall the money games after publishing my reviews.
How to Play Merge Rings Puzzle? 
Simply drag the rings to the 3 x 3 grid and try to match the same colors horizontally, vertically and diagonally.
Rings have two different sizes that can fit in the same place. There is also a small ball that fits in the middle of the two rings as you can see below.


The goal is to eliminate the objects by lining up rings or balls of the same color.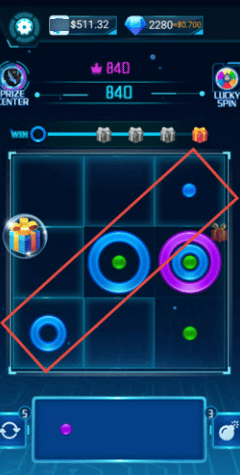 It's important to know you can eliminate the objects even if they are not the same. For example, you can match two big rings and one dot as long as they have the same color.
Don't worry if you are running out of spaces. It feels like you won't be able to match anymore, but Merge Rings Puzzle will always eliminate rings so you never stop playing.
Earn Rewards
Every time you destroy the rings, you will fill up the progress bar and eventually hit the stage reward.
Then, Merge Rings Puzzle allows you to pick a card and collect virtual dollars or diamonds after watching the ad.
Sometimes, you will see a small gift next to a ring. Once you destroy it, tap the "collect" button and watch the video to earn more rewards.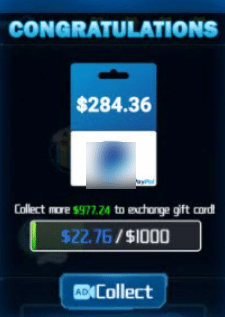 How Do You Get Paid? 
You can supposedly withdraw the money to PayPal once you accumulate $1,000. Simply open your cash balance, select the amount and enter your email address.
As for Diamonds, they can be traded in for gift cards from Amazon, Google Play, iTunes, Steam, Xbox and Playstation. The payout threshold is 325500 diamonds worth 100 USD.

Prize Center
Merge Rings Puzzle also features the Prize Center, where you can win big prizes such as Samsung Galaxy, HP Notebook, Sony 55 Inch TV, and more!
You can claim these prizes if you collect 10 puzzle pieces in the following ways:
Bubble of puzzles: collect random fragments by choosing the bubble and watching the video.
Lucky Spin: To spin the wheel, you shall watch the video until the end. Please note that if you close the app or turn off the screen, you won't receive the rewards.
Is Merge Rings Puzzle Legit? Does it Pay? 
No, it doesn't! You should not expect to receive the payment since the prizes are very unrealistic!
Unlike other games, Merge Rings Puzzle will let you accumulate enough cash and submit your PayPal email.

This reward platform is going viral! Cash out via PayPal, Visa, Gift Cards, and in-game currencies - Click here to find out how to generate an extra $10+ per day! 
It doesn't take too long to cash out, but unfortunately, they will never transfer $1,000 to your account!
I recommend you read the User Agreement that you can find in the settings. It says the company reserves the absolute right to manage, control, and eliminate virtual items as they deem fit.

Not only that, but you have no right or interest in or to any such virtual items. In other words, the developer has no obligation to pay anyone, even if they meet the cash out requirements.
What Are People Saying About
Merge Rings Puzzle?
Merge Rings Puzzle is still incomplete (Early Access), meaning players are not allowed to publish reviews on Google Play. Besides, I coudn't find anyone talking about it yet since the game is brand new.
But anyway, I don't even need to check reviews to know that thousands of people will get frustrated with this game.
I already tested enough games and know they cannot fulfill their proposal to pay hundreds or thousands of dollars.
Conclusion 
Merge Rings Puzzle is a nice game, but the cash prize is just an illusion to lure people into watching commercials.
I cannot claim it is fraudulent since the developer has made no promises. But competent authorities should definitely review the business model to see if it complies with consumer regulations.
It's a shame that many people will waste time playing Merge Ring Puzzle just because they expect to receive $1000.
Don't waste more time playing these game unless you are just doing for the fun of it. Instead, check out my recommended method of making money online below.
Earn a Full-Time Income Online 
If you are serious about making money from home, I suggest you build an online business as I did!
Lots of people, me included, started it as a side hustle while still working at their day jobs.
Over time, their digital marketing business grew to a point where they were making enough money to cover all their living expenses.
This excellent training helped me create a lucrative site and quit my job at the coffee shop in 2019.
Today, I can open my laptop and work anywhere I want thanks to the time and effort I put into my website.
If you wish to be your own boss and to enjoy time and location freedom, join for free and take your first steps today! 
Final Words
Thanks for reading my Merge Rings Puzzle app review. So, what are your thoughts about this game? Let us know in the comment box below!
Peace!