Welcome to my Octa Glow app review!
I've recently installed Octa Glow, which is another addictive game created by WINR Games Inc.
The Canadian company lets you play free games, and collect tickets for a chance to win real cash rewards!
It's hard to trust game developers since most of them are trying to deceive you with false advertising. That's why you need to read lots of reviews before jumping with both feet!
Well, that's why you are here for! In this post, I will show you everything you need to know about Octa Glow so you can make an informed decision.
Does it fake or legit? How much money can you earn? Will you receive the payment?
Keep reading to find out!
RECOMMENDED: Check out the step-by-step program that helped me build an affiliate site and quit my job in 2019. No special skills required! 
Octa Glow App Review 
Name: Octa Glow
Company: WINR Games, Inc.
Price: Free (no in-app purchases)
Eligibility: Worldwide
Payout threshold: $10
Price: Free to play
Invite code: F59UB (enter my referral code and earn 2,500 tickets)
LEGITIMATE
Overall Rating: 3.5/5
What is Octa Glow?

This reward platform is going viral! Cash out via PayPal, Visa, Gift Cards, and in-game currencies - Click here to find out how to generate an extra $10+ per day! 
Octa Glow is a tile-matching game similar to Tetris. The major difference is that you will manually place the octagonal tiles anywhere in the grid.
The goal is to fill up the entire row or column to eliminate the blocks and collect tickets.
All tickets will be automatically entered into frequent prize draws worth $3,000+ unless you place them in the virtual bank.
Instead of getting entries, you can convert tickets to cash and withdraw $10 via Paypal. The company is simply sharing back their ad revenue in the form of cash prizes.
How Does Octa Glow Work? 
Installation 
After installing Octa Glow on the Play Store, you will be prompted to log in using your Facebook or Google account.
The great thing about it is that you can sync your account and tickets across all the other BIG TIME apps.
So, if you get bored with Octa Glow, you can install and play over 40 games and increase your chances of winning. Connect one is my favorite! 
Upon launching Octa Glow, you will pick a secret box and collect the daily bonus.

How to Play Octa Glow?
It's very straightforward!
Drag the tiles to the grid and try to complete vertical and horizontal lines to eliminate them.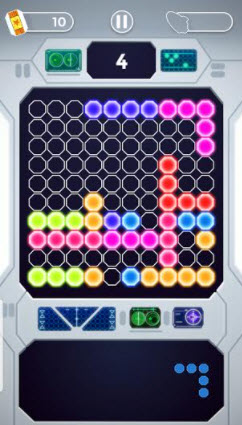 You will earn 5 tickets every time you eliminate the lines. However, if you score 50, you will receive a bonus of 2,500 tickets.
The game is over when there is no more space in the grid to place the tile. So, you have to be strategic!
Prize Draw
Octa Glow organizes weekly prize draws worth approximately $3,800. There is a countdown to the next one at the top of the screen.
At the end of the contest period, the winner will be selected at random from all eligible tickets.
However, if you are lucky enough to be declared a winner, they will require the following:
Answer a time-limited mathematical testing question by telephone.
Submit a smiling selfie for use on the public winner's list.
Sign and return to the Contest Sponsor.
Show proof of identification.
Check the official contest rules for full details.
The average number of entries per user is 2000, and there are probably millions of people playing WINR games.
Convert Tickets to Cash
Since the odds of winning are too low, most people would rather convert tickets to cash.

You can convert at least 10,000 tickets to $0.10 CAD in your wallet. However, Octa Glow lets you withdraw the money to PayPal only after you accumulate $10.
If you have less than 10,000 tickets, it's better to keep them in the vault to prevent them from being used in the contests.
Free Stuff
Octa Glow allows you to collect more tickets by completing Supersonic offers, trying other Big Time games, and invite friends.
You will get $0.10 plus 2,500 tickets per friend that downloads Octa Glow using your invite code.
Is Octa Glow Legit? Does it Pay? 
Octa Glow is a legitimate application, but the odds of winning are too low, and it takes forever to cash out.
The problem is that if you are the winner, they will call you to ask a mathematical question by phone. If you don't answer correctly, you will miss the prize!
I suspect that is one of the reasons the company has paid only tens of thousands of dollars despite running weekly sweepstakes. It's almost impossible to win the big prize!
Well, at least players can withdraw $10 with no issues, right? Not really…

I checked the reviews on the Play Store and found lots of players who complain about missing tickets and payments.
There are positive reviews as well, but it seems like only a small percentage of people receive the payment.
Conclusion 
Octa Glow is a nice game to pass the time, but there is no guarantee that you will make money.
Winning the jackpot is nearly impossible, and the company has no obligation to transfer the money to your PayPal account.
So, you need to play for 1 – 3 months and cross your finger to be one of the lucky ones who receives $10.
If you want to get paid for playing games, install Mistplay or Money Well. I think they are among the best of its kind.
Earn a Full-Time Income Online
One of the best strategies to make money online is content marketing. In short, you provide informative articles or videos and generate revenue by showing ads or promoting affiliate offers.
This step-by-step program helped me create a lucrative site from scratch and quit my job in 2019.
I coudn't be happier with the excellent support and insights that I gained from expert internet marketers.
If want to work from home and achieve time and location freedom, join now for free and take massive action!
Final Words
Thank you for taking the time to read my Word Fuse review. Now, we want to hear about your experience. Did you receive the payment?
Share your results with us in the comment section below.
Peace!