Welcome to my Word Fuse app review!
I was testing an app recently when an advert about Word Fuse appeared on my phone. They showed a guy who supposedly won $85 just by solving word puzzles.
What I noticed was that Word Fuse went from 50,000 to over 100,000 installations in just one week.
Surely, the game went viral because the developer is enticing players with big cash rewards.
Otherwise, I doubt it would grow so quickly considering the large number of identical games that already exist for Android and iOS. Here is a word puzzle game I reviewed recently. 
I am writing this review because you deserve to know what will happen if you play for long enough. Will Word Fuse pay you or not? Is it legit?
If you are sick of wasting time with fake money games, check out my #1 recommendation. This step-by-step program helped me generate over $2K+ per month. It's newbie-friendly and free to get started! 
Word Fuse App Review 
Full Name: Word Fuse (Early Access)
Developer: Hyperplay
Eligibility: Worldwide
Price: Free (no in-app purchases)
Overall Rating: 

1/5
What is Word Fuse? 
Word Fuse is crossword game available for Android devices. All you have to do is connect the letters inside the circle to uncover hidden words.
Once the level is completed, you will earn virtual dollars that accumulate in your cash balance. You can withdraw the money to PayPal only when you reach $300.
Word Fuse also features a spinning wheel that allows you to earn more rewards.
How Does Word Fuse Work? 
Installation and Permissions
Word Fuse is available for Android devices, and it's completely free to play.
Before installing the app on Google Play, bear in mind that you are giving permission to read, delete and change content in your USB storage.
The question is: Why would Word Fuse want to access the files in your phone? I have no idea, but it does seem rather risky to me!
How to Play Word Fuse? 
When you open the game for the first time, they will ask you to scratch the card and win $10.50. Next, tap the play button to get started!
Swipe your finger to connect the letters and uncover the secret words in the puzzle.
It's very easy during the first levels since there are just words of three letters. But after a certain level, they increase the difficulty by placing an extra letter to the circle.

If you feel stuck, you can tap the light bulb to get a hint.
Top Recommendation: This step-by-step training helped me create this lucrative website from scratch and quit my job in 2019. If you wish to work remotely and achieve time and location freedom, sign up now and take massive action!
Earning Virtual Dollars
When you complete the level, Word Fuse will show you a big PayPal logo, and a specific amount of cash in US dollars.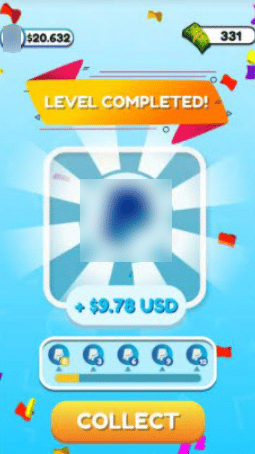 To collect the money, you must tap the orange button and watch the video until the end. Alternatively, you can tap "lose it" to continue playing without being bothered.
You may see a PayPal logo floating in your screen from time to time. Click and watch the ad to win more virtual dollars.
Note there are also green cash notes that cannot be converted to real money. You can only spend them to spin the wheel or change the color of the game in the shop section.
How do You Get Paid? 
You need to have $300 USD to be able to cash out. Once you collect this amount, open your wallet, and and request the payment.
According to the rules, the cash reward can be redeemed via PayPal or Amazon gift card after the balance reaches $300.
Unfortunately, Word Fuse doesn't mention how long it takes to receive the money. In fact, it doesn't even provide the User Agreement, which usually contains crucial information about sweepstakes.

Is Word Fuse Legit? Does it Pay? 
No, it doesn't! There is no chance Word Fuse will pay you $300 just for playing the game and watching videos.
The developer is making a decent amount of money by showing ads, but it's not enough to reward player and still generate profits.
The game is generous in the beginning and you can quickly save $100. But if you already played Word Fuse for a while, you know that at higher levels, you will get less and less money.
Sadly, they may stop giving rewards before you reach $300, making it impossible to redeem.
I cannot afford to spend hours playing Word Fuse, but I reviewed countless games that behave the same. Even if you fulfil the requirement, you will not get paid!

This reward platform is going viral! Cash out via PayPal, Visa, Gift Cards, and in-game currencies - Click here to find out how to generate an extra $10+ per day! 
Sorry to be negative, but I think you will thank me for saving your time.

Conclusion 
Word Fuse is a challenging game that trains your brain and helps to kill boredom. However, it's not a money-making application!
Games that display PayPal logos and entice players with hundreds of dollars are not serious about rewards.
They are only using cash prizes as bait to maximize profits, which in my opinion, is morally wrong.
Is There an Alternative to Word Fuse? 
There are countless word puzzle games on Google Play, but I suspect only Word Words Words pays. 
This app is operated by a Canadian company that gives you tickets to enter weekly prize draws. The more entries you have, the higher your chances of winning over $3000. 
The problem is that millions of people are collecting thousands of tickets on a daily basis. Therefore, it may be easier to get struck by lightening than winning the prize!
The good news is that you can convert tickets to cash. However, expect to play for 2 – 3 months before you reach $10 and cash out via PayPal.
Click here and check out the list of legitimate game apps! 
Final Words
Thank you for reading my Word Fuse app review. Did you reach $300? How was your experience? Kindly share your thoughts in the comment box below.
Peace!