Welcome to my Mahjong Connect app review!
I came across Mahjong Connect a few days ago after watching an advertising that said I could withdraw $100 – $300 anytime.
It's very similar to the popular Mahjong app, one of the most popular board games on Google Play!
The major difference is that the developer supposedly gives away real money for those who collect enough virtual dollars.
Oddly enough, the original game has been downloaded 500 times more than Mahjong Connect despite the opportunity to win hundreds of dollars.
So, there are two possibilities here. Either players don't enjoy making money or the cash prizes are completely fake!
In this review, I will expose Mahjong Connect so you avoid unnecessary frustration. Is it Legit? Does it pay or not?
Before you leave, check out the step-by-step program that helped me grow an online audience and reach $1,700+ per month. No special skills required! Click here for full details! 
Mahjong Connect App Review
Name: Mahjong Connect
Company: sroamgoobir
Eligibility: Worldwide
Price: Free
Overall Rating:

1/5
What is Mahjong Connect? 
Mahjong Connect is an Android app inspired by the popular Chinese board game Mahjong.
Players just have to match pairs of identical tiles in order to eliminate them. The goal is to remove all the tiles to complete the level and earn virtual cash.
Over 50K people have installed Mahjong Connect with the expectation to earn hundreds of dollars. That's because the advertising suggests they can actually get paid through PayPal.
How Does Mahjong Connect Work? 
Installation 
Mahjong Connect is available for free via the Play Store. Before you install the application, you should be aware of the permissions you are giving to the developer.
I think the most scary type of permission is the one that gives access to your photos, media and files. That means the company can read, modify or even delete stored content.
Usually, this is not a big problem if you trust the company behind the application. But would you put your hand in the fire for SroamGoobir? I tried to find information about this company on Google, but didn't find any!
Tired of playing fake cash games? Check out this top-rated site that pays for completing simple tasks from any device.
How to Play Mahjong Connect? 
Just click on two mahjongs with the same pattern to eliminate them. You will pass the level once all the tiles are eliminated.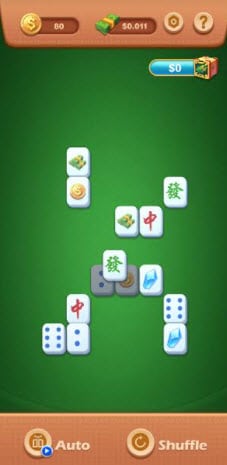 Each level has 3 pairs of mahjong with gold coins. When you eliminate these tiles, you will get coins 30 gold coins.

There are also 3 pairs of dollar patterns on each level. Once you eliminate them, you will earn 0.003 USD.
After you finish the level, Mahjong Connect allows you to duplicate your earnings by watching the sponsored video.
Of course, if you are playing the game for money, you will do that with a big smile on your face!
You can also shuffle or automatically match the tiles by using the props.
How to Cash Out? 
I guess you came here for this specific question. Unfortunately, Mahjong Connect doesn't provide any cash out button, so I suppose you cannot even request the payment.
Usually, these games have a withdrawal section where they tell you how much money you need to reach in order to cash out. The most common payout threshold is anywhere between $100 and $300.
However, if you tap on your cash or coin balance, nothing will happen.
Is Mahjong Connect Legit? Does it Pay? 
No, Mahjong Connect does not pay out! There is absolutely no information on how to withdraw the money collected during the gameplay.
They only promote the game as an opportunity to win cash, but there is to way to request the payment.
If you check the Terms of Service, it says cash coupons are not real currency and have no monetary value.
So, in practice, the developer doesn't owe you anything because he didn't make any promises.

Unfortunately, you won't find any review on Google Play because the app is classified as "Early Access".
This is a common tactic game developers are using to avoid getting complaints after complaints. All they want you to play the game and take a long time to realize you will never get paid.
The only person benefiting from the Mahjong Connect app is the developer, who is generating ad revenue at the expense of your time.
Conclusion 
Mahjong Connect is a great game for killing time and relaxing. However, if you play this game with the expectation to win real money, you may actually get stressed and frustrated.

This reward platform is going viral! Cash out via PayPal, Visa, Gift Cards, and in-game currencies - Click here to find out how to generate an extra $10+ per day! 
Unlike other deceitful fake money games, you will earn just fractions of a cent per level. Yes, it looks more convincing, but it doesn't mean you will get paid.
The developer doesn't provide any option to redeem the virtual dollars. Your cash balance will grow, but the money will never be transferred to your PayPal or bank account.

There are several Mahjong games enticing people with the opportunity to win cash rewards. But that's just nonsense to lure them into watching lots of sponsored videos.
If you want to earn money by playing games, this post will show you many legit options! Just be aware that you won't be able to turn your gameplay into a full-time income.
Now, there are many ways to build an alternative income from home. Content marketing is the one I use to pay for all my living and travel expenses!
Click here to get proper training and take advantage of the digital economy!
Final Words
Thanks for reading my Mahjong Connect app review. I hope it was helpful!
If you have any question about this game, let me know in the comment box below.
Peace!