Welcome to my Lucky Tap Blast App review!
You may have found Lucky Tap Blast and the opportunity to cash out $150 to PayPal account. They go as far as to promote the app by saying you can become a rich man!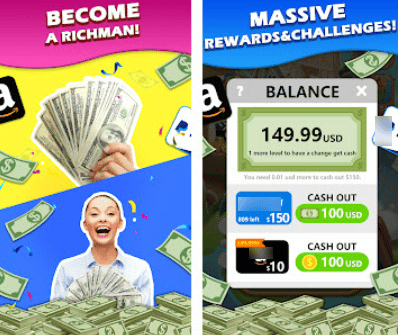 Whether you already installed the app or you are thinking about installing it, I highly recommend you check this post to make an informed decision.
There are lots of deceitful applications designed to waste people's time and only generate revenue for the developers.
You don't want to fall victim to such "systems" because your time is valuable, and if you use it correctly, you can improve your life considerably. The opposite is true!
So, Lucky Tap Blast legit or fake? Does it pay or not? Keep reading to find out!
Before you leave, discover the step-by-step program that helped me reach $1,600+ per month from my laptop and quit my job. No special skills required! Click here for full details! 
Lucky Tap to Blast App Review
Name: Lucky Tap to Blast
Company: Bitfun Game
Eligibility: Worldwide
Price: Free
Similar app: Panda Cube Smash, Prize Fiesta
Overall Rating: 1/5
What is Lucky Tap to Blast?
Lucky Tap to Blast is another puzzle game that gives you virtual dollars and claims you cash out once you reach $150.
Just tap 2 cubes of the same color to eliminate the target cubes and pass the level.
There is an incredible number of similar games on Google Play suggesting you could in excellent rewards.
In this blog, I have reviewed the most popular ones such as Lucky Blast, Fish Bast, and Lucky Diamonds.
Unfortunately, players end up wasting a lot of time because they never receive a single penny!
How Does Lucky Tap to Blast Work? 
Lucky Tap to Blast is available for Android devices, so you can install it for free on Google Play and start playing with no restrictions.
As soon as you launch the game, you will get a bonus of 1000 coins. They encourage you to sign in daily to receive more coins and cash on the third (1 USD) and seventh day (3 USD).
Before you tap the "play" button, they encourage you to pass the level to have a chance to earn cash rewards. You can also watch a video in return for free boosters or extra moves that will help you pass the level.
The first thing you have to do is check the goal at the top. For example, at level 3, you must blast 7 red, 3 blue and 7 yellow cubes to clear the stage.
Tap 2 or more cubes of the same color destroy them. By blasting 5 or more cubes, you can create boosters (TNT, Dart, fireworks) to eliminate many blocks at the same time.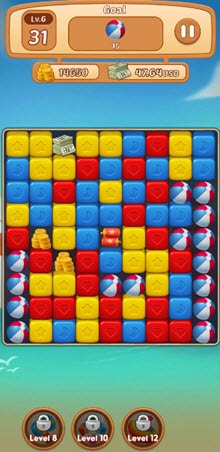 It's also possible to combine boosters to increase their powers.
Be aware you must pass the level before running out of moves. Otherwise, you have to start over and spend more time to collect the reward.
Tired of playing games that never pay? Check out this reputable GPT site that pays you to complete simple tasks from your phone or laptop.
Cash Rewards
Lucky Tap to Blast awards you coins for blasting the cubes. If you open your balance, it says you need to collect 1000K coins (1 million coins) to exchange for a $10 Amazon gift card.
You will earn virtual dollars every time you pass the level or blast cubes next to cash symbols. Besides, you may trigger the slot machine for a change to win the jackpot.
You can supposedly withdraw the money to your PayPal account once you reach $150.
Is Lucky Tap Blast Legit? Does it Pay? 
I cannot make any accusations without solid proof. However, I am very confident that players cannot make any money with this application. Now, surely the developer is filling his pockets with advertising revenue!
The cash rewards are very unrealistic, and there is not enough evidence that suggests it provides genuine giveaways.
No one should expect to win hundreds of dollars for playing a free game because the reward is inconsistent with the profit it generates.
With Lucky Tap Blast, you may tap cash out and enter your PayPal email, but you won't receive the payment. 

The cash rewards are being offered as a bait since you are lured into playing more to reach $150.
The main problem is that developer has no obligation to give cash prizes, so I suppose he is not keen to share his earnings with you and me.
In fact, he would probably go bankrupt if everyone received the money they were due.
Is There an Alternative to Lucky Tap Blast?
Sure! Toy Town seems the best alternative to earn money by playing a block puzzle game.

This reward platform is going viral! Cash out via PayPal, Visa, Gift Cards, and in-game currencies - Click here to find out how to generate an extra $10+ per day! 
Operated by WINR Games, Toy Town will give you entries to take mart in weekly giveaways with cash prizes worth more than $3000.
I know you are smart enough to think it's nearly impossible to win considering millions of players are competing for the same prize.

Instead of spending your tickets on the sweepstakes, you can actually convert them to cash and withdraw via PayPal once you reach $10.
But don't get too excited because there is no guarantee that the company will pay you. Some people get paid, others don't. There are no guarantees, but at least you have a real chance of winning!
How I Make Money Online
Me personally, I don't like to rely on third party sites and apps to receive money. So, I prefer to operate my own online business, which pays me over $1,700 per month. 
In short, I publish content on my website and make profits by displaying advertising and affiliate links on my posts.
You can do the same and earn thousand of dollars if you know the strategies to attract a large audience to your site.
This is the training program that helped me built and maintain a lucrative online business since 2015!
Join today here and start the first 10 lessons completely for free!
Final Words
Thanks for reading my Lucky Tap Blast app review. I hope it was helpful!
Now it's your turn! If you played this game? If so, please share with us your thoughts in the comment section below.
Peace!