Welcome to my Slots for Bingo app review!
I just came across another application that combines the slots and bingo in the same gameplay.
The game allows you to spin the 5-reel slot machine and collect virtual items that can be redeemed for real money.
Thousands of people are playing Slots for Bingo since it's completely free to play. Therefore, players can supposedly win cash rewards without risking their hard-earned money.
The possibility of winning prizes just by pressing the "Spin" button and watching videos seems too good to be true.
I am always very skeptical of these types of apps since most of them are completely fake and never pay out.
So, will Slots for Bingo transfer the funds to your account? Is it a legit or scam app? Keep reading to find out!
Top recommendation: discover the step-by-step program that helped me reach 2,000 USD+ per month and quit my job in 2019. No special skills required! 
Slots for Bingo App Review
Name: Slots for Bingo
Developer: slotshca
Availability: Worldwide
Type: Entertainment with no financial risk
Price: 100% free
Payout Threshold: $300
Price: Free (no purchase required)
Overall Rating: 

1/5
What is Slots for Bingo?
As you already know, Slots for Bingo a free game that features a 5-reel slot and bingo.
All you have to do is press the spin button and match any of the 50 pay lines to win rewards such as dollars, coins and Amazon puzzles.
Although Slots for Bingo has been installed over 100,000 times, there are neither reviews nor user ratings.
The reason is that the developer only provides early access to the app. This is terrible because without testimonials, cannot check whether players are getting paid or not.
How Does Slots for Bingo Work?
Installation
Slots for Bingo is available for Android devices and it's completely free to play.
They won't ask you to allow permissions. However, by installing the application, you automatically grant access to photos, videos and other files on your phone.
Yes, the company can read, modify and even delete whatever you store in your USB storage. This kind of permission has always worried me as it looks very suspicious!
How to Play Slots for Bingo?
Just tap "Spin" and wait for the reels to stop spinning.
Every spin will consume a specific number of coins that you bet. The minimum number of coins you can bet is 3000.
According to the game rules, Gold coins can only be used in the game and cannot be exchanged for money.
Every time you match the pay line, you can collect gold coins and diamonds. The probability of getting coins and diamonds is 2%. However, the odds of winning US dollars with the diamond are 13.3%.
You can boost your earnings when you complete a line with five diamonds in the diagonal, horizontal or vertical row in the bingo feature.
Bingo the line with the wheel symbol to trigger the lucky wheel and win more prizes.
Slots for Bingo is overwhelming because it provides different ways of winning. You can refer to the game rules to find out more information.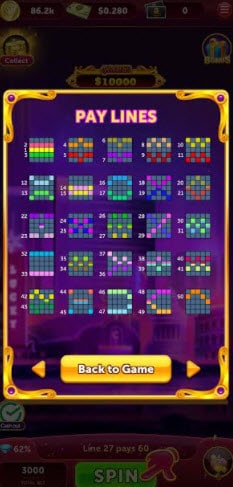 How to Cash out?
You need to accumulate at least 300 USD to withdraw the money. You can also withdraw an Amazon gift card by collecting 300 puzzles.
Once you reach $300, tap the cash out button or the account balance at the top. Then, select the withdrawal method and press "cash out".
Slots for Bingo provides lots of payment methods such as PayPal, Tez, Coinbase, Banco Inter and more.
Is Slots for Bingo Legit? Does it Pay?
No, Slots for Bingo does not pay out! If it did, I am sure the developer would let users review the game to grow their reputation.
Instead, they try to suppress people's honest opinions behind an "Early Access" version of the game.
If they are actually paying, then why disable the reviews?
I have reviewed hundreds of games that promise to transfer hundreds of dollars via PayPal.
Most of them are now using the same tactics and trying to hide the reality by disabling the review section.
It may take a very long time to cash out because the developer's goal is to make you watch as many ads as possible. If you reach $300 too soon, they won't make as much money with advertising.
However, you will not receive any money despite fulfilling the cashout requirement.
There is no evidence that games like Slots for Bingo are rewarding players. The major problem is that developers have no obligation to reward users since they are not regulated.
Conclusion
Don't waste your time playing Slots of Bingo because there is no commitment towards cash rewards.
All the dollars and other virtual item you collect during the gameplay are not yours and have no currency vale.
So, although you can request the payment once you reach $300, it's up to the developer to pay you or not.
From my experience during the past 3 years reviewing "money games", none of them are eager to pay what they "owe".
That's because even if they wanted, they could not afford to pay hundreds of dollars to every single person who fulfil the requirements.
Well, the thing is, they don't owe you anything. They get you hooked on dollar signs and PayPal logos, but there are no guarantees.
In my opinion, Slots of Bingo is a boring game, and it's not even worth playing for fun.
Other games to avoid at all costs:
Verdict: Not Recommend
How I Make Real Money Online
In short, I operate this website where I publish reviews about applications and sites for making money online.
The money I generate from advertising and affiliate marketing was enough for me to quit my job and achieve location freedom.
This business model allows me to work remotely and be my own boss at the same time.
Click here to get step by-step training on how to set up a website and grow a successful internet business. That's the same platform I used to build this site and achieve location freedom!
 Final Words
Thanks for reading my Slots for Bingo app review! I hope it helps! If you would like to contribute to the discussion share your opinions about this game in the comment box below.
Peace!