Welcome to my Perfect 2048 app review!
Despite a large number of reviews available on the internet, many people still fall victim to fake money games.
That's why it's important to do proper research before installing any application on your phone or tablet.
Perfect 2048 is another merge game that allows players to collect virtual dollars and cash out once a minimum balance of $1000 is reached.
I know you are excited about the opportunity, especially if you live in a country where this amount of money is equivalent to two months' salary.
So, is Perfect 2048 legit? Does it pay or not? Pause the game and check this out before you waste more time playing it.
Top recommendation: discover the step-by-step program that helped me reach 1,700 USD+ per month and quit my job in 2019. No special skills are required! 
Perfect 2048 App Review
Name: Perfect 2048
Developer: XM Studio
Availability: Worldwide
Price: Free (no purchase required)
Overall Rating: 

1/5
What is Perfect 2048? 
Perfect 2048 is another merge numbers game operated by the same creators of Poker Master.
Both games are very similar, except Perfect 2048 is all about merging numbered blocks instead of poker cards.
The developer gives you a decent amount of virtual dollars and entices you to reach $1000 in order to cash out via PayPal.
You will also collect diamonds and puzzle pieces that can be redeemed for gift cards and excellent prizes, such as a Samsung galaxy s21 and an HP EliteBook.
Perfect 2028 has been installed more than 1 Million times, which is remarkable! Unfortunately, its enormous popularity was due in great part to people's false expectation of earning easy money.
Work Does Perfect 2048 Work? 
Perfect 2048 is available for free in the Play Store. After launching the game, they will immediately give you a huge welcome bonus of $100 with the condition you tap "Collect" and watch a video.
Sign in for 7 consecutive days to collect $150 (day 2), $200 (day 3), $250 (Day 4), $300 (Day 5), $400 (Day 6) and $500 (day 7).
Be aware this is not real money and cannot be cashed out to PayPal before you have at least $1000 in your cash balance.
How to Play Perfect 2048?
Simply tap where you want the cube to fall. The goal is to place the same numbers together to merge into a higher number cube.
The numbers follow a geometrical sequence where each number results from multiplying the last one by 2.
Example: 2, 4, 8, 16, 32, 64, 128, … 2048.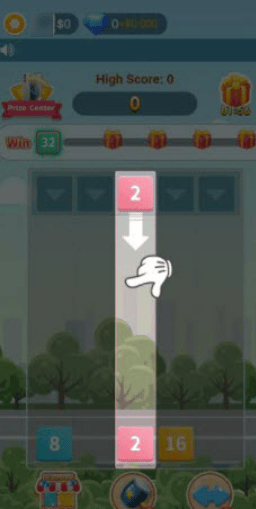 Every time you collide and merge 2 blocks, you will earn 10 diamonds. In addition, Perfect 2048 will fill up the progress bar and give you a virtual PayPal card whenever you merge two target numbers.
However, you can only get the reward if you tap "collect" and watch the advertisement.
Once the progress bar reaches the gift symbol, you can choose one card and watch the 30-second clip to claim Stage Rewards.
The game is over if any cube reaches the upper level. So, use the tools to destroy cubes instantly if you feel in danger.
Prize Center
Sometimes, you will notice prize bubbles floating on the screen while you are playing Perfect 2048. By tapping them, you will get puzzle pieces that represent a specific prize.
The developer claims you can win several prizes such as smartphones, laptops, and Sony TVs. All you have to do is accumulate 10 or 20 puzzles within 20 days.
Perfect 2048 gives you more puzzles by watching videos in the Bubble of Puzzle section or playing the Lucky Spin.
How to Cash Out? 
Perfect 2048 provides two different ways of cashing out. One is by accumulating enough virtual dollars, and the other is by collecting diamonds.
You will find different cash amounts if you tap the cash balance, but the minimum threshold is $1,000.
You can also exchange 325500 gems for a $100 gift card from Amazon, Google Play, Playstation, Xbox, iTunes, or Steam.
Perfect 2048 automatically converts diamonds to dollars and displays the cash amount at the top.

Is Perfect 2048 Legit? Does it Pay?
No, it doesn't! Perfect 2048 is offering unrealistic cash prizes as bait to make people play non-stop!
Unlike most fake money apps, they will let you reach the cashout requirement in less than half an hour of gameplay.
They will ask you to wait for 72 hours. However, the company will never send the money to your PayPal account. Also, forget about gift cards and big prizes!
As you may have noticed, they lure you into watching videos in return for useless items.
Well, that's because the more videos you watch, the more money the developer receives from advertisers.

This reward platform is going viral! Cash out via PayPal, Visa, Gift Cards, and in-game currencies - Click here to find out how to generate an extra $10+ per day! 
You just cannot redeem anything! Don't even try emailing the developer because you don't want to waste more time than you already did.
But don't just take my word for it. Check the countless reviews on Google Play, and you will an incredible number of complaints.

Almost everyone confirmed they hadn't received a single penny!
Is There an Alternative to Perfect 2048? 
There are many legit game apps such as JustPlay, Money Well, and MistPlay. They do pay out most users, but unfortunately, some people have a poor experience and struggle to cash out.
You may also try Prizerebel, which is one of the most reputable GPT sites on the internet. It works just like any other app after you log in to their website using your smartphone.
Final Words
Thanks for reading my Perfect 2048 app review! I hope it helps! If you would like to contribute to this post, share your thoughts in the comment box below.
Peace!