Welcome to my JustPlay app review!
Lately, there's been a lot of buzz about a reward application called JustPlay.
The app has been installed over 10 million times, making it one of the most popular apps of its kind on the Play Store.
Also, I lost count of how many times I watched their commercial with that lady saying:
They pay for you to play their games

Every 3 hours

With no minimum to cash out! 

So, if you need some extra money in your PayPal account, or there is something that you want to buy from Amazon, all need to do is download the app, play some awesome games, and BOOM! You will receive your money every 3 hours simply by playing.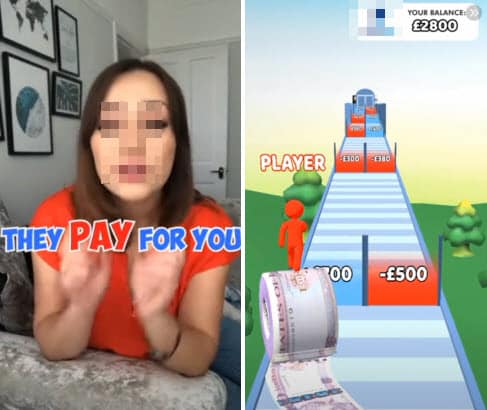 People love getting paid for something as easy as playing games because it feels like free, passive income!
And the allure only grows when you factor in the advertisement's promise of getting paid every three hours, which implies a steady stream of rewards.
Therefore, it makes people feel like they can earn a substantial sum of money and withdraw their earnings at any time.
But not only that, the commercial then displays a game simulation with a PayPal logo at the top and a cash balance skyrocketing to over £4000 in mere seconds.
Of course, this is a proposition that is hard to resist. No wonder millions of people worldwide have taken the plunge with high expectations!
With JustPlay, you can also donate your earnings to help fight hunger, mitigate climate change, and support doctors without borders.
We all know the Play Store is flooded with fake money games and apps that don't meet people's expectations.
They make you watch a ton of videos, but in the end, you don't earn a single penny!
So, I thought it would be a great idea to put JustPlay to the test and find out whether this app pays.
Is JustPlay legit? If so, how much money can you earn? Is it really possible to cash out every 3 hours? Keep reading to know all the details!
Top recommendation: This step-by-step program helped me achieve 2,000 US Dollars per month and quit my job in 2019. The Free starter membership is available here!
JustPlay App Review
Name: JustPlay
Developer: JustPlay GmbH
Availability: Worldwide
Price: Free (no purchase required)
Minimum payout: N/A
Overall Rating:

4/5
What is JustPlay?
JustPlay is a popular mobile application that pays you to play games you love.
The German company promises instant payouts every 3 hours regardless of how much you earned during that period.
JustPlay has developed an innovative loyalty program that works on the premise of rewarding consistent engagement and gameplay.
You earn coins for spending time in the game, accomplishing goals, and completing offerwall offers.
Once you reach the goal, coins will be converted to real dollars after the countdown.

This reward model with no minimum to cash out makes JustPlay stand out from its competitors, such as MistPlay and Playsmart!
The app has been installed over 10 million times but doesn't work in every country.
So far, the app is available for Android users in seven countries: The United States, the UK, Australia, Canada, New Zealand, Germany and Italy.
How Does JustPlay Work? 
Installation 
JustPlay is only available for Android. There is an app for iOS with the same name, but it's a different application.
After launching the app, you must activate usage tracking so the company can access your playtime on each game.
Unlike most reward apps, you don't need to create an account before accessing the dashboard and starting playing.
However, you will be asked to accept the Terms and Conditions of using your personal information.
It's essential to read that document carefully if you care about how the company collects and use your data.
JustPlay gives you a welcome bonus of 20,000 loyalty coins. 
How to Earn Cash?
When you open JustPlay, you will see various games that cater to all tastes, whether you're a fan of puzzles, strategy, or action games.
You'll find great options in the UK, such as Solitaire Verse, Ball Bounce, Sugar Rush Adventure, Mad Smash, Mix Blox, Treasure Master, Merge Blast, and Bubble Pop.

To get started, tap "Play and Earn," which will take you straight to the game's download page on Google Play.
Download the game, jump right in, and the fun begins!
As you immerse yourself in these games or complete offers, you'll start racking up Loyalty coins.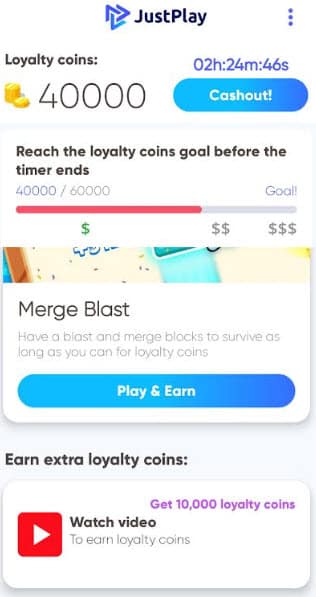 You'll notice a progress bar at the top of your screen, and your goal is to fill it up before the 3-hour countdown ends.
The first goal is 60,000 coins, but after that, you can keep collecting more coins to maximize your earnings.

This reward platform is going viral! Cash out via PayPal, Visa, Gift Cards, and in-game currencies - Click here to find out how to generate an extra $10+ per day! 
The Games are Full of Ads!
JustPlay's games are, without a doubt, brimming with advertisements!

If you stumble upon a challenging level and fail to complete it, prepare for a video ad to make an appearance so you can continue.
It can be frustrating, especially when you're eager to try the level again.
But there's a silver lining: games that serve more ads tend to provide more coins.
This may initially seem puzzling, but it's actually quite logical when you consider the app's revenue model.
The more sponsored videos you watch, the more revenue the company generates. And when JustPlay makes more money, they give you more coins.
It's a win-win situation! But of course, since each video pays them a few cents, your reward will only be a fraction of that amount, which is already quite low.
How Much Are Coins Worth on JustPlay? 
The downside of JustPlay is that there is no specific coin-to-cash conversion rate.
Therefore, you never know precisely how many coins you will earn per minute of gameplay.
This
If you check the Loyalty Program Rules, you will find that they determine the conversion of coins to the local currency takes into account the following variables:
Digital advertising service auction bids.
Proprietary fraud scoring
Achievements in games
Time spent in games.
These factors help establish the reward that each user will receive.
But at the end of the day, only the company decides what you should earn, which in my experience, doesn't usually work in our favor.
JustPlay published the likelihood of receiving specific cash prizes for 1 million coins based on all United States users between January 1st and March 31st.
Remember, these likelihoods are not a guarantee for future payouts.
Here are the results:
As you can see, you'll find that the most common rewards fall between the 4 to 6 USD range.
However, the catch is that you only discover the actual conversion rate of your coins after each three-hour cycle.
So, you can spend all this time playing games and earn just a few pennies!
It's also crucial to remember that the cash rewards don't endlessly pile up.
There's a limit on how much you can earn from each game, and after reaching that cap, the payout diminishes significantly.
So, after exceeding your target, don't expect a hefty windfall. It can become a herculean task to even approach a $2 reward.
For example, a player received $1.90 for reaching the goal of 2250 coins, but JustPlay only gave her an extra 9 cents once she made it to 8,500 coins.
Collecting more coins than you require is not worth it since they will not pay you proportionally.

Earn More Coins
You can collect more coins by completing offers and watching videos (commercials)
In the offer section, the most common activity involves installing mobile games and playing until you reach a certain level.
It's important to be aware that third parties manage these offers, and even if you fulfill all the requirements, you might encounter delays or discrepancies with your coin payout.
You can rake in as many as 2000 coins with each video you watch.
Keep your guard up when it comes to those advertisements. Among these, you'll find many promoting what appear to be enticing cash games.
How Much Money Can You Earn? 
As you already know, JustPlay has complete control over how much cash you will earn each day, but I noticed a similar pattern by reading the reviews on Google Play.
Many said they made around $1.50 on their first day after reaching the goal. However, the cash reward dropped to just a few cents in the following days.
Some people report making $3 – 4 per day. So, it depends!
You can expect to earn over $10 in your first week but maybe less than $5 in the next one.
Misleading Advert?
The attractive, rapidly increasing cash balance portrayed in the advertisements is unrealistic, making users disillusioned.
It doesn't accurately represent the real-life experience of the typical JustPlay user, who earns a few dollars at most!
Therefore, it's important to remember that this is merely a marketing strategy used to increase installation and profits for the company.
It's no wonder why the app has been installed over 10 million times!
Check out the best apps that pay you to play games! 
How Do You Get Paid? 
JustPlay claims there's no minimum to cash out, but it's a bit more complex.
You need to collect a certain amount of coins and reach a minimum cash threshold, which, mind you, varies based on the payment method you choose.
So, you can only cash out every 3 hours with the condition that you reach the daily goal.
Once the countdown is over, JustPlay will process the payment within 1 or 2 hours.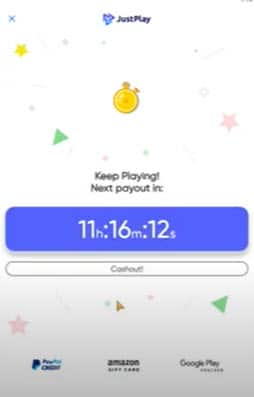 If you don't accumulate enough coins, you must keep playing and wait for the next countdown to get the money.
You can choose from the following payment options: PayPal, Amazon, Google Play, Walmart, and Target.

There is no payout threshold if you withdraw via Amazon and Walmart gift cards. However, there is a minimum balance requirement for the other payment methods.
And it all depends on your country! For example, in the United States, you need at least $2 to cash out with PayPal and $1 with Target.
What really bothers me and many players is how JustPlay advertises the app.
They give us the impression we can cash out at any time and any amount we want.
So, you download the app expecting to cash out after a few games and realize that's not how it works.
JustPlay also allows users to donate money to Clear Air Task Force, Doctors without Borders, and The Hunger Project.
Pros and Cons
Pros
Cash out every 3 hours as long as you reach the goal.
Fast payments.
There is no payout threshold if you redeem Amazon and Walmart gift cards.
Cons
The reward system is arbitrary. You never know how much money you will earn since there is no fixed conversion rate.
The games are basic, and some people find them boring.
Some people experience errors when trying to cash out.
There are not many games available.
Conclusion 
JustPlay is a legitimate application that does payout! I have seen many positive reviews on Google Play from users who are happy to earn a few dollars by playing games.
The application stands out from other apps because it allows you to cash out every 3 hours.
So, you just need to wait for the countdown to get paid.
Unfortunately, the reward system is arbitrary and doesn't let you predict how much money you will earn.
That's the main downside of the app, which allows the company to pay more or less based on its financials.
Moreover, JustPlay is unlikely to provide the lucrative gaming experience that its adverts might lead you to believe.
Despite the low pay and lack of transparency, I think JustPlay is one of the best game apps for making money online.
Verdict: Legit 
Earn a Full-Time Income Online
It feels great to earn free money while playing mobile games, but I am sure you would like to make more than just a few dollars or cents per day.
Creating a website and providing helpful content could generate thousands of dollars per month.
The website you are reading generates over $1,700 per month in advertising and affiliate marketing combined!
First, you need to build a solid foundation for your online business so you can attract a large audience to your site.
I had no previous experience, but this step-by-step program showed me how and helped me build a profitable online business from scratch.

Final Words
Thanks for reading my JustPlay app review. If you have questions or thoughts about this reward app, leave us a comment below.
Peace!