Welcome to my Bubble Merge 2048 app review!
I discovered Bubble Merge 2048 after watching a video ad promoting the game as an opportunity to earn a lot of money.
Apparently, the app developer is only targeting residents of the Philippines because the virtual currency is the Philippine Peso (PHP).
Bubble Merge 2048 is another casual game where you combine the blocks of the same number to synthesize a higher number block.
It gives virtual pesos and claims that all the money you collect within 3 days will be transferred to your PayPal account.
Is Bubble Merge 2028 a scam or legit application? Does it pay or not? Keep reading to find out!
Before you leave, discover the step-by-step program that helped me reach 1,700 USD+ per month and quit my job in 2019. No special skills required! 
Bubble Merge 2048 App Review
Name: Bubble Merge 2048
Developer: Joy Land Studio
Availability: Worldwide
Price: Free (no purchase required)
Overall Rating: 

1/5
What is Bubble Merge 2048? 
Bubble Merge 2048 is an addictive game in which you place blocks of the same number together to merge them. It's very similar to Swipe to Blast, Drop Numbers Blocks, Stack the Numbers and many others!
As you synthetase more blocks, you will earn Philippine Pesos that you can supposedly withdraw via PayPal after 3 days.
If you download the app in another country, you may not see virtual cash rewards during the gameplay.
Bubble Merge 2048 has been downloaded more than 100,000 times on Google Play, but players only get early access to the game.
That means they cannot publish or read reviews that are so important before installing these kinds of apps.
How Does Bubble Merge 2048 Work?
Bubble Merge 2048 is a free app available only for Android devices. After installing and launching the game on Google Play, they will get a sign up bonus of 100 PHP.
Next, you will see your cash wallet and the information that you will receive all the money in your PayPal account in 3 days.
Players are encouraged to tap the Button and fill in their PayPal address in advance in order to get paid.
How to Play Bubble Merge 2048? 
It's very straightforward. You just have to tap where you want the cubes to fall and try to place the same numbers together.
As a result, the cubes will merge into a cube whose number is double the previous one. It follows the sequence: 2, 4, 8, 16, 32, 64… 2048.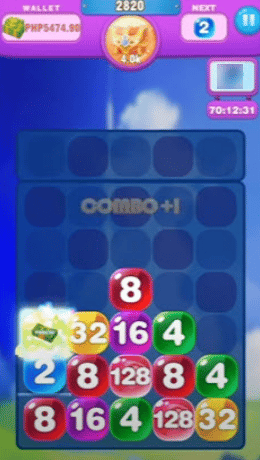 By merging the blocks you will earn virtual cash added to your wallet. When you achieve combos, Buzzle Merge 2048 will also give you a chest with more PayPal money.
Simply tap "Get" and wait for the video to end.
The game is over when a block reaches the upper part of the grid. You can use the hammer or bomb to eliminate them and save your skin.
Are you tired of earning fake dollars in your phone? Click here and discover my to-rated GPT site to make money online! 
How Do You Get Paid? 
As I mentioned, Bubble Merge 2048 claims you will receive all the money during the first 3 days. Just open your cash balance and bind your PayPal account.
Once the countdown finishes and the redeem is complete, they show you another message. This time, they tell you that your gift card will arrive in your account within 15 working days. But is it true?
Is Bubble Merge 2048 Legit? Does it Pay? 
No, it doesn't? You should not expect to win any money for playing Bubble Merge 2048 and watching its abusive amount of ads.
Make no mistake. Once you redeem, the payment status will remain as "processing" forever!
The virtual money in the game has no currency value, and will never be transferred to your PayPal account.
According to their Terms of Use, the only purpose of the game is to entertain you. It doesn't mention about cash rewards, so it's very clear they are not committed to fulfilling payment requests.
This is not the first time I am reviewing games that don't pay out. In fact, most of my publications involve mobile games that are using virtual dollars solely as bait to attract as many players as possible.

However, the developers have no obligation to provide cash prizes if they don't want to. It's a shame, but that's the current situation people are facing every day.
People see an advertising saying they can win hundreds of dollars via PayPal, but that never happens in real life.
So, be careful, especially with apps that are still "Early Access". Think about it! If they paid, they would be more than willing to receive lots of reviews on Google Play instead of hiding from them.
Conclusion 
I am sure you were playing Bubble Merge 2048 or thinking about installing it with the expectation to earn easy money. That's why you found my site in search of information!

This reward platform is going viral! Cash out via PayPal, Visa, Gift Cards, and in-game currencies - Click here to find out how to generate an extra $10+ per day! 
So, now you know you won't get any money regardless of your persistence and patience. You will just waste your time chasing fake Philippine peso and making the developer richer.

Is There an Alternative to Bubble Merge 2048? 
As far as I know, there is currently no merge number game that pays. I would even waste my time trying to find one!
If you want to get paid for simple online tasks, including playing games, Prizerebel is one of the best reward platforms out there.
You will earn points for completing offers and sharing your opinion with marketing research firms. There are more demanding jobs you could do online and earn more money.
For example, you could join freelance sites and offer services such as article writing and graphic design.
Me personally, I prefer providing content through my own website and making money from advertising and affiliate marketing. If you want to learn how you can do the same and achieve location freedom, check out my top recommendation here! 
Final Words
Thanks for taking the time to read my Bubble Merge 2048 app review. If you want to share your opinions about it, use the comment box below.
Peace!