Welcome to my Hexa Connect app review!
Lots of people are merging numbers with Hexa Connect with the expectation to earn thousand of dollars.
The developer advertises the game by showing stacks of cash and claims you can have it all within 3 minutes.
You found this website because you value your time and you don't want to play for hours if the cash rewards are fake.
So, is Hexa Connect Legit? Will they pay you or not? Keep reading to find out!
Before you leave, discover the step-by-step program that helped me reach 1,700 USD+ per month and quit my job in 2019. No special skills required! 
Hexa Connect App Review
Name: Hexa Connect (Early Access)
Developer: Sidra hamid
Availability: Worldwide
Price: Free (no purchase required)
Minimum payout: 
Overall Rating:

 1/5
What is Hexa Connect?
Hexa Connect is a mobile game where you merge the tiles by connecting the ones with the same number.
After completing the progress bar, it provides virtual cash that you collect after the 30 second video.
The goal is to merge the numbers to 2048 and collect earn enough dollars so you can cash out via PayPal or Amazon gift cards.
In addition to cash rewards, Hexa Connect also claims you can win an iPhone 12 once you collect 100 puzzle pieces.
I reviewed lots of similar games on Google Play such as Fall Pops, 2248 Chip Connect, and Pops Connect. None of them transfer real money to PayPal as advertised.
How Does Hexa Connect Work? 
Installation and Permissions
Hexa Connect can be installed on Google Play and played immediately on your Android device.
Take precaution because the developer can access your photos, media and files. Not only that, but he can delete and modify them!
So, the reason you want to avoid this application is that you are giving them control over your phone and you don't know their true intentions.
How to Play 2048 Hexagon?
It's simple! Just slide your finger to connect the same number tiles.
By connecting the tiles, they will merge into a higher number tile that follows the sequence: 2, 4, 8, 16, 32, 64, 128, 256, 512, 1024 and 2048.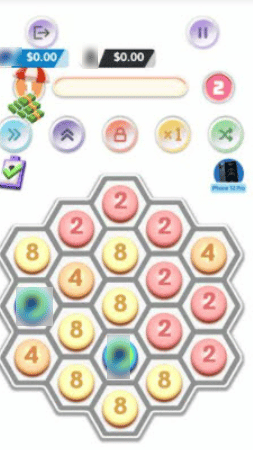 Just keep merging to fill up the progress bar and pass the level. Once you do, Hexa Connect will offer PayPal or Amazon money with the condition you tap "get" and watch a video until the end.

You can earn virtual dollars immediately if you connect tiles with the PayPal logo.
The money will accumulate in separate balances and you can cash out once you get $14,999 for PayPal and $9,999 for Amazon.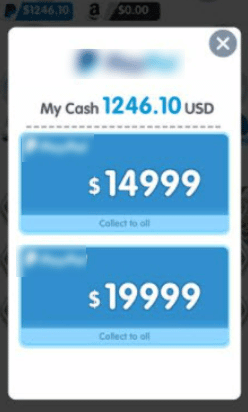 Win Big Prizes
Note there is an iPhone 12 icon on the left side of your screen. When open this section, you will discover the opportunity to win the Apple product once you collect 100 puzzle pieces.
You can get the fragments by watching videos, playing the lucky spin or reaching specific levels in the Hexa Connect game.
Is Hexa Connect Legit? Does it Pay?
No, it doesn't. It's already impossible to imagine earning hundreds of dollars from a game like Hexa Connect, let alone $14,999 USD+. They could never afford to dish out so much money in such a short time.
You have to understand that these apps generate revenue from the ads you watch, but the value per ad is too low. The developers can only make good profits when thousands of people are watching the videos.
In the beginning, Hexa Connect will give you over $1000 at a time, which is the proper definition of insanity! But as you approach the cashout limit, the rewards become smaller and smaller!
You can eventually cash out, but there will be no payment transactions in your PayPal account.
Conclusion 
Don't waste your time chasing cash rewards using the Hexa Connect app. This is only a casual game you play for killing time and boredom. It doesn't pay out!

The developer claims you can win thousands of dollars, but that's just an illusion to get people to play for longer. Don't fall for it!
No company can afford to give away so much money for watching commercials in the game.
> Click here to find game apps that actually pay! 
Earn a Full-Time Income Online
As the world economy continues to struggle, it has never been more important to grow an alternative income online.

This reward platform is going viral! Cash out via PayPal, Visa, Gift Cards, and in-game currencies - Click here to find out how to generate an extra $10+ per day! 
As you may know, the internet gives you the freedom to work whenever and wherever you want!
Many people are reaping the benefits of the digital economy and making a decent amount of money from home.

I decided to grow an online business instead of searching for a remote "job". That's because I value independency and would rather make money on my own terms.
Thanks to this excellent step-by-step program, I grew a thriving website that generates revenue through advertising and affiliate marketing.
You can succeed too if you have enough motivation to change your life and the work ethic.
Final Words
Thanks for taking the time to read my Hexa Connect app review. If you want to share your thoughts about it, please use the comment box below.
Peace!