Welcome to my Lucky Club app review!
I discovered Lucky Club yesterday after watching a commercial suggesting I was one step away from getting rich.
It showed a blond woman with a stack of cash on her hands, as if the developer was so generous!
After testing hundreds of money games, I came to understand how they work and the strategies used to hook players and maximize profits.
Lucky Club has grown in popularity, but it doesn't differ from most applications of its kind, such as Lucky Scratch and Lucky Time.
They will give you virtual dollars and tokens for scratching cards, spinning the lucky wheel, playing, playing the slots and more!
Then, they try to convince you that you can exchange tokens and withdraw actual cash to PayPal.
So, can you really trust Lucky Club? Is it legit or fake? Keep reading to find out!
Before you leave, discover the step-by-step program that helped me reach 1,700 USD+ per month and quit my job in 2019. No special skills required! 
Lucky Club App Review
Name: Lucky Club
Developer: Len Fox Game
Availability: Worldwide
Price: Free (no purchase required)
Minimum payout: £240
Overall Rating: 

1/5
What is Lucky Club?
Lucky Club is an Android app that allows you to play games and collect virtual items redeemable for real cash rewards.
The developer who operates the app also has other apps under his belt, such as this popular ball dropping game. 
The games currently available on the platform are Lucky Scratch, Slots of Cash, Lucky Wheel, Lucky Card, and Lucky Award. All of them are completely free to play, meaning the app is entirely funded by advertisers.
Although Lucky Club has been launched a long time ago and downloaded over 100,000 times, the developer still classifies it as "Early Access".
This is bad since this classification prevents players from publishing their honest reviews on Google Play.
Without reviews, new users don't know what to expect from the service. Hence the importance of doing proper research as you just did before finding this website.
How Does Lucky Club Work? 
Installation 
You can install Lucky Club on the Play Store and use it immediately with no registration required. However, I advise you to check the permissions, privacy policy and ToS (Terms of Service).
Users should be aware that Lucky Club will have access to Media, Photos, and Files stored in your device. I assume they can read, delete and modify personal content without your explicit consent.
I wouldn't keep this application on my phone for too long because of data leak risks. But the decision is all yours!
Next, I will show you briefly how to play and earn rewards from each game.

Lucky Scratch 
Simply scratch and match 3 symbols to collect either cash or tokens. After scratching 4 cards, you will have to watch a video to unlock another 4.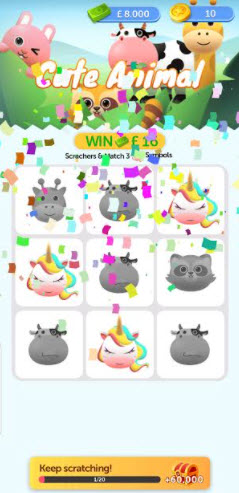 Once you scratch 20 scratchcards, you will get a chest with a bonus reward.
>> Click here for my #1 recommendation for making money online!
Slot of Cash
The slot of Cash comprises a 3 reel slot machine that gives you a chance to multiply the number of tokens you bet depending on the combination of symbols you get.
You can also win £12, £2.40 and £0.12 if you match the cash notes.
Lucky Wheel
Tap the "Spin it" button to win tokens, cash, and puzzle pieces. There are always 3 free spins daily, but if you want to play more, you must spend 2000 tokens per spin.
Once you spin 15 times, you will receive a reward chest.
Lucky Award
In this section, you can tap the Puzzle Bubble or play the Lucky spin in order to collect puzzle pieces.
By collecting enough fragments, Lucky Club will supposedly give you several prizes, including an iPhone 12 Pro and a Sony 75-inch TV.

Match Numbers Game
Pick 6 numbers from 0 to 69 and wait for the result every day at 00.00. Here is the prize list:
1 Match = 10000 tokens.
2 Match = 20,000 tokens.
3 Match = 200,000 tokens.
4 Match = $5
5 Match = $500
6 Match = $100,000
What are Your Chances of Winning? 
The odds of winning gold coins and USD from each game can be found by clicking the information icon at the top of the screen.
However, I don't trust those numbers because they say the odds of matching 5 and 6 numbers are 6% and 2%, respectively. That's nonsense!
If the chances of winning $100,000 were 2%, the developers would bankrupt in no time.

This reward platform is going viral! Cash out via PayPal, Visa, Gift Cards, and in-game currencies - Click here to find out how to generate an extra $10+ per day! 
How Do You Get Paid?
Lucky Club provides lots of cash out methods for those who reach the payout threshold.
You can supposedly cash out via PayPal, Tez, Coinbase, Cash App, Banco Inter, Alipay and more once you reach £240.

You can also redeem £240 worth of gift cards from Starbucks, Domino's, Amazon and other stores once you accumulate 30 Million tokens. 
Does Lucky Club Pay? Is it Legit? 
No, it doesn't. You cannot make any money since cash and tokens have no currency value.
Lucky Club will lure you into watching an insane number of video to multiply your rewards. However, the cash rewards decrease as you get closer to the payout threshold.
It will take forever to reach £240 or 30 Million tokens, and that is designed on purpose so that the app generates more revenue from advertising.
I haven't played Lucky Club for long enough, but I'm confident it won't transfer the money even if you fulfil the cashout requirement.
I checked the Terms of Service to find about the reward, but I couldn't find anything about payments. This is another piece of evidence they are not committed to payouts.
Conclusion 
There is nothing new about Lucky Club. It's another game trying to convince people they can win real cash rewards. However, the prizes are very unrealistic for the type of business they are operating.
The app only generates revenue by displaying advertising, so the developer probably cannot afford to pay many people who reach £240.
Well, he could reward a few players though regular prize draws. But if Lucky Club was a genuine Sweepstakes app, it would provide all the details in the Terms of Service.
Don't play Luck Club with the expectation to earn a lot of money. You just waste a lot of time!
Is There an Alternative to Lucky Club? 
Yes, there are many options, but in this post, I would like to recommend a legit sweepstakes app called Givvy.
Givvy allows players to take part in giveaways and exchange points for cash. Winners are selected at random in a very transparent process.
> Click here to find more game apps that pay!
Final Words
Thanks for reading my Lucky Club app review. I hope it helps raise awareness! If you would like to leave an honest opinion about the game, feel free to use the comment box below.
Peace!