Welcome to my Parking 2248 app review!
I am publishing this post today to warn people about a new Android game that claims to pay thousands of dollars via PayPal.
Parking 2248 is another merging game where you combine same cars and collect virtual dollars at a staggering rate.
The developers are promoting the game as an opportunity to win $9,000 or even more!
If you're not willing to waste your time only to line the developer's pockets with money, you have come to the right place.
Keep reading as I am going to show you how Parking 2248 works and give you my honest opinion. Does it really pay? Is it legit or fake?
Before you leave, discover the step-by-step program that helped me reach 1,700 USD+ per month and quit my job. Click here and sign up for free!
Parking 2248 App Review
Name: Parking 2248 (Early Access)
Developer: Xfungames
Availability: Worldwide
Minimum payout: 14,999 USD (PayPal), 9,999 USD (Amazon)
Overall Rating: 

1/5
What is Parking 2248?  
Parking 2248 claims to be a unique 2248 game where you connect same number cars to upgrade them.
Well, the truth of the matter is that there are lots of similar number merging games on Google Play.
The only difference is that Parking 2249 has a more appealing graphics since you will unlock a new car after merging the numbers.
The game displays the PayPal and Amazon logos to suggest players can redeem real money using both payments methods.
Cash rewards will accumulate while you are merging the cars and can supposedly be cashed out when you get to a certain amount.
How Does Parking 2248 Work? 
Installation and Permissions
Parking 2248 is only available for Android devices and is free to play.
Before installing the app on your phone or tablet, you should know the developer has automatic permission to access content in your device's storage.
That means he can read, modify and delete your photos, videos and other files. I wouldn't give such a high level of control, especially since the developer operates from another country anonymously. I don't think it's safe! 
>> Click here for my #1 recommendation for making money online!
How to Play Parking 2248? 
It's very simple. Just connect 2 or more same number cars to unlock a higher level car and earn cash rewards. The connections can be made in any direction.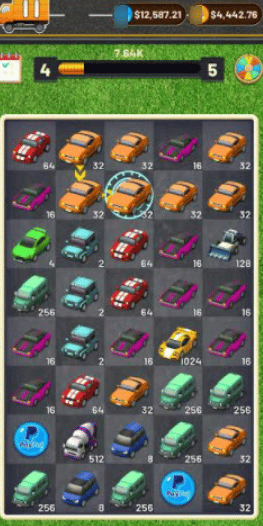 Once you connect the cars, they will merge into a new car that follows the sequence: 4, 8, 16, 32, 64, 128… and so on. For example, two cars n. 16 will become a car n. 32.
As a result, the app will offer you a specific amount of cash with the condition that you tap "Collect" and wait for the video. Of course, that's how the developer is making profits!
In the beginning, Parking 2248 will give you over $1,000 after watching the video. That's ludicrous!
You will be forced to watch teh video even if you tap "No Thanks". It's very annoying because it makes the gameplay very time-consuming and data-draining.
However, I'm sure every person would be more than happy to watch videos in return for thousands of dollars!
Are you searching for a real platform for making real money online? Click here and check out my top GPT site! 
Lucky Wheel
Parking 2248 also features a lucky wheel that gives you the chance to win $10,000, a PlayStation 5 and an iPhone 12.
All you have to do is tap "Spin" in the center of the wheel, watch the vide and collect enough puzzle pieces.
How do You Get Paid? 
Parking 2248 offers two types of payments. You can cash out via PayPal or Amazon gift cards once you reach 14,999 USD and 9,999 USD, respectively.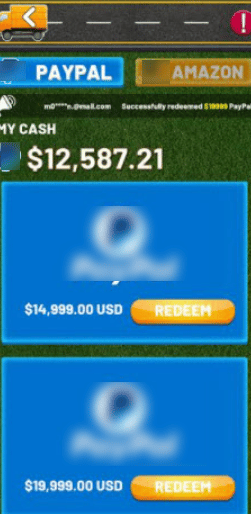 To withdraw the money, tap on your cash balance and select the reward amount.

Does Parking 2248 Pay? Is it Legit or Fake? 
There is no chance of winning a single penny from this game, let alone thousands of dollars. The cash prizes are totally fake!
If you play Parking 2248 for long enough, you will start noticing a gradual decrease in the amount of cash rewards. The closer you get to the cashout limit, the less you will earn!
You may reach the $12,000 mark within less than half an hour. However, it will take forever to reach $14,999 to request the PayPal payment.
That is designed on purpose so that you end up watching commercials for a very long time. I am sure you know why! The developer is receiving money from their advertising partners.

This reward platform is going viral! Cash out via PayPal, Visa, Gift Cards, and in-game currencies - Click here to find out how to generate an extra $10+ per day! 
I haven't played Parking 2248 for a long time to find out what exactly will happen. But the important thing to know is that even if you make it to 14,999 USD, you won't receive the money, no matter what!
The possibility of making thousands of dollars just by merging cards and watching videos seems too good to be true.

Besides, the app developer owns the right of final interpretation and the cash reward supplies as stated in the Rules page. In other words, he has no obligation to pay anyone!
Conclusion 
In my opinion, Parking 2248 is a boring game that will consume a lot of internet data and make you waste a lot of time chasing fake dollar bills.
No game company can afford to transfer thousands of dollars just because players are watching sponsored videos.
In reality, you would have to watch hundreds of thousands of them so that Parking 2248 could pay you.
This is the type of business model that could only work in your wildest dreams!
>> Click here to find game apps that actually pay! 
Earn a Full-Time Income Online
The internet provides an incredible opportunity for people who focus on providing helpful content.
You could make thousands of dollars per month by growing your own online business focused on content marketing. That's how I generate over $1,700 per month in affiliate marketing and advertising.
First, you need to learn the strategies and build a solid foundation that will help you grow sustainably.
By following this excellent step-by-step program, I was able to grow a website that has been generating a stable income since 2016!
Final Words
Thank you for reading my Parking 2248 app review. I hope it was informative enough!
So, did you play the game? If so, were you able to cash out? Share with us your experience in the comment box below.
Peace!