Welcome to my Money Bingo app review!
Who doesn't like the idea of playing a mobile game and making easy money on the go?
Well, many people are playing Money Bingo with the expectation to win huge cash rewards because that's what the app titles and description suggest.
They encourage you to complete bingo patterns and win big Jackpots by spinning the wheel.
I writing this post because people get hooked on "money" games and end up wasting a lot of time while trying to cash out.
My mission here is to explain how Money Bingo works and answer important questions. Are bingo rewards real or fake? Does Money Bingo pay? Is it a scam or a legit application?
Before you leave, discover the step-by-step program that helped me reach 1,700 USD+ per month and quit my job. Click here and sign up for free!
Money Bingo App Review
Name: Money Bingo
Developer: Shang Xiong
Availability: Worldwide
Price: FREE
Type: Entertainment (no financial risk)
Minimum payout: N/A
Overall Rating:

1/5
What is Money Bingo?  
Money Bingo is an addictive bingo game that claims you can win cash rewards for completing bingo patterns and spinning the wheel. The app was developed by Shang Xiong, and is very similar to Lucky Bingo. 
Money Bingo will give you free cards so you can mark the numbers as they appear on the top of the screen. The goal is to hit bingo so you can trigger the wheel and collect dollars, coins, and puzzle pieces.
Players can supposedly withdraw the money to PayPal once they fulfill specific requirements, which I will discuss later on.
How Does Money Bingo Work?
Installation
Money Bingo is available for free on Google Play for Android devices. You don't need to create an account to play, but that doesn't mean the app is not collecting your personal information.
Besides, it's important to know you are giving permission for the developer to access photos, media, and files on your USB. Therefore, you are putting your personal data at risk since they can read, modify, and delete your content.
How to Play?
After launching Money Bingo on your phone or tablet, it will immediately add $50 to your wallet as a welcome bonus.
Just tap "Save in Wallet" to get your reward. Next, press "Play now" to collect free scorecards with 25 random numbers.
Listen to the caller while he reads all the 27 numbers and select the number if you find it on your scorecard.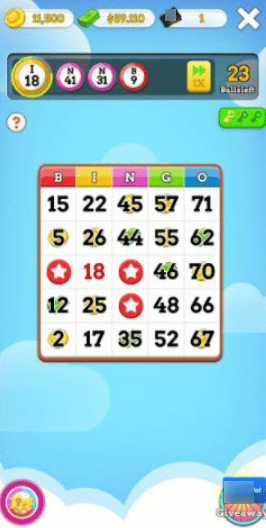 Note that some places are marked with cash notes, coins, and key symbols. By selecting those specific numbers, you will get virtual dollars, coins, and keys you can use to collect more prizes.
You will hit bingo whenever you complete these four patterns:
Horizontal straight line.
Vertical straight line.
Diagonal.
Four corners.
Once 
you 
get 
bingo, 
the 
lucky 
wheel 
will 
turn 
right 
away, 
giving 
you 
the 
chance 
to 
win 
cash, 
coins, 
prize 
puzzles, 
and 
more 
scorecards. 
If 
you 
tap 
"Claim 
more" 
and 
watch 
the 
advert, 
your 
reward 
will increase. 

Tasks
Money Bingo gives you "dollars" and coins by completing daily missions such as playing bingo 2, 3, 5, and 15 times.
Lucky
In the Lucky section, Money Bingo awards puzzle pieces and other virtual items for watching videos.
Giveaways
Here you can tap the yellow button to spin and collect different puzzles redeemable for great prizes such as MacBook Pro, Samsung Galaxy S20, Sony TV, and more.
Invite Friends
Money Bingo also awards points (PT) when you invite friends who watch videos and complete tasks. You can also earn points from the friends that they invite as well.
They will give you 50% and 25% of Ad revenue generated from your 1st and 2nd level, respectively. You can check yesterday's income from friends every day at UTC 10:00.
You can exchange the points earned from friends and cash out via PayPal and other payment methods. 100,000 Points equals 1 USD.
Keep reading the next section to find the cash-out requirements.
How Do You Cash Out?
There is a cash-out button at the bottom of the screen. Once you open the piggybank, it will show a progress bar that suggests you need to reach $20 to cash out.
However, it said I had only $1 despite my cash wallet showing over $59. So, it looks shady to me!
If you open your cash balance, then you see a different story. Money Bingo claims you need to watch 100 videos and be active for 7 days in order to cash out.

By opening the coin wallet, the developer provides a few redemption options:
5 Million coins = redeem $100
100 Diamonds = redeem $100.
Collect 100 Amazon puzzles = earn $100.
You can choose to withdraw the money via PayPal, PayPay, Pay, Paytm, Yandex money, Cash app, and Alipay.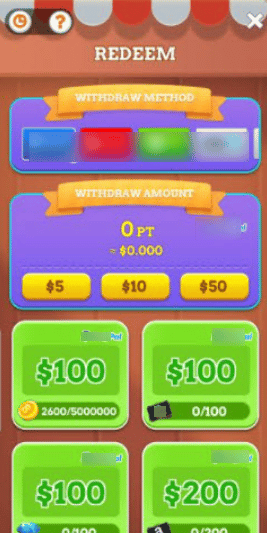 As for the points earned by referring friends, you can exchange a minimum of 500,000 pts for $5 using the same payment methods above.
According to the app instructions, the rewards will be sent to you within seven business days, except on weekends.
Is Money Bingo Legit? Does it Pay? 

This reward platform is going viral! Cash out via PayPal, Visa, Gift Cards, and in-game currencies - Click here to find out how to generate an extra $10+ per day! 
No, it doesn't pay out as it says. Unfortunately, Money Bingo is just another game that will lure you into watching a copious amount of advertising in return for nothing.
Based on lots of reviews on Google Play, I conclude the game is rigged and will make it nearly impossible to fulfill the cash-out requirements.

Guess what happens once you play the game for seven days and finish watching 100 videos? They will introduce another target, so you end up watching even more ads. Now, you need to reach $200 to cash out!
It's a colossal waste of time because they won't pay you a dime even if you meet this extra requirement! 
When you are close to collecting enough puzzle pieces to claim the prize, the game stops giving the items. Instead, you will get mostly coins and extra bingo cards that won't get you anywhere.
One user said she has been sitting at $180 and 95 Amazon vouchers for months! The number of negative testimonials on Google Play is mind-blowing!
As another user puts it: " they rigid the app so you keep chasing ghost prizes and cash."
According to the Terms of Service, Money Bingo shall transfer cash rewards into a regular bank or online account of the user, such as PayPal.
However, it says the provider guarantees no profit to the user, and therefore, no one is entitled to get paid a particular reward.
Conclusion
Money Bingo has excellent graphics and is great for relaxing, but there is no evidence that the developer is giving away cash rewards and prizes.
The company is collecting revenue from the large number of ads displayed during the gameplay.
However, they are not willing to share their profits with those who try to complete the requirements.
If you want to earn real cash prizes by playing Bingo, you are much better off installing apps like Bingo Blitz and purchasing cards.
It's not free, but at least you know you have a real chance of winning. If you cannot afford to lose your hard-earned money, it's better to search for other money-making strategies.
Keep reading to find out the one I prefer to make a living online!
Earn a Full-Time Income Online
I prefer to use my time wisely and get paid for my efforts.
It's possible to work from home and earn decent money by growing your own internet business. That's how I generate over $1,700 per month in ad revenue and affiliate marketing. 
First, you need to learn how to attract an audience and then take massive action by creating content that ranks.
If you want to learn more about this opportunity and get support from those who walked the way, check out my #1 recommendation! 
They will give you proper training and lead you in the right direction to avoid trial and error. That's the same training platform I joined back in 2015.
Final Words
Thanks for reading my Money Bingo app review. If you have questions or thoughts about this game, leave us a comment below.
Peace!