Welcome to my Huuuge Slots App review!
I discovered Huuuge Slots through an advertising campaign showing a "plastic" girl with a pile of cash on her shoulders.
At the top of the screen, it was written that she earned all that money by playing the free slot machine. Check this out!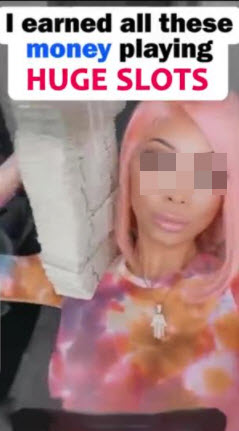 I don't know you, but when I first watched this video, I thought that cash must be as fake as her lips, nose and cheeks.
But many people believe the hype and end up installing the application since it's completely free. So, they might think there is nothing to lose.
In this Huuuge Slots review, I will show you how this game actually works and why you should avoid it.
Recommended: This step-by-step program helped me grow an online asset and make  $1,700+ per month. It's free to join!
Huuuge Slots App Review
Name: Huuuge Slots (Early Access)
Developer: VOVFIRE51
Eligibility: Worldwide (age: +18)
Price: 100% free to play
Type: Entertainment with no financial risk
Payout threshold: $300
Overall rating: 

1/5
What is Huuuge Slots?
Huuuge Slots is a mobile game that features a 5 reel slot machine and gives you the chance to win real money, completely risk-free! All you have to do is tap spin and collect coins or virtual dollars rewards according to the pay table.
Unlike a normal game, Huuuge Slots persuades players to watch lots of video ads by offering more rewards for those who do. Then, once you accumulate enough virtual items, you can supposedly cash out via PayPal.
How Does Huuuge Slots Work?
Installation  
Huuuge Slots works only on Android devices. You can play it immediately after installing the game on the Play Store.
Be aware that the company has access to all the photos, videos and files stored on your phone. To me, this is very worrying since you are giving them the power to read, modify and even delete content.
Also, their privacy policy is missing a lot of information and most likely do not comply with strict regulation in many countries.
How to Play Huuuge Slots? 
Just press the spin button and wait for the reels to land a winning combination.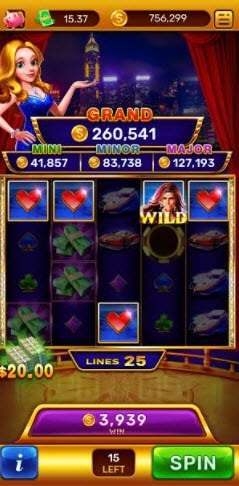 The amount of cash and coins you will earn depends on the symbols and the pay line generated at random. Tap the information button to see the pay table: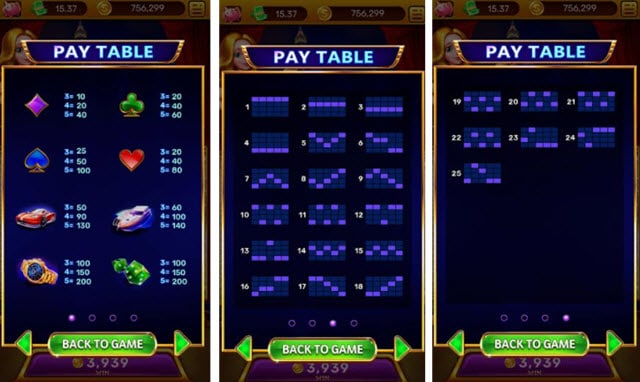 The "Scatter" appears on real 1, 3 and 5 only. 3 symbols can trigger 8 free spins. If you get 6 or more toke discs, the game will give you the chance to win jackpots by triggering RESPIN.
Sometimes, you can double or even triple the reward by watching a video ad until the end. That's how they get people to do exactly what they want.

If you open the menu, you will find a button that directs users to more tasks. Huuuge Slots provides a list of offers you can complete and earn a significant number of coins.
Most tasks revolve around installing a mobile game and playing until you reach a certain level.
I reviewed a very similar game a few weeks ago called Lucky Farm Slot. It provides more opportunities to collect virtual dollars such as the scratcher, lucky wheel, and even a referral program. BUT, it doesn't pay a dime! 
How Can You Withdraw the Money? 
Tap either the cash or coin balance on the top of the screen, and you will find two cash out options. You can redeem $5 or $100 via PayPal once you build up 5,000,000,000 coins and $100, respectively.
Note that Huuuge Slots didn't bother providing the Terms of Service to explain the reward system. This is just one reason you should be wary about this application.
Is Huuuge Slots Legit? Does it Pay? 
I don't believe Huuuge Slots is processing payments. There are many reasons to suspect this app doesn't pay anybody, but unfortunately, I have no solid proof to give you a definitive answer about its legitimacy.
After playing for less than half an hour, the game dished out more than $20, and best part is that I din't have to put my hard-earned money at risk.
However, the virtual items you earn in the game have no currency value, and you have no right to receive any money.
Another problem is that Huuuge Slots is still on "Early access", meaning users cannot review the application on Google Play.
Most fake money games are taking advantage of this classification to prevent their reputation from being damaged on the platform. In other words, they don't want people to find out the comes of playing the game for long enough.
Click here to find out the top 10 sweepstakes apps that actually pay! 

Is There An Alternative to Huuuge Slots? 
There are probably many legit slot games for Android devices, but the ones that give away prizes require that you bet and put your money at risk.
I am not in a position to recommend any particular app similar to Huuuge Sots. On the contrary, I always advise my readers to stay away from high-risk activities!
Instead of searching for a similar alternative, you could use other apps or sites that pay you for completing simple tasks.
If I could recommend only one platform, it would be Prizerebel since it endless opportunities to make money. Besides, it's highly reputable and will surely transfer $5 to your PayPal once you reach 5,000 points.

This reward platform is going viral! Cash out via PayPal, Visa, Gift Cards, and in-game currencies - Click here to find out how to generate an extra $10+ per day! 
Conclusion 

Don't waste your time spinning the reels of Huuuge Slots with the expectation to make real money.
The developer is attracting a large audience and getting people to play for much longer by giving players the "opportunity" to transfer $5 or $100.
However, it will take a crazy amount of time to collect enough coins, and you may never collect enough items to cash out.
After reviewing so many games, I suspect Huuuge Slots will make it hard or even impossible to reach the cashout limit. But even if you get there, and request the payment, you will probably never see the dollars in your PayPal account.
Also, I woun't feel safe knowing that Huuuge Slots has unrestricted access to the content stored on my phone. Therefore, I always install these apps immediately after my review is done!
Verdict: Not Recommended
Earn a Full-Time Income Online
One of the best strategies to earn a substantial amount of money online is to become a content creator. But instead of working for someone else, I suggest you start small and grow your own online business.
In 2015, I created this website My Room is My Office, which is attracting thousands of visitors daily and earning me enough to cover my living expenses.
In short, I publish review articles and help answer people's questions about mobile app and other reward sites. That's my speciality.
However, the internet is so big that you can succeed by targeting many other topics of interest. This excellent step-by-step training will show you how to turn your passion into a lucrative internet business.
That's the same program that I used to set up my site and build enough traffic and reach my goals. Click here to learn more about the educational platform and the personal experience I had with it!
Final Words
Thank you for reading my Huuuge Slots app review. I hope it was helpful! If you have any thoughts or questions about it, just leave us a comment below.
Peace!